Designing a High School for Immigrant Kids
New campuses in Washington, D.C. have been tailored to help children from a variety of countries feel confident in a new language and culture.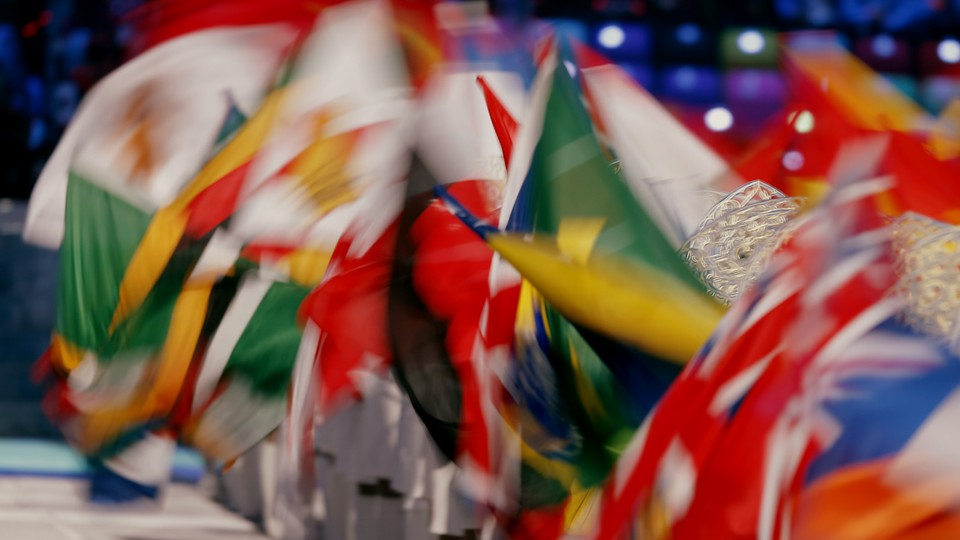 Alison Hanks-Sloan wanted to know how to keep her students from dropping out. A former English teacher for non-native speakers, she was working in the international students' office at Prince George's County Public Schools, a large suburban system in Maryland, right next to Washington, D.C. Just two-thirds of the county's English language learners were graduating high school at all, let alone on time.
Immigrants make up one-third of the system's 128,000 students. New students are arriving all the time, including, recently, about 500 who crossed unaccompanied into the U.S. from Mexico. They're not only adjusting to a new country, but to family members they may never have met before and to being a student again.
"You've been an adult on your own for a time, and suddenly you have all these rules," notes Hanks-Sloan. Suburban school systems like Prince George's were designed for a homogeneous, mainly middle-class population, but "many of our students come with trauma," she says. "We knew we had to do something different."
With a $3 million grant from the Carnegie Foundation, the district opened two high schools for recent immigrants last fall. Hanks-Sloan is now the principal of one of them, the International High School at Largo.
The schools belong to the Internationals Network for Public Schools, which started in the 1980s and now consists of 22 schools for recent immigrants in New York City, the Bay Area, and the Washington, D.C., region. Unlike traditional high schools that "track" students by skill level, the Internationals mix students who are totally new to English with students who are more proficient. There's a focus on learning by experience instead of through lectures and memorization. The Internationals Network says its students outperform other English language learners at traditional high schools and are more likely to graduate.
Hanks-Sloan and Carlos Beato, the principal of the International High School at Langley Park, organized focus groups with immigrant families and students to understand what a school for them should look like. Both International High Schools have full-time social workers on staff. School starts and ends two hours later, reflecting research that teenagers perform better later in the day. One period each day is set aside for homework help or extracurricular activities that would otherwise happen after school, ranging from debate team to yoga.
The schools are only open to students currently taking ESOL (English for Speakers of Other Languages) classes. But when they opened last fall, 270 students (out of 700 who were eligible) applied for 200 freshman seats. The result is "school[s] of choice," says Hanks-Sloan. "Students realize that they're valued and they have an opportunity to be successful. They get to be a part of a small school."
Instead of letter grades, students are graded for "competency-based learning," or skills they'll use after high school. They receive scores in four categories: social-emotional learning, language, critical thinking, and content knowledge. It's thought to be a more accurate representation of a student's progress in navigating a new language and culture.
The Prince George's schools are the first suburban campuses in the Internationals network. One has its own (temporary) building in Langley Park, a neighborhood near the District line that's historically been a gateway for immigrants from Central America. The International High School at Largo is in a middle-class black suburb racked by the housing crisis and rapidly diversifying with African and Hispanic immigrants.
The surrounding neighborhoods are filled with large, comfortable-looking homes. But there's a dying "lifestyle center" (another nearby mall has already been demolished) and an abandoned, half-built megachurch. The school shares a building with Largo High, a traditional high school that nearly closed due to dwindling enrollment. The schools have separate entrances and their own principals and staff, but share a cafeteria, music programs, and gym.
The International High Schools caused some tension with Largo High and members of the area's black community, who felt they were taking resources from other students. The county's chapter of the NAACP publicly opposed the schools, arguing that they violated Brown v. Board of Education by creating separate schools for immigrants. There's also a substantial body of research saying that students from disadvantaged backgrounds perform better in racially and socioeconomically mixed schools.
Students at Largo High were more open. Their lunch overlaps with International High's, and when the International students walked into the shared cafeteria on the first day, "there was some heckling," says Hanks-Sloan. "But by the second day, they walked in and there was applause." Largo High students mentor their peers at International, and the two schools' soccer teams scrimmage together.
While the International High Schools are getting immigrant students more engaged, it's too soon to call it a success. They're three years away from graduating any students, and Maryland's gauntlet of standardized tests doesn't begin until the spring. Natifia Mullings, a spokesperson for Prince George's County Public Schools, notes that attendance is higher than for the countywide population of English language learners.
The biggest impact may be on students' confidence. I met with four International High students, including Jessica, and asked them what they liked most about the school. They were confident, well-spoken, and optimistic about their futures.
"It's a safe space," said Jessica. "You feel comfortable here because they're like you."
"They're not gonna judge you for your color," adds Deyssi, who emigrated here from Honduras at 11 and hopes to be a lawyer.
"Or your race," says Alex, who moved here from Nigeria when he was young and wants to be a pediatrician.
"Or your accent," says Khadoum, who was born in Senegal.
---
This article appears courtesy of CityLab.