How Perceptions About Opportunity Vary by Race
Blacks are far less likely than whites to think children of color are given the same chances in life as their peers.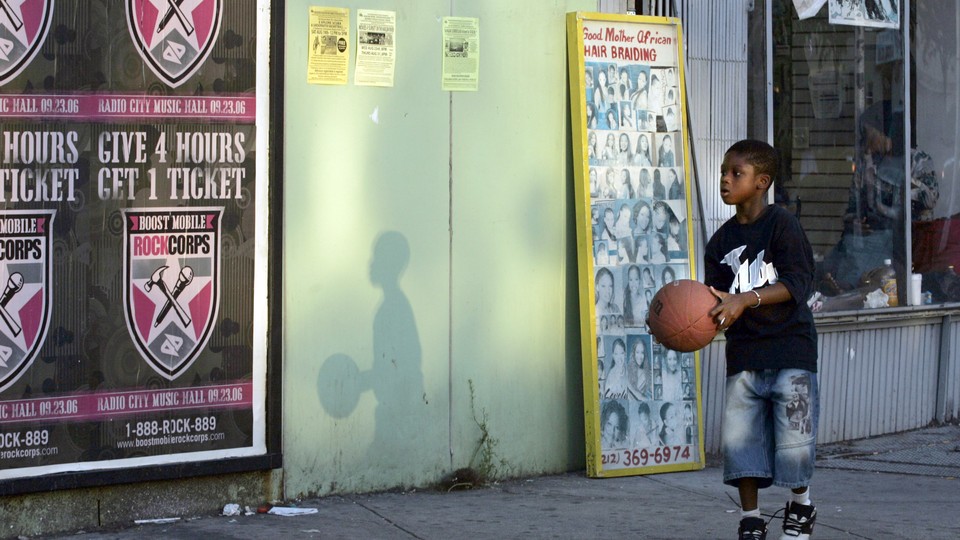 Black and white Americans have dramatically different views on whether all children have equal access to the same opportunities.
While 77 percent of whites surveyed in an Atlantic Media/Pearson Opportunity Poll released this week think children of color in their neighborhood have access to the same opportunities as white children, just 41 percent of African Americans agree. More than 70 percent of Latinos and Asians polled agree with the statement, making the figure from black respondents the outlier, albeit not necessarily a surprising one.
Across a range of markers, from educational attainment to salary to health, black Americans lag behind white Americans. Black children are more likely to attend high-poverty schools with fewer resources and less-qualified teachers. Just 41 percent of blacks surveyed think the schooling children in their neighborhood receive is adequately preparing them for college work, compared with about half of whites, 61 percent of Latinos, and 63 percent of Asians. So it's not necessarily surprising that African American respondents do not think children of color have the same opportunities as white children.
"I really don't know where we can pick up and make it better," said Venita Smith, an African American mother of three who was polled and lives in Oklahoma City. "I just wish we could all live in peace and harmony. It's not going to happen, but I do wish that."
But not everyone sees the gaps in access to opportunities or agrees that they exist. Republicans are significantly more likely than Democrats to think children of color have access to the same opportunities, 87 percent versus 60 percent. A full third of urban respondents do not agree with that statement, while those in suburban and rural areas tend to think access to opportunity is more equitable. That may reflect the fact that many of America's urban centers remain deeply segregated.
Nicole Smith, the chief economist at the Georgetown University Center on Education and the Workforce, said, "I think it's not surprising at all that people would have different perspectives. I think because we live in America and everything seems to be available … access to the same TV shows, the same stores for shopping, to roads, to freedom of movement, there's a tendency for us by extension to believe that freedom extends to everything else." Yet she agrees that access to things like quality schools and higher education varies significantly by race and income, which leads to vastly different opportunities for different communities.
The variation in responses may be partially due to a lack of awareness on the part of white respondents, but it might also reflect a reluctance to confront inequality. The "subtext," true or not, Smith pointed out, is that if one group, in this case black Americans, says it doesn't have equal access to opportunity, is that another group, in this case white Americans, has an unfair amount of access, which can spark defensiveness instead of empathy. "You have a lot of white people denying white privilege," she said.
The lack of awareness may be tied in part to the fact that whites mostly live among other whites. While 53 percent of white respondents say their neighborhood is mostly white, just 14 percent of blacks say the same. Blacks and Latinos report living in mixed neighborhoods. And although most respondents who said their neighborhood is home to families from different backgrounds agree that the diversity makes the community a better place, 5 percent of white respondents and 15 percent of black respondents said it contributed to problems in the neighborhood.
One area where problems have emerged in recent years is in the policing of American neighborhoods. Black and white Americans are also deeply divided when it comes to trust in police. Just 13 percent of black poll respondents said they can trust their neighborhood police to do what is right almost all of the time, while 45 percent of whites, 48 percent of Asians, and 31 percent of Latinos surveyed think this is the case.
Venita Smith said her trust in the police has waned over the years. Between the 1960s and the '80s, she said, people in uniform "were very trustworthy." Now, though, she thinks people are looking for fast money and the importance of community has declined. "Everybody is out to get what they can get," she said. "Therefore, that's telling me the police department is hiring people just to hire them and not screening them like they used to."
Although police departments around the country would beg to differ, Smith's views may be shaped by local experience. Several months ago, the former Oklahoma City police officer Daniel Holtzclaw was convicted of rape after targeting African American women over the course of half a year. Several days ago, victims filed a suit against the city for allegedly failing, in part, to investigate an earlier complaint they argue might have prevented their abuse. "Come on! What is going on? I mean, what is going on?" Smith said, incredulously. More broadly, over the last several years, a series of officer-involved shootings of black men have sparked questions about entrenched problems within the criminal-justice system that disadvantage people of color.
Nicole Smith isn't overly optimistic that things will improve in the near future, particularly given Donald Trump's rise in popularity. "We have a lot of rhetoric about taking America back," she said, "a lot of rhetoric about not focusing on equity and not paying any attention to differences, and perhaps being afraid or tired of the political correctness that a multicultural society requires for success."
---
The Atlantic Media/Pearson Opportunity poll, conducted by Princeton Survey Research Associates International surveyed 1,276 adults living in the United States by landline and cell phone from February 10 through 25. The survey included oversamples of African-Americans, Asian-Americans and Hispanics. Interviews were conducted in English and Spanish. The margin of sampling error for the complete sample is plus or minus 4.3 percentage points; the margins of error are larger for subgroups.