Could a State Takeover Help Chicago's Struggling Public Schools?
The move could end up saving the district from financial collapse—or hurting kids' education.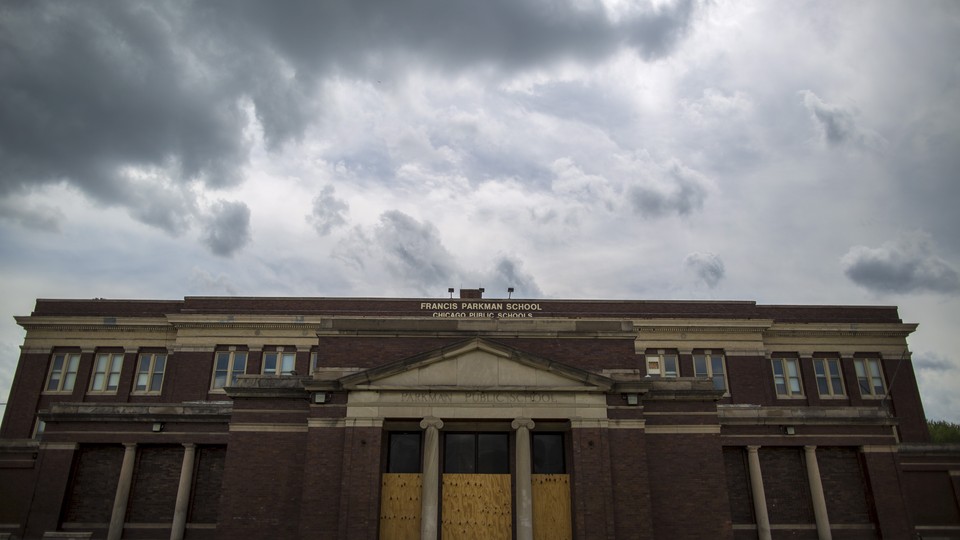 Chicago's public schools are in trouble. Nearly $6 billion in debt, the district staved off immediate financial collapse this month only by selling $725 million in bonds to Wall Street at an unusually high interest rate. Meanwhile, thousands of protesters organized by the Chicago Teachers Union clogged streets in the Loop during the evening rush hour last week, demanding higher salaries, greater contributions to pension and health-care plans, and a cap on charter schools. Chicago Public Schools is the third largest district in the nation.
In response to this crisis, Illinois Governor Bruce Rauner proposed a rather extreme remedy: a state takeover of the city's public schools. The move—which could ultimately be rejected by the Democratically controlled legislature—would involve taking control from local education and political leaders over some, or even all, schools in the district. Eleven states, most of them led by Republican governors, have similarly passed or debated legislation to create state-run school districts in the past year, including Michigan, Arkansas, Nevada, and Wisconsin. But research and past experience show that takeovers by themselves are not a cure all for the problems faced by struggling urban schools.
Chicago's schools are emblematic of those in large cities across the country. According to the district's website, with a $5.69 billion budget, the city's 38,000 employees educate 400,000 students, of whom 86 percent are economically disadvantaged and 17 percent are English Language Learners. While most high-school students in Chicago—66.3 percent—graduate within five years, 45 percent of those graduates begin their senior year not doing well enough academically to attend a four-year college. In 2012, the U.S. Department of Education reported that 79 percent of the eighth-graders in Chicago Public Schools weren't grade-level proficient in reading, while 80 percent weren't proficient in math.
The fiscal dilemmas, as well as the unrest among teachers, compound those ongoing academic challenges. Rauner and a group of Republican lawmakers say that a state takeover, which would wrest control from Mayor Rahm Emanuel, is the only way to fix a system that is "absolutely collapsing on itself." Indeed, according to editors at the Chicago Tribune, the recent bond deal won't fix the city's upcoming financial collapse; they chastise union leaders and local political leaders for rejecting compromise measures with the state. "The school system is heading toward implosion and the mayor and legislative leaders—all from Chicago—are not offering a way to manage this debacle so the teachers can continue to educate the children while the financial disaster is resolved," the editors wrote. As part of the takeover, the Illinois State Board of Education would appoint an oversight board to examine the books, and the state would have the option to file for bankruptcy for the city's schools, opening the possibility of cuts to pension benefits and the termination of tenured teachers.
The goal of state takeovers is often to innovate, increase flexibility over personnel decisions, and gain control over the budget, according to Kenneth Wong, a professor of education policy at Brown University. Because states provide about 50 percent of the funding to urban schools on average, he noted, legislators feel that districts should be held accountable. "They want to see results in return for the money," Wong said.
Republican governors in particular tend to advocate for state takeovers largely on ideological grounds, believing that collective-bargaining rights interfere with reform. They say that unions are too protective of the adults employed by the school district at the expense of children's educational needs and that reorganizing schools so that they're less tethered to union interests will make them more effective.
Several states, including New Jersey, California, and West Virginia, are currently running dozens of local school districts nationwide using two different methods. One model involves taking over an entire school district. The state reduces the power of the elected school board and gives it to an appointed board and manager—a move that creates tensions, as communities often distrust the powerful state managers, who don't have ties with the city. These takeovers may make short-term improvements in administration, according to Wong, but don't always help teachers to improve curriculum and instruction. The other model—used in Tennessee, Michigan, and New Orleans with some success—targets only certain schools within a district. It doesn't wrest control of an entire school district from the local governing structure. Instead, it focuses on the worst-performing schools, and might set up charter schools or fire lower-performing teachers. Research shows some improvement in academic performance with this model.
So, one takeover model tries to reform a whole school district, the other targets certain schools within a district. But according to Wong, neither model is necessarily the right move for Illinois. "What works in New Orleans," he said, "is not necessarily the right answer to Chicago's situation." He believes it is more important that reformers maintain a positive relationship with the community and focus on the particular educational needs within the schools. Wong pointed out that Illinois controlled the city's schools between 1979 to 1995 without solving conflicts with the teachers' union or making sizable gains in test scores. Not only is a state takeover not the right solution for Chicago, according to Wong, it is also a distraction.
A recent report by Pew Charitable Trust of 15 city school districts echoed Wong's conclusions. The report found that different methods of restructuring city schools—state takeovers, mayoral control, or elected school boards—had little impact on student performance or fiscal management. Too many other factors, from the quality of leadership to the particular needs of the students, affected school outcomes.
Ultimately, Wong argued that the mayor, union, and other political leaders should quickly resolve the budget problem and focus on the instructional quality of the district utilizing the city's many educational experts on literacy and instruction. At the same time, the unions have to be sensible and be willing to reorganize their workplace protections in support of more effect teaching and learning, he said: "Unions have a lot to gain if they can contribute to the collective good at this point."
* * *
One point of comparison for Chicago as it considers its state-takeover plan is Newark, New Jersey. The Newark school district has been under state control since 1995, after investigators documented pervasive corruption and patronage among top political and educational leaders. In an interview, Dale Russakoff, the author of The Prize, told me that the takeover resulted in little change in the schools while Jon Corzine was governor due to his ties with the teachers' union. He didn't want to make changes that would upset his close allies in the school district.
As highlighted in her book, when Corzine left office, fewer than 40 percent of third-through-eighth graders were reading or doing math at grade level—even 15 years after the state took over. Eighty-year-old school buildings were falling apart. Only 54 percent of students graduated from high school. And 90 percent of those who went on to college required remedial classes.
Improving those test scores and graduation rates was made more difficult by a reality that's faced by schools in other low-income urban areas in the country: They often have the dual mission of educating children and employing their parents and others in the community. Newark's $1 billion school budget had been nicknamed "the prize" by numerous local politicians, as they jockeyed for control of this important source of patronage; after all, the school district was the largest public employer in the city.
After winning election in 2009, Governor Chris Christie, a Republican, worked closely with the charismatic Democratic mayor of Newark Cory Booker and the young philanthropist Mark Zuckerberg to make more serious improvements to the city's schools. They demonstrated their commitment to this project in 2010 when Zuckerberg announced on The Oprah Winfrey Show that he would give Newark schools $100 million. Although they couldn't change the seniority rights, which were enshrined in state law, they tried to make other systemic changes, including addressing the need to downsize staff. Wong said that state takeovers do offer this opportunity—a "policy window"—for powerful outsiders looking for a "laboratory for innovation" for their pet projects.
Despite this bipartisan alliance and philanthropic money, Russakoff said that the traditional public schools in Newark schools did not significantly improve. (Charter schools in the city doubled their enrollment during this time period, and their students significantly outperformed district students.) The district failed to get money to the classrooms and the children who needed it the most; charter schools in Newark spent less than the district schools on administrative overhead. Of the total $200 million of philanthropic donations to Newark schools, $21 million went to consultants, $89 million went to labor and contract costs, and $58 million went toward expanding and supporting charter schools.
Chicago and other urban areas can learn two lessons from the failed reform efforts in Newark, according to Russakoff:  Reformers need to get to the bottom of the funding issues, understanding where the money goes and determining how to get more of it to the classroom, and they should ask the best teachers in the most challenged schools what they and their students need to be successful.
In her book, Russakoff describes the difficulties that one exceptional kindergarten teacher faced as she taught her students, some of whom struggled with behavioral problems and others who came to school unable to distinguish the front and back cover of a book. Now working at a local charter school, this teacher has more support than she did when she worked at a traditional public school. "The real needs of children have to be at the center of the national conversation about education reform," Russakoff said, "which in its ideological divisiveness is in danger of leaving them behind."