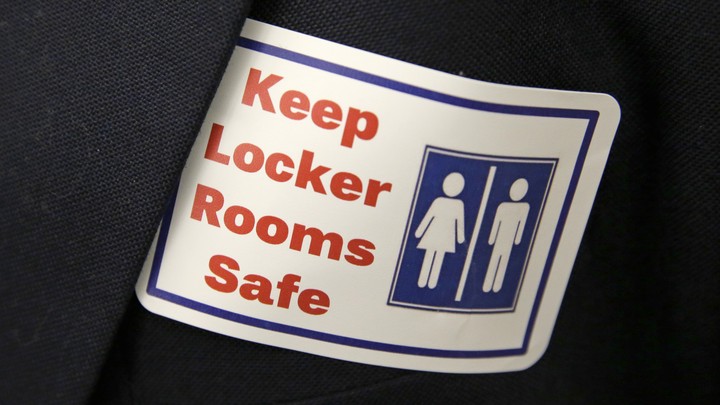 Last year, states across the country considered 17 bills that would've regulated transgender people's use of sex-segregated spaces such as bathrooms. None of them passed. But the reality is looking a lot different this year: Twenty-nine such bills, many of them school-specific, are making their way through state legislatures so far, according to an analysis by the Human Rights Campaign. And they include one out of South Dakota that is very close to becoming law.
That bill, which was passed just last week by the state's Senate and as of Wednesday was awaiting approval by Republican Governor Dennis Daugaard, would prohibit transgender students in public schools from using bathrooms and locker rooms that don't match with their biological sex; if requested, schools would have to provide "reasonable" accommodations for transgender students, such as single-occupancy or unisex restrooms. The legislation is important because it would set a precedent—South Dakota would be the first state to enact such a law—and because many of the bills under consideration elsewhere are, not coincidentally, almost identical. It also shows how prickly things get when the federal government and local jurisdictions vie for control over what happens at the nation's public schools.
As I reported last year, K-12 schools are becoming ground zero for clashes over LGBT rights. On the one side are those who fear that allowing transgender children to use facilities based on their gender identity—allowing a student who was born a boy but identifies as a girl, for example—violates other students' privacy rights and threatens their safety. On the other are those who say such rules, even when they prescribe special accommodations, make transgender students vulnerable to harassment and can pose logistical challenges that undermine their academic performance and overall campus experience. Student surveys conducted by the Gay, Lesbian, and Straight Education Network (GLSEN) show that rules barring transgender students from using the facilities of their choice often end up discouraging the students from using them altogether; some of them end up skipping school. GLSEN has concluded that "policies and practices that enforce gender segregation" promote a sense of hostility on campus.
The same arguments are being disseminated in the media as the South Dakota proposal sits on the governor's desk.
"South Dakota didn't pick this fight—it was the parents and kids who call our organization every week … trying to maintain the privacy and safety of the people who don't want to see this happen," said Jeremy Tedesco, the senior counsel for The Alliance Defending Freedom, a conservative Christian nonprofit that helped precipitate many of the recent transgender-student bills. "We have to find a way to balance everybody's interests in these equations." The alliance released a model policy in December 2014 that was distributed to school districts nationwide and looks much like the prospective South Dakota law, including its emphasis on providing separate facilities for "students struggling with their sexual identity."
The pushback against the South Dakota bill is especially strong because of the national impact it could have in setting a precedent. Missouri and Tennessee are among the states considering similar proposals—and they both have the demographic makeup and political will needed to see them become law. Pointing to the "psychological burden" that such rules impose on trans children, Nathan Smith, the public-policy director at GLSEN, said he worried it "will open the door for other states to actually bring these up and consider these bills as opposed to just tabling them. We're concerned that South Dakota will be leading the way for a wave of discrimination across the country."
The one thing opponents and proponents do seem to agree on is that any state that does end up adopting such a law is going to face resistance from the feds. The Obama administration interprets such policies to be in violation of Title IX and has already threatened to cut funding from schools and districts with similar regulations. Illinois's Township High School District 211, for example, almost found itself in such a predicament after a school denied a transgender student access to the girls' locker room; the district later reversed its policy, giving the student access to the facility of her choice, after reaching an agreement with the U.S. Department of Education.
Opponents worry the laws would put many schools in a fiscal pickle. They could lose funding if they follow the state's orders but neglecting the state could also put them at even greater financial risk: States and local governments typically provide about 44 percent of K-12 funding, while the federal government accounts for about 12 percent of it. Although the South Dakota law in particular wouldn't come with financial penalties for schools that fail to comply with it, some say they would pay the price with the inevitable legal costs. "The liability under this bill falls on the school," Smith said. As Politico has suggested, South Dakota and other states that follow in its footsteps could also face "lawsuits from multiple directions."   
White House officials couldn't say whether President Obama had looked carefully at the South Dakota bill—nor how the law, if passed, would fare given the administration's interpretation of Title IX. The Education Department doesn't comment on specific circumstances such as this proposal without first conducting an investigation. A spokeswoman for the White House did, however, point to several recent resolutions between the department's civil-rights office and school districts on matters related to transgender students, including the case involving the Illinois district; all of the resolutions were in favor of the students. In a press briefing last week, Josh Earnest, the White House press secretary, said that "the kind of values that this administration has championed have been values that have been dedicated to inclusiveness and non-discrimination, and even respect for human beings." Many elements of the legislation, he added, "seem to come into sharp conflict with those basic American values."
We want to hear what you think about this article. Submit a letter to the editor or write to letters@theatlantic.com.
Alia Wong
is a former staff writer at
The Atlantic,
where she covers education and families.