Should Professors Be Fired for Damaging a College's Reputation?
Dismissing faculty members who are perceived as harmful to a university's public image is a growing trend—and many educators and activists are wary.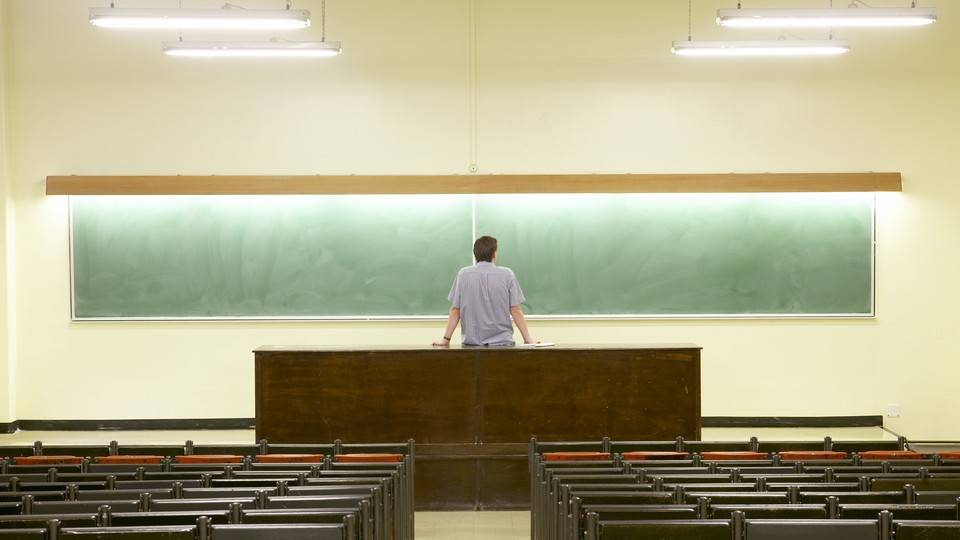 Updated on February 25, 2016
This January, two students at Mount St. Mary's University reported in the campus newspaper, The Mountain Echo, that their college president planned to dismiss about two dozen students in September in an effort to improve the school's retention rate. In a now-infamous conversation with a small group of faculty and administrators, the president, Simon Newman, explained that professors shouldn't feel so sentimental about holding on to students who are unlikely to succeed. "This is hard for you because you think of the students as cuddly bunnies, but you can't," The Mountain Echo quoted Newman as saying. "You just have to drown the bunnies … put a Glock to their heads."
Needless to say, the story of a college administrator who compares struggling teenage students to fluffy woodland creatures that should be murdered with a semi-automatic pistol is a PR disaster. It's not exactly the caring sentiment that parents expect from a small, traditional Catholic college in rural Maryland that has promised to protect their children.
The controversy continued to unfold when, in the following weeks, Newman inflamed tensions by dismissing Ed Egan, the untenured faculty adviser of the campus newspaper, and Thane Naberhaus, a tenured philosophy professor and frequent critic of Newman's policies. Both faculty members received letters accusing them of disloyalty to the university. After the story was covered by the national news media, Newman quickly reinstated the faculty members.
Christian Kendzierski, a spokesman for Mount St. Mary's, declined to comment on personnel matters. Instead, Kendzierski sent me quotes from Newman's announcement to faculty that the two professors had been reinstated—a move that the president had described as "a first step of reconciliation and healing in the season of lent and the year of mercy." "We will work to implement the initiatives we agree are important for our student's future and our university's future," Newman had said, "and most importantly eliminate the feelings of fear and injustice that any may be harboring, work through our misunderstandings, and make a new beginning as a unified team."
If this story were simply an isolated instance of a college administrator suffering from a severe case of foot-in-mouth disease, those in higher education probably wouldn't be so concerned. However, some educators and activists see the incident as part of an increasing inclination among administrators at colleges around the country to dismiss faculty members, even those with tenure, who are perceived to be damaging the reputation of a college.
* * *
Last spring, about 1,000 miles south of Mount St. Mary's, Louisiana State University at Baton Rouge dismissed Teresa Buchanan, a tenured education professor, for making "inappropriate statements" to students, teachers, and administrators. I spoke with Buchanan, the LSU administration, and the American Association of University Professors shortly after the incident about the very complicated case—one whose outcome many observers, even fellow faculty, believe was valid. University officials contended that Buchanan was terminated after being given due process for her excessive use of profanity and off-color jokes in the classroom, and for her personal conflicts that hurt the university's community relations. LSU ultimately fired her on the grounds that she violated two school sexual-harassment policies and created "a hostile learning environment for students." Her students—teachers in training—said they felt threatened and put off by her, officials stressed. "We could not ignore her behavior," Thomas V. Skinner, the general counsel for LSU, told me, adding that the university took the decision very seriously. He emphasized that faculty members shouldn't be concerned about their standing at the university.
But Buchanan, who with the support of the AAUP and the Foundation for Individual Rights in Education (FIRE) has filed a wrongful-dismissal case against the university, said she wasn't entirely clear as to what made her actions so abhorrent as to justify overriding her tenure. An early-education professor who had received a teaching award from honors students just before her dismissal, Buchanan believed she was targeted by inexperienced administrators who didn't respect academic freedom.
According to the AAUP, cases such as those at LSU and Mount St. Mary's—as well as the challenges to tenure at the University of Wisconsin—represent a declining appreciation among administrators for tenured faculty's job protections. And such clashes show no sign of ending in the near future. In an interview, Hans-Joerg Tiede, an associate secretary for the AAUP, highlighted the case of Melissa Click, the tenured professor of communications from the University of Missouri who was shown on video participating in a protest over racial issues and trying to prevent a student journalist from filming the event. After being charged with assault, Click was later suspended from the university—without a hearing or an opportunity to officially respond to the charges brought against her. News broke on Thursday that the Board of Curators voted to fire her.
The greatest threat to the principle of tenure comes from the increasing reliance on adjunct faculty: Only 24 percent of all college faculty currently hold tenure-track positions, compared to 57 percent in 1975. But groups such as the AAUP are equally concerned about this apparent effort to dilute the protections guaranteed by tenure. Tenure doesn't guarantee lifetime employment, but it does, according to the AAUP, assure professors the right to due process or a hearing before termination. Faculty should have a right to defend themselves in front of their peers, Tiede said—a right that he said was denied to Click and the professors at Mount St. Mary's.
Indeed, Tiede has witnessed a growing willingness among administrators to terminate faculty for statements that damage the public image of the school; individual faculty have been summarily dismissed for offending taxpayers and the general public. As evidence of the growing sensitivity on college campuses, Tiede cited the the growing presence of trigger warnings on syllabi.
FIRE has similar concerns, recently including Mount St. Mary's and LSU among the 10 worst colleges for free speech. "I've been defending student-faculty speech for a decade. This is one of the most egregious examples of censorship that I've seen," said Will Creeley, the vice president of legal and public advocacy for FIRE, commenting on the events at Mount St. Mary's. "It's jaw dropping, reactionary, and brazen. The actions at this school were so clearly motivated by an effort to shut up a faculty member." (Greg Lukianoff, the president of FIRE, co-wrote a cover story for The Atlantic in September about the growing restrictions on free speech on college campuses.)
According to Creeley, the increasing pressure to police speech at colleges makes it a particularly perilous time to be a professor and has a chilling effect on faculty members. Faculty across the ideological spectrum seem to be under increased scrutiny. Creeley pointed to a conservative professor at Marquette University who was terminated for criticizing another faculty member, while Laura Kipnis, a liberal professor at Northwestern University, was subjected to a two-month, "Kafkaesque" inquiry for discussing sexual harassment on college campuses.
According to Creeley, several factors are driving these trends. The strain on university budgets has led to a "student-as-consumer" model, which puts a premium on student evaluations. The rise in the number of administrators at colleges has created a class of people whose job is to micromanage and police campus activities. The pressure from the federal government to respond to cases of sexual harassment has caused colleges to overreach and overreact. University decision-making, Creeley said, has become about minimizing risk—about prioritizing institutional inertia over dynamic teaching: "When universities allow risk management to drive decision-making, speech that might rock the boat is the first casualty."
Outside of the university, damaging the reputation of a workplace is viewed as a just cause for dismissal. If a check-out clerk at a supermarket told shoppers that his manager was a jerk or a banker urged customers to avoid taking out high-risk mortgages, few would question the company's right to sack those employees. However, the university is considered a unique environment—a place where people search for truth and air provocative ideas.
Hence, the need for tenure; these rules safeguard the pursuit of knowledge. "People who offend someone's sensibilities cannot be summarily dismissed," Tiede said. Professors shouldn't have to worry that their research might some offend someone, otherwise scientific progress could be seriously curtailed. Tiede pointed to the Virginia Tech professor who helped to uncover the water crisis in Flint: "Would someone without tenure have taken on the risk to challenge the government of Michigan?"
And ultimately, when faculty don't feel comfortable speaking their minds or teaching controversial topics, students suffer, Creeley added. When professors censor themselves and avoid speaking out, they give the impression to students that some things are best not discussed, that certain ideas are not to be challenged, that certain realities are not to be acknowledged. "This is a terrible lesson to teach young adults," Creeley said. "We need to empower students to challenge the dogma and find their own truths."