Obama's Controversial Higher-Ed Legacy
Many college leaders criticize the administration's lack of two-way communication on key policy initiatives.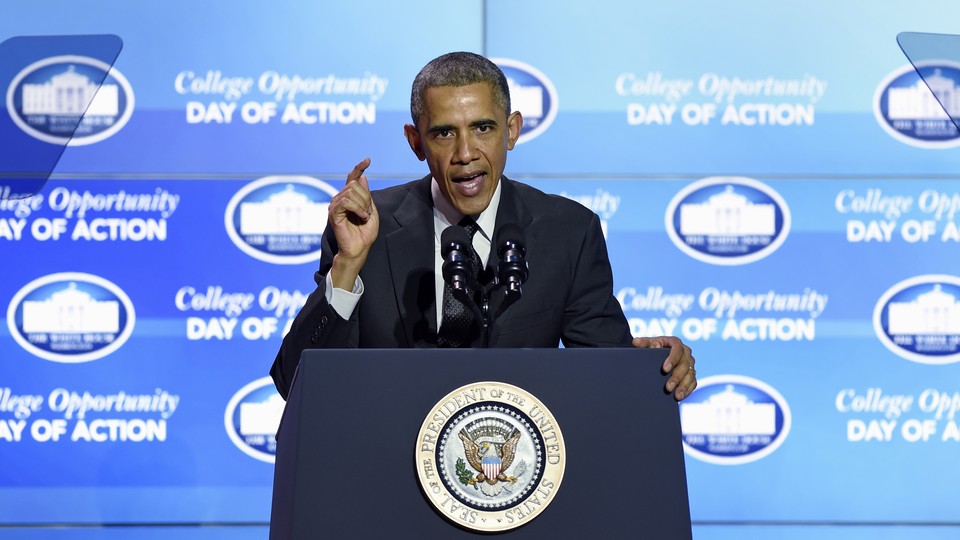 Updated on February 3, 2016
Recently, a great deal of debate has centered on whether the nation's first black president has failed its historically black colleges and universities. The debate isn't new; for years there's been whispered angst over the president's paternalism and seeming aloofness when it came to black institutions—and perhaps black issues in general. The disappointment has grown despite his proficiency with code switching between handshakes and daps and inviting rappers to the White House and singing gospel hymns and R&B classics in public. Leaders of historically black colleges and universities (HBCUs) have long been silently frustrated with the president's lack of activism on their behalf after asking them—twice—to campaign on his.
But it's not just HBCU leaders who are frustrated with the president's higher-education policies. Many others in the higher-ed community have expressed feelings of marginalization at what they feel has been a lack of two-way communication on key policy items.
Association of American Colleges and Universities (AAC&U) President Carol Schneider said the administration often ignored an "abundance of information" presented by independent researchers, think tanks, and associations like hers regarding the adverse implications of some policy suggestions—even when that advice was solicited by the administration.
"The Obama administration actually commissioned a big study [by a group led by the Global Perspective Institute, Inc. and AAC&U] on what higher ed should be in this democracy and then ignored it, did nothing with it," she said. This was problematic in part because the experiences of many of his senior advisers and cabinet members were very unlike those of today's students. Schneider pointed out that many senior officials' backgrounds—and the president's own background—were marked by elite education, presenting a disconnect between the administration and the needs and challenges of the typical student.
Johnny C. Taylor, Jr., the president and CEO of the Thurgood Marshall College Fund, said he was rarely consulted before decisions had been made. "That's a real issue that people need to be held accountable for," he said. "You call us to tell us what you're going to do—you don't call us to ask for our input and ask us how this will affect our communities. You call to tell us what you were going to do and when it was going to be announced" and then seek endorsement of the policy on the backend, he said.
The administration, a spokesperson said, "takes issue" with the criticisms: "The Administration has continuously urged states to increase investments in all of their higher education institutions, including HBCUs."
And to be sure, as Schneider noted, "the president helped turn national attention to the importance of postsecondary learning for all Americans. In a knowledge economy, that's important." The administration's advocacy for community colleges has been unprecedented. "No one in the history of our nation has ... emphasized the value of community and our technical-college education like [President Obama] has," American Association of Community Colleges President Walter Bumphus said. "We have been put in a spotlight never before shone on community colleges and I think folks have really started to see the value of [them]."
Workforce-development programs have also grown, as have opportunities in the broader scope of higher education, said Bumphus, who is also the former chair of the Department of Educational Administration in the College of Education at the University of Texas at Austin. And the president's emphasis on college affordability is noteworthy, he said.
"I can't ever recall a president who has not only focused on affordability but made funds available," said Bumphus, who is particularly pleased with the president's "focus on income inequality." In fact, Bumphus believes President Obama "will have a phenomenal legacy and will go down as maybe the greatest education president in the history of our country."
Lots of people in the higher-education community seem to see things differently, however. Schneider disagreed with the idea that the administration has greatly expanded higher-education opportunities, saying it was very evident that the administration was "more interested in [K-12] reform than higher-ed reform." Adding that "it was as though they simply closed their eyes to the abundant evidence that reform was needed on the higher ed side as well," Schneider said the administration's higher-education efforts were geared heavily toward improving access to education at the expense of student success.
Additionally, many administrators and advocates of higher education, particularly those in the HBCU community, recognize a tendency to conflate increases in access to loans with actual aid to students. Contrary to the story the administration has tried to paint, direct aid to institutions—excluding loan funds—is down overall. While removing private banks from the federal student-loan process was a huge win for consumers, increasing access to federal loans for students who are already coming from low-income families doesn't actually solve the college-affordability problem; it widens the already-growing race-based wealth gap. Contrary to previously held notions about wealth and the attainment of the American Dream, a college degree is not proving to be the golden ticket for these students. Expanding access to federal loan programs still means these students are buried under mountains of debt upon graduation, making it more difficult for them to accumulate wealth and narrow that gap.
The same concept can be applied to the idea of resource gaps between different types of institutions. "To the extent that you have two types of institutions, one that's on the 10 mile marker and the other that's at the zero, and you give them both the same help, you've not narrowed the gap," he said. "Harvard doesn't need an infusion of cash from the federal government—Howard does. So the failure to put money into the institutions and instead to rely on increasing [student-centered programs like] Pell grants really misses the point. An investment in historically underfunded institutions like HBCUs is necessary in addition to programs like Pell."
The expansion of the Pell-grant program—which helps increase access opportunities for students from low-income families—has been a feather in the cap of the administration. Not only did Pell funding increase to a maximum of $5,575 per student per semester for the 2015-16 school year (up from $4,731 in the 2008-2009 school year), but the administration also reinstated a program that would allow prisoners to receive Pell grants. (Congress canceled inmate eligibility for Pell grants in 1994 via an amendment to the Higher Education Act.) And after the administration eliminated Summer Pell grants in 2011, officials announced earlier this month plans to reinstate year-round eligibility for the program.
The reinstatement of Summer Pell still does not completely reverse the damage done by the initial decision to eliminate Summer eligibility and cut the total number of eligible semesters from 18 to 12. For many low-income and first-generation students, Taylor points out, they need more semesters to finish, because many are also balancing full-time jobs and thus minimal course loads. "It's a little disingenuous that because you increased the [total amount of money available for Pell grants], you've somehow closed the gap between poor students of color and students who are better off," Taylor said. "You take a dollar from me and give me 50 cents back and I'm supposed to celebrate. I'm a little confused about that."
In fact, many of the most positive aspects of the administration's higher-education policy legacy have actually been reversals of policies proposed—and in some cases enacted—by the same officials. The administration has retreated from the College Scorecard it touted unrelentingly, which was presented as the answer to the nation's college-affordability crisis. The President said in his 2013 State of the Union address that "colleges must do their part to keep costs down, and it's our job to make sure that they do … My administration will release a new College Scorecard that parents and students can use to compare schools based on a simple criteria: where you can get the most bang for your educational buck."
Creating a system that ranked institutions on value and return on investment was one that was, at best, flawed to many higher-education advocates. Schneider called it "a misconceived plan from the beginning." Among the numerous concerns about the scorecard is that its heavy emphasis on graduation and retention rates puts historically Black and other minority-serving institutions—those whose populations are often overwhelmingly comprised of low-income and first-generation students—at a severe disadvantage. Instead of highlighting how these institutions are often forced to do significantly more with significantly fewer resources, often while offering quality educations at significantly lower sticker prices, the scorecard presents these institutions as yielding low returns on collegiate investment.
"Completion and student success became synonymous in this administration and many leaders influenced by it," Schneider said. "But student success isn't just a matter of completion, it's a matter of whether a student has really acquired [the knowledge and] all the things that enable that graduate to use that education, to contribute to the economy, to achieve her own goals."
Schneider said that while she believes there were "many very talented people at the helm" of the Department of Education, "the [administration's] policy priorities did not create a productive environment for thoughtful policy provisions."From her vantage point, the administration's biggest failure was not in any policy it implemented, but in its failure to capitalize on a huge opportunity to enact meaningful education reform: "The big reform that we needed in higher ed would have put learning outcomes [as] the drivers. Instead, we ended up with a more technocratic approach to competency-based learning that I think is not going to be as fruitful as it could have been ... "
For many in higher education, the president's tenure in the White House will be remembered as being one marked with disappointment. "For some, certainly a B+ and for others—failure isn't the word," said Schneider. "Disappointment. D for disappointment."
"They attempted to do some interesting things, they just went nowhere," Taylor said. "At best, they were unsuccessful at getting off a major higher-ed agenda, and at worst, which frankly is more realistic to me, they lost ground in higher ed."