Why Non-Academic Needs Matter, Too
A day in the life of a new kind of educator who's tasked with revitalizing one of New York City's campuses by supporting kids' health, attendance, and family lives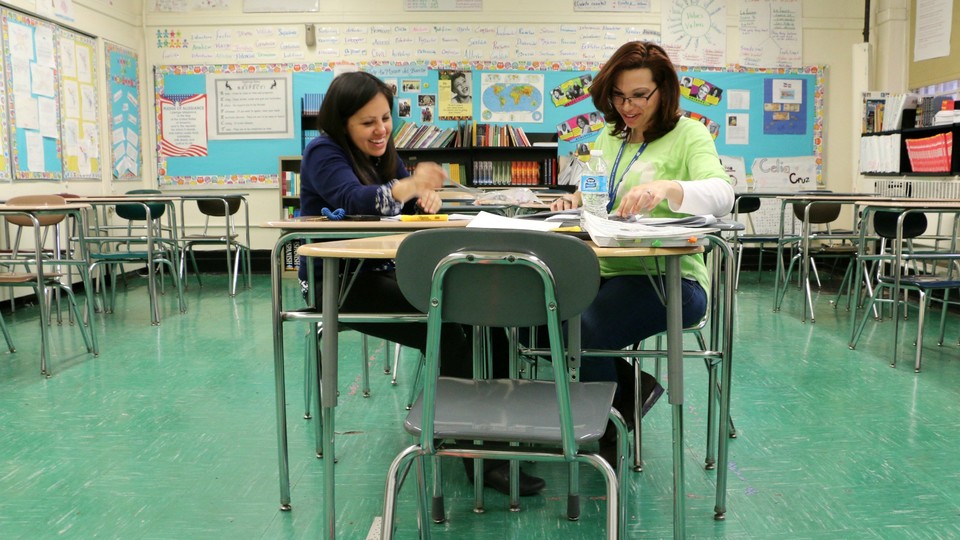 Around 4 p.m. on a recent Friday, Fiorella Guevara got around to eating her lunch. Then she leaned back in the student-sized chair where she was sitting in an empty classroom and let out a long sigh. "Oh man, I'm tired," said Guevara, the new community-school director at M.S. 50 in Brooklyn's Williamsburg neighborhood. "This is why I never sit down for too long."
Instead, she bounds from room to room, checking on the classes she oversees, meeting with the principal or calling up parents, pausing just long enough to hug one of the students whose affection she's earned in her few months on the job.
"She is a fireball," said Franklin Tapia, the parent of an eighth-grader at M.S. 50, whom Guevara recently hired to work as a mentor and soccer coach. "I don't know how she does it. She'll come in 9 o'clock in the morning sometimes. and she won't leave until 9:30, 10 o'clock at night."
Community-school directors like Guevara play a key role in Mayor Bill de Blasio's plan to revitalize 94 of New York City's low-performing schools—including M.S. 50, where just one in 10 students passed last year's state English tests, and 40 percent of students are considered chronically absent. The mission of community schools is to treat students' physical or emotional ailments so they can focus on learning. Each director is responsible for coordinating the activities, social services, and parent workshops that the mayor is hoping will help set the schools on a different path.
That's a tall order. But if anyone seems up to the task, it's Guevara, who taught elementary school for five years before working with an advocacy group dedicated to creating service-rich schools that partner with parents.
"I truly, 100 percent believe in community schools," she said.
Chalkbeat, which produced this story, stopped by M.S. 50 recently to see how the job really worked. Here are highlights from Guevara's day.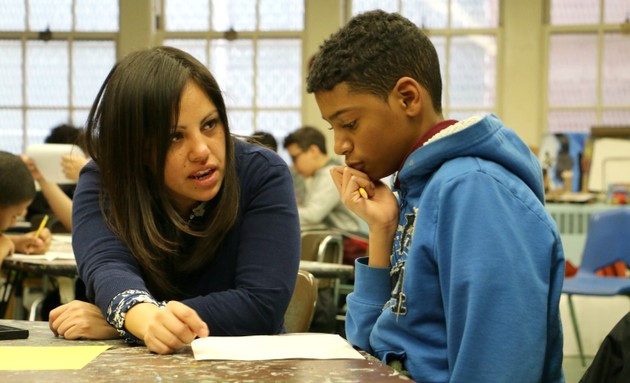 11:20 a.m.—Troubleshooting
Guevara's role requires quickly switching from nurse to counselor to administrator. When she walked into a bilingual class, where the children were eating a lunch of chicken and rice, she found a boy who had hurt his ankle. In fluent Spanish, she told him to get some ice and elevate it. Then she read a letter a girl had received from the health department saying she was missing a mandatory physical exam, though the girl said she'd already had it. Guevara promised to investigate.
Next, she dropped by a peer-mediation class that she started at the school this year. She listened in as the students, munching on pizza, discussed the need to stay neutral when settling disputes between classmates. Then Guevara, whose iPhone is always on hand, took a snapshot of the attendance list: A few students were missing. "My day-to-day is ensuring that the vision we've laid out is going," she explained. "And also troubleshooting when there's something that's not going right with the plan."
Later, when she stepped into the crowded hallway as students returned from lunch, she hugged a girl, told a boy to spit out his gum, then pulled aside a student who had skipped the peer-mediation class. Without scolding, Guevara told her how important it is to show up for class, then sent her on her way. "Alright kids," Guevara said, speed-walking to her next appointment, "get back to class."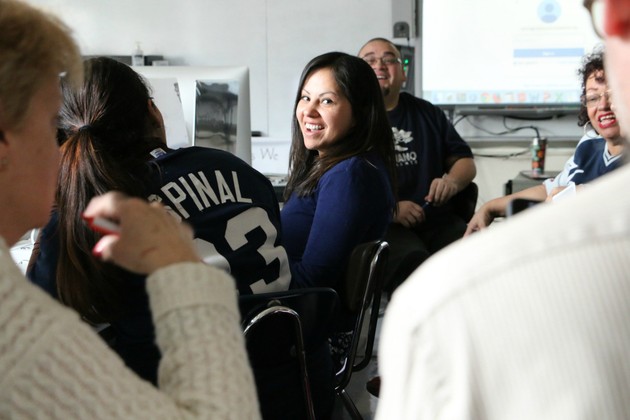 12:40 p.m.—Partnerships and pressure
Guevara and Benjamin Honoroff—the principal brought in this year to spearhead the school's turnaround—sat down in a science room with two representatives from El Puente, a 34-year-old community organization headquartered in a former church around the corner from the school. At the heart of each of the city's new community schools is a marriage between the school and a nonprofit.
One of the El Puente's main initiatives is to send artists to work with classroom teachers to help students produce a creative project, like a play, that combines academic content with the arts. At the meeting, Guervara, who was selected to run El Puente's operations at M.S. 50, recounted a recent conversation with a boy who is struggling academically but had shined in his role as Hades in a play last year about Greek mythology. "I love doing that," she recalled the boy saying.
But the group acknowledged that the program was struggling to stay on course as some classroom teachers focused their energy on other work. An official review of the school, and state exams, were both around the corner. The school's results are sure to be scrutinized for signs of progress—or backsliding.
"There's a bunch of pressure on the teachers coming up," Honoroff said.
"I get it," said Frances Lucerna, El Puente's executive director. "There's so much that's at stake right now."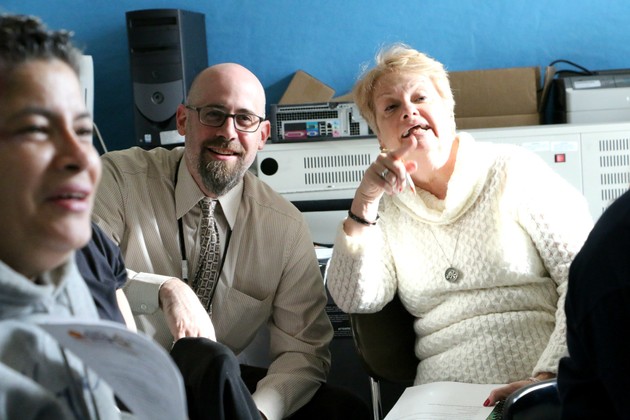 1:40 p.m.—The war room
Guevara perched on the edge of a desk in the computer lab, her attendance team assembled around her. It was the school's equivalent of a war room, and the battle was getting kids to show up to class—one of the central goals of the city's community-school program. The idea is that no amount of instruction will get struggling students caught up if they don't attend class.
Guevara asked for an update from Tapia, the parent and mentor. He described a "chill room" he'd set up, complete with posters of Beyoncé and Malcolm X, where students could hang out with their mentors during lunch. Guevara read through a list of the most frequently absent students, asking each team member to choose a few to keep close tabs on.
Next, they went over the results of a survey of 15 students whose attendance had improved dramatically this year. Last year, nine students cited illness and 11 mentioned "appointments." "Part of what this triggers for me is the health aspect of community schools," Guevara told the group, saying the responses showed the need for a school-based health clinic.
Honoroff, who'd sat in the back of the room as Guevara led the meeting, found the results encouraging. If the appointments included parents taking their children with them to an immigration lawyer, he suggested, perhaps the school could offer free legal clinics.
3:02 p.m.—Jumping jacks and fist bumps
The school day lasts an extra hour this year at the 94 struggling schools, part of the mayor's plan to turn them around. But at M.S. 50, students weren't complaining. That's probably because, in addition to receiving help with math or reading, they get to play soccer, learn to crochet, practice debating, try jazz dancing, or record podcasts, among other options.
Usually Guevara moves from room to room. But an art teacher was absent, so Guevara oversaw her mural-making class. The task that day was for students to sketch the signatures they would use to sign the mural, which will be painted in a third-floor hallway. At the end of the period, Guevara had the students unwind by doing jumping jacks, squats, and running in place.
After that, Guevara headed upstairs to meet with Carolina Hidalgo, the bilingual teacher. The two are experimenting with an alternative to parent-teacher conferences called "academic parent-teacher teams," which are different from typical report-card meetings in that it has parents come into the school for three workshops throughout the year, where the teacher explains the skills that students must learn and gives parents tips for helping. It's designed in particular for parents with limited formal educations and those still learning English, who want to be involved in their children's learning, but don't know how. "It's like you're building your team," Guevara explained. "Who's going to be the support structure for the student in all their learning spaces?"
After the pair finished looking at student writing samples, Guevara stopped by Honoroff's room to say goodbye before the break. They went over some last-minute business, then bumped fists.
"Get some rest," she said.
---
This post appears courtesy of ChalkBeat New York.