How Can Schools Adapt to Gentrification?
A struggling campus in Brooklyn is becoming selective and moving to a new high-rise building to appeal to middle-class families.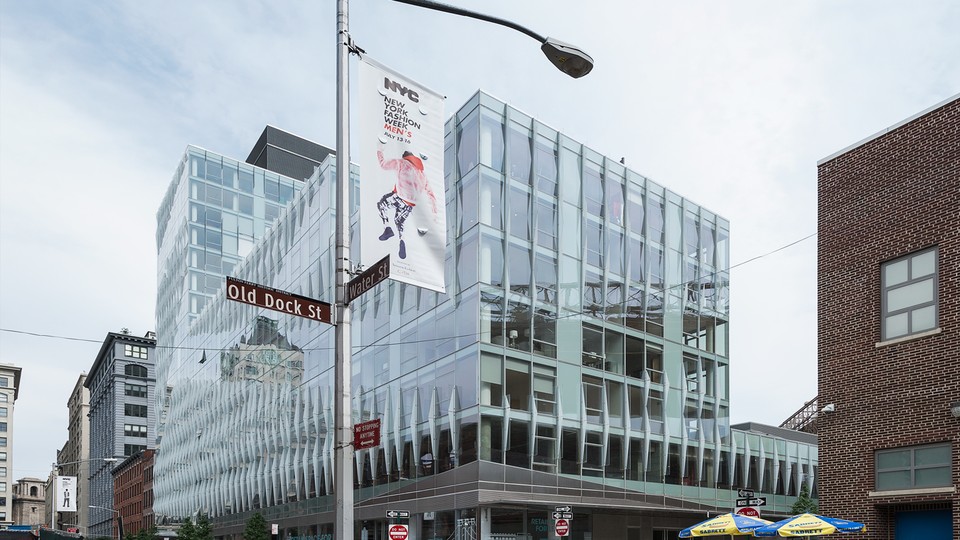 Come September, Satellite West Middle School, a small, troubled school in New York City, will have moved from its shared brick building in Vinegar Hill, Brooklyn, into a sparkling glass condominium building at the foot of the Brooklyn Bridge. Nestled in the heart of the chic Dumbo neighborhood, the redesigned school will focus on science and art, enlist local tech workers as mentors, and go by a new name, The Dock Street School for STEAM Studies. The admissions process will also change: Instead of using a lottery, the school will begin handpicking its students.
This transformation is one of New York City's answers to the vexing riddle of how to convince middle-class families in gentrifying areas to send their children to local schools with less-than-stellar reputations. The potential rewards are high, as the influx of middle-class students and funding could help revitalize the district, keep newcomers from decamping to private schools or moving, and create newly diverse classrooms, which research shows is beneficial to students.
But the move raises some prickly questions: Must a struggling school become selective before middle-class families will give it a chance? And is the cost of wooing those families excluding others?
An ever-growing number of middle-class families are choosing to settle in this particular Brooklyn district, which stretches from the rapidly redeveloping neighborhoods of Bedford-Stuyvesant and Fort Greene to solidly upper-class Dumbo and Brooklyn Heights. And while many are choosing to send their children to increasingly popular local elementary schools, most of the district's dozen middle schools have not caught on in the same way. Most serve primarily low-income students of color and earn test scores far below the city average.
Satellite West epitomizes the challenges facing these schools: dwindling enrollment, low test scores (though they are comparable to those at other schools with many high-needs students), and a spot on the state's list of most dangerous schools. Nearly 90 percent of its students come from low-income families, and not one is white.
Because families can apply to any middle school in the swiftly gentrifying Brooklyn district where Satellite West is located, the city can't just redraw zone lines to nudge more families into certain middle schools. Instead, the schools must entice parents to apply—a vital task for a school like Satellite West, which currently serves just 74 students, and needs more applicants to stay afloat.
After hosting forums and focus groups to ask families exactly what they are looking for in a middle school, the Brooklyn district modeled the new school according to their tastes—a community-driven redesign process that could provide a blueprint for other similarly floundering middle schools. "This is a unique, beautiful way to design a school," the Satellite West Principal Melissa Vaughan told parents at a recent presentation.
That makes the Dock Street School a window into what some middle-class families seek—in this case, a trendy theme, modern facilities, and a progressive bent. But it also reveals the types of students they want their children surrounded by. It was during the planning process that many parents said they wanted the new middle school to screen its applicants. The redesign team consented. While students who apply to Satellite West now are randomly selected, Dock Street will likely pick its students based on several criteria, including test scores, grades, attendance records, and their performance on a group project, aiming to assess the students "holistically," according to the district superintendent.
"If I stick around and take a leap of faith on a middle school [in my district] that doesn't have great test scores, I at the very least want to make sure there's a peer group for my kid," said Maggie Spillane, a parent and redesign-team member.
But the new admissions policy, while appealing to middle-class families, could simultaneously shut out other families.
Halley Potter, a fellow at the Century Foundation who studies school diversity, said that middle-school programs that screen students can disadvantage those who attended less-rigorous elementary schools. In practice, this often means that students end up sorted by class and sometimes race.
"I'd be really cautious" of screening students, she said, "if integration is one of the potential goals."
In fact, the 99 total white students enrolled at the two highest-performing schools is more than double the number of white students at the district's other 10 middle schools combined, according to an analysis of state data by Rob Underwood, a member of the district's community-education council.
The model for Dock Street is the Salk School of Science, a prestigious school in Manhattan's Gramercy neighborhood. Salk screens applicants based on their test scores, grades, writing samples, and a science exercise, among other factors.
Cynthia McKnight, an elementary-school parent and member of the redesign team, said her older son attended Salk. While she loved the first-class education he received there, she said it came at the expense of diversity: He was the only black boy in his class.
Last year, 85 percent of Salk students were white or Asian and only 10 percent received subsidized lunch, a measure of poverty. In the district where Salk students must live, 72 percent of students are white or Asian and 42 percent receive free or reduced-priced lunches.
While Dock Street plans to strive for greater diversity, McKnight said, many parents also made clear that they would not consider the school if it continued to admit any student who applied.
"A lot of parents wouldn't send their children here if they didn't have a screen," she said.
Other parents said the desire for a selective school reflects the scarcity of local options for high-performing students. In addition, it could help assuage concerns that Dock Street is just Satellite West rebranded—especially since the redesigned school would keep the same principal and teachers.
Barbara Freeman, the district superintendent, and some members of the redesign team insisted that Dock Street can screen applicants and still enroll a diverse mix of students. And the lessons of the redesign could also benefit the district's other middle schools, she added, which are struggling to capitalize on the influx of new families.
"As the district continues to go forward with gentrification and the changes, how are we equipped to answer these big questions?" she said.
For now, it appears that some parents are still unaware of Satellite West's pending transformation into a selective school. Faraji Hannah-Jones, a parent at the school that Satellite West currently shares a building with, said he was surprised to learn about the change, which he called a "recipe for disaster." He said that in attempting to draw in more middle-class families, the policy risked excluding the neediest ones.
"If you're going to have something like this that's supposed to be special," he said about the revamped school, "it should benefit the kids who need it most."
---
This post appears courtesy of ChalkBeat New York.