The Re-Politicization of America's Colleges
A new survey shows that students feel much more engaged and open to activism than they were in the past.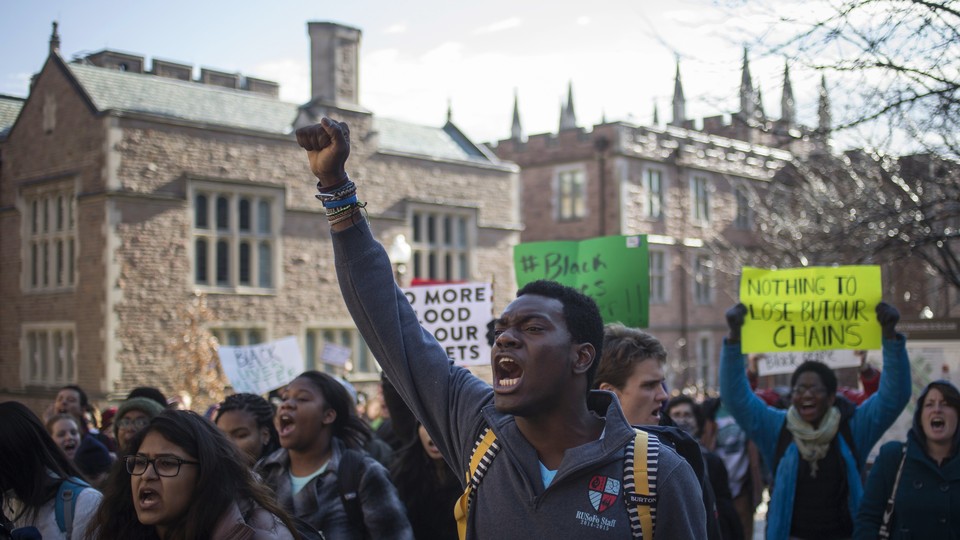 A movement may be emerging on college campuses. Though it may seem like the well-publicized string of protests slowed at the turn of the spring semester, a new survey of college freshman indicates that these students are more interested in political engagement and activism than they have been in years.
The annual American Freshman Survey, conducted by the Higher Education Research Institute at UCLA, polled 141,189 full-time students at nearly 200 colleges. Students across the country have been protesting racial injustice in their communities and responding to national conversations after high-profile shootings in places like Ferguson, New York City, and Baltimore, as well as highlighting problems such as campus sexual assault and college affordability. "Perhaps connected to the increased activism among college and high school students over the past year, first-time, full-time college students in 2015 report substantially greater likelihoods of participating in student protests and demonstrations while in college compared to their peers who entered last year," the study says.
The percent of students who said they had a "very good chance" of participating in protests increased 2.9 percentage points—from 5.6 to nearly 9 percent—since last year's survey, making this class the most ambitious about campus demonstrations in the survey's 50-year history. "Many of these students, if not nearly all of them, were seniors in high school last spring when demonstrations against hostile campus climates and sexual assault were occurring," Kevin Eagan, director of the Cooperative Institutional Research Program at the University of California at Los Angeles, told Inside Higher Ed.
---
---
The survey was administered between March and October 2015 (before many of the most highly covered protests). And although the survey didn't explicitly ask about any specific events or protests, black students reported the greatest likelihood of participating in demonstrations (16 percent) and have experienced the largest increase (5.5 percent) in participation since last year—perhaps reflective of their involvement in protests at places like Yale, Princeton, and the University of Missouri over the racial climate on their campuses. One in 10 Latino students also said they would  participate, compared to about 7 percent of their white peers.
---
---
This freshman class also demonstrated other shifts in the way they feel about their role in the political process. Forty percent of freshmen believe it is "essential" or "very important" to become community leaders, 60 percent expressed a commitment toward "improving their understanding of other countries and cultures," and three-quarters indicated that "helping others in difficulty" is important. While students' commitment to political engagement improved across the board, differences in responses among racial groups is noteworthy. Nearly two-thirds of black students, more than half of Latino students, and about 45 percent of Native American and Asian students rated this goal as "very important" or "essential," versus just over a third of whites.
---
Increases in the Importance of Civic Engagement, 2011-2015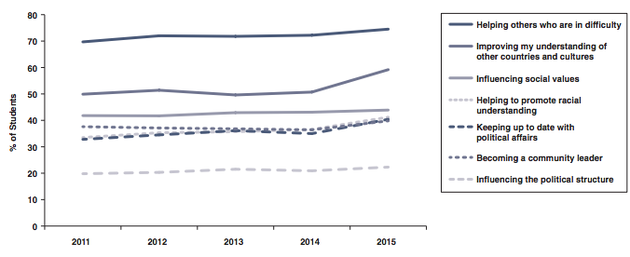 ---
According to the survey, student interest in civic engagement extends beyond their presence at physical protests and demonstrations. While the researchers can't say for sure that students expectations for participating in protests is connected to their levels of political engagement or to the recent waves of activism, the racial divide persists when looking at how much of a priority students place on influencing the political structure. According to the survey, 18 percent of Asian American or Pacific Islander and 20 percent of white students felt that it was  a "very important" or "essential" objective. Conversely, more than a quarter (about 27 percent) of Latino students and almost a third of black students said so; these two groups have been the most vocal about discrimination on college campuses.
---
---
Issues that are important to college students—college affordability, race and racial bias, immigration, gun violence—have gotten a lot of attention during the current 2016 presidential election cycle. Bernie Sanders is campaigning to make college free.  On her website, Hillary Clinton promotes that she will "fight to bring an end to sexual assault on America's campuses." Ted Cruz discussed the problems with affirmative action with Buzzfeed last year. Political candidates have vied for the youth vote, and it has been widely reported that the youth turnout in the 2008 presidential elections was a major contributor to Barack Obama's victory. There are still many months to go until the general election, but if this survey is any indication, college students—whose views, according to the survey, are increasingly aligning with progressive and liberal platforms—are slated to have a sizable impact on whom the country elects to office.