Trapped in the Community College Remedial Maze
Today, these institutions welcome scores of underprepared students who often have no idea how they ended up behind.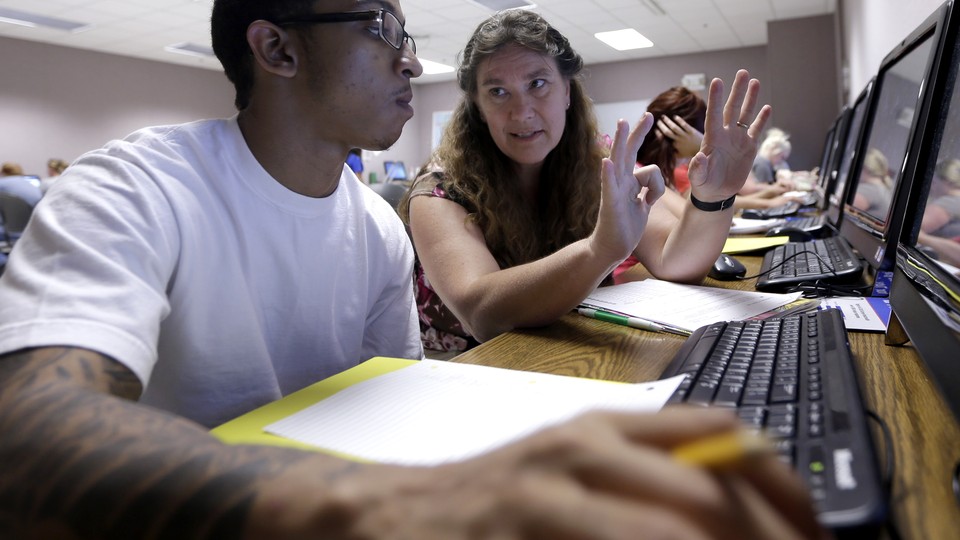 A majority of students with A and B grade point averages in high school still require developmental education at the community-college level, raising new questions about the skill level of incoming college students and the ways institutions measure their abilities. This is especially worrisome for students of color given that half of Hispanic college students and nearly a third of black college students start their higher-education paths at community colleges.
According to a new report that looked at a survey of 70,000 community-college students, 40 percent of students who said they averaged an A in high school reported that they needed a developmental course in at least one subject. Students with A- or B+ averages said they needed a brush-up course more than 50 percent of the time, and those with B averages required such a course nearly 60 percent of the time. Combined, these three levels of achievement accounted for 57 percent of the community-college students who were asked this question in the survey.
The report's authors, who lead the Center for Community College Student Engagement at the University of Texas at Austin, note the disconnect between students' beliefs about their ability to succeed at the community-college level and their actual academic outcomes. While most students believe they are on track to attain their academic goals, recent data from the National Student Clearinghouse shows that less than a third of community-college students earned a two-year degree after six years (and a tenth went on to earn a four-year degree). With an average age of 29, community-college students also tend to be older than the still-teenaged freshman shipping off to college.
While often outshone by more prestigious higher-education institutions, community colleges actually enroll more than a third of all U.S. undergraduate students and serve as a first point of entry for millions of college-going adults. For more than 40 percent of low-income college students, community colleges are their first higher education experience.
Developmental courses, which are also known as remedial education courses, are a growing concern for researchers and advocacy groups because data shows students are much less likely to complete college if they take even one such class. These developmental courses are mandatory for students who want to earn degrees, but don't count toward the number of credits they must earn to satisfy graduation requirements. They also cost money, meaning students may feel stymied by coursework that adds to their debt loads but doesn't move them closer to earning a degree.
Remediation is most prevalent at community colleges, where more than two-thirds of the students are estimated to take such a course, largely because they took a test that found their math or English language skills to be lacking. But a bevy of studies suggest remediation courses themselves hold students back from succeeding in college. One research trick scholars use to determine the effect a program has on students is comparing those who were a few points apart from each other on a remediation exam. The approach, called regression discontinuity (RD), assumes that students who have similar scores also have virtually identical skill sets, even those that scored a few points below the cut-off point that determines whether they're placed in remedial courses.
Scholars then track these two sets of students as they make their way through college. A Columbia University review of such studies in 2014 concluded that "developmental education has mostly null and sometimes negative effects on student outcomes for students near the cutoffs. . . suggesting that students spent time and tuition on courses that may have made no discernable difference in their ability to succeed in college."
"So much can go wrong on the day of a placement test. You can have a stomachache and all of a sudden you're on a remedial track for your first year of college," said Michelle Asha Cooper, president of the Institute for Higher Education Policy. "There can be a variety of reasons for why you didn't do well on your placement test. One can be, yeah, I need to be in remedial, and the other can be, 'I just had a bad day and didn't do it well.' I think that colleges and universities have to figure out the right way to assess students' readiness."
And despite the importance of these placement tests, the University of Texas survey found that just 41 percent of students study for these assessments.
Some community colleges are glomming onto new approaches to providing remediation to students that early results show advance far more to the credit-bearing classes they need to graduate. One such effort is enrolling students needing remediation in classes that also are paired with more advanced courses and typically are taught by the same professor. Data from colleges in Colorado, Indiana, Tennessee and West Virginia show that this "co-requisite" approach saw students succeed at twice the rate in English and five or six time the rate in math. Nearly half of all postsecondary students of color in Colorado attend the state's community colleges, according to 2015 state data. The system as a whole counts nearly a quarter of its students as black or Hispanic. In Tennessee, 17 percent of the community-college students in the state are black and more than 3 percent are Hispanic, according to 2014 state figures.
At Pellissippi State Community College in Tennessee, results were more modest but still promising. Before the state test-drove the co-requisite classes, the completion rate for remedial math and English were 45 percent and 20 percent, respectively. After one semester of the new approach, the completion rate for each subject was 59 percent.
North Carolina in 2013 rolled out a set of rules that allowed students who had decent grades and took enough English and math courses in high school to completely bypass placement exams.
Another reform is assigning math classes to students that are better aligned with their career goals. Community-college students with the aim of entering medicine or engineering take college-level algebra, but students pursuing other fields who need to satisfy math requirements can take statistics or quantitative reasoning. Other community colleges partner with local businesses so that students develop skills relevant to their jobs by taking related classes in between work shifts.
Sandy Shugart, president of Valencia College in Orlando, Florida, a community college that has won awards for its reforms and higher than average completion rates, said at a fall journalism event that workplace and college partnerships should be the norm. "No class will ever replace work as a place of learning, and we still haven't mastered that in our education model," he said. The college, which received an Aspen Institute prize in 2011 for its high completion rates among students of color, counts 17 percent of its more than 40,000 students as black, according to 2013 data. Since 2003, its share of black and Hispanic students has surged from 35 percent to 49 percent.
But despite findings that suggest remedial courses slow students down, 87 percent of the University of Texas survey respondents noted that their colleges required them to take a placement exam, though the survey identified conventional college-entrance exams like the SAT and ACT as placement exams.
"If you are a student who thinks you've done well and all of a sudden you've gotten to college and you're told you need a remedial course, it is quite demoralizing," said Cooper. "Because you didn't expect that."