School Integration's Comeback
President Obama's budget includes a new $120 million grant to support school integration.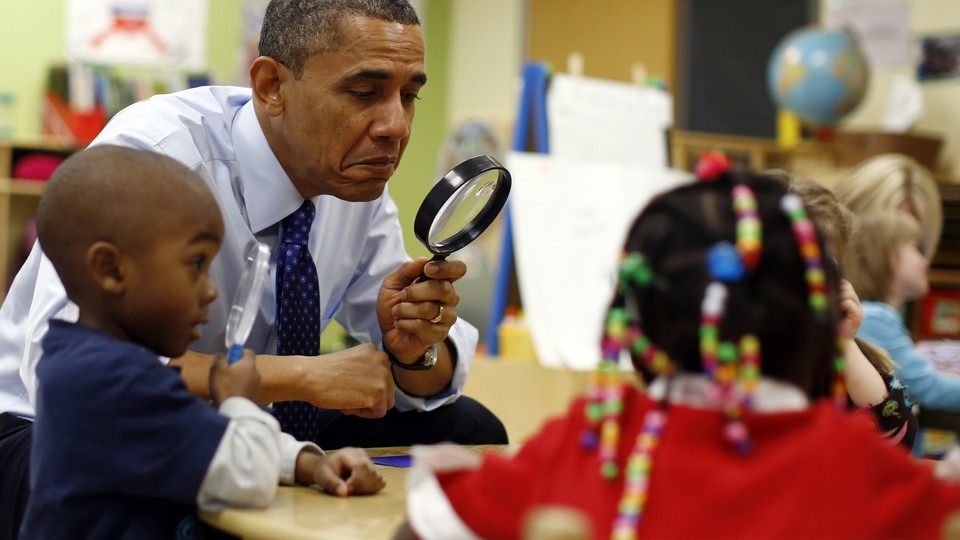 For decades, researchers have found that integrating schools by race and economic status is one of the most powerful levers available for improving opportunities for kids. And for decades, Democratic and Republican presidents alike have been terrified to take any action, as visions of white backlash to forced racial busing in the 1970s danced in their heads.
That political taboo now seems to have been broken. On Tuesday, the White House announced that the president's budget includes a new $120 million "Stronger Together" grant program to support local efforts to integrate schools by income. The proposed program would set up a competition to reward school districts or groups of districts that voluntarily take efforts to break up school-poverty concentrations. This is important because low-income students, on average, perform far better in middle-class schools than in schools where most of their classmates are poor.
In one fell swoop, the proposed program would more than double federal funding of efforts to encourage school integration. In the past, federal support for integration has consisted of a single, $100 million program for magnet schools that attract students of different backgrounds through special themes or teaching approaches.
Critics may try to demagogue the new socioeconomic-integration proposal as a return of "forced busing," but the administration seems to be banking on the idea that new programs—which emphasize choice over compulsion and socioeconomic status over race—may have more political viability today than forced busing for racial desegregation did in the 1970s. Two new papers published by The Century Foundation should give the administration reason for confidence.
First, as my colleagues Halley Potter, Kimberly Quick, and Elizabeth Davies note in "A New Wave of School Integration," while old efforts to integrate explicitly by race have fallen out of favor, the number of school districts that take socioeconomic status into account as a factor in school assignment has doubled since 2007. Today 91 school districts and charter-school chains explicitly consider socioeconomic status of students (usually eligibility for subsidized lunches) in school-assignment plans. These districts educate 4 million students, or roughly 8 percent of students nationally. By contrast, in 1996, when I started researching socioeconomic integration for The Century Foundation, only two programs existed, educating about 30,000 students.
Socioeconomic-integration programs often have the effect of producing racial integration, which is a critical educational goal. But they offer a number of advantages over older race-based programs. The first is constitutional. While the U.S. Supreme Court struck down racial-integration plans in Louisville, Kentucky, and Seattle in 2007 for violating the Equal Protection Clause of the Fourteenth Amendment, using socioeconomic indicators as a basis for integration is perfectly legal.
There are also political advantages to programs that lift up economically disadvantaged students of all races—low-income black and Latino students, but also working-class white students, whose families often feel left out of race-specific remedies to educational inequality. Louisville's old race-based program, for example, resulted in one elementary school that was half black and half white, but virtually all the students were poor, and the school struggled academically. Socioeconomic-integration plans are the types of programs that could align the interests of working-class whites and blacks as they fight for the opportunity to attend good, middle-class schools.
And, as a second Century Foundation report by Amy Stuart Wells, Lauren Fox, and Diana Cordova-Cobo of Columbia's Teachers College notes, many integration programs today rely on voluntary choice, not compulsory busing. In the Hartford, Connecticut, region, for example, more than 40 inter-district magnet schools have been created to serve 16,000 students through choice. No one is forced to go to a school they don't wish to attend.
Indeed, the kind of programs included in the president's socioeconomic-integration proposal are already in existence across the country, in both blue and red states. Programs have been started in stereotypically liberal jurisdictions such as Cambridge, Massachusetts, and Berkeley, California. But they can also be found in Beaumont, Texas; Nashville, Tennessee; Omaha, Nebraska; Rock Hill, South Carolina; Salina, Kansas; and Troup County, Georgia.
Local officials in these states have turned to socioeconomic integration because it is extremely difficult to "fix" high-poverty schools at scale. Instead, they asked, why not give more low-income students a chance to attend quality, middle-class schools where classmates are academically engaged, parents have the time to volunteer in class, and strong teachers with high expectations are mostly likely to be found?
A 2010 study by Heather Schwartz of the RAND Corporation found that students from low-income families who were randomly assigned to public housing (and neighborhood schools) did far better academically when they attended middle-class schools than higher-poverty schools—even though the latter schools spent $2,000 more per pupil. The positive outcomes and cost savings associated with socioeconomic integration ought to have appeal among liberals and conservatives alike. Indeed, such disparate voices as the education historian Diane Ravitch and former D.C. schools Chancellor Michelle Rhee have backed new efforts to integrate schools.
What's really likely to propel integration programs politically, however, is not the benefits to low-income students but the emerging evidence on the benefits of integration to middle-class and white students. The Century Foundation report by Wells, Fox, and Cordova-Cobo finds that "the benefits of K–12 school diversity indeed flow in all directions." As higher-education leaders have long recognized, "diversity makes us smarter." The authors write: "Researchers have documented that students' exposure to other students who are different from themselves and the novel ideas and challenges that such exposure brings leads to improved cognitive skills, including critical thinking and problem-solving."
There's growing consensus among young middle-class and white parents that their children will better learn how to navigate an increasingly diverse nation if they attend diverse schools. Ninety-six percent of major employers, the researchers note, say it is "important" that employees be "comfortable working with colleagues, customers and/or clients from diverse cultural backgrounds." Meanwhile, Wells, Fox, and Cordova-Cobo cite one poll finding that 77 percent of Millennials expressed a preference for urban life, suggesting an embrace of diversity not evident among older generations of whites who decamped to homogenous suburbs.
Of course, critics may be slow on the uptake and fight integration like is was 1974. But even if President Obama's socioeconomic-integration proposal goes down to defeat, something important will have happened. For the first time in decades, a United States president will have proposed taking a new and important step to integrate the nation's public schools.
This is something that as recently as 2009, President Obama and his then-Education Secretary Arne Duncan were unwilling to do. Their signature Race to the Top initiative pushed charter schools and teacher pay-for-performance and the Common Core standards, not school integration. It is telling that in a recent interview, Duncan, when asked to cite his failures, included the absence of progress on school integration. "I would give myself a pretty low grade on that," he said.
Duncan's replacement, John B. King Jr., is making up for lost time. In an address on Martin Luther King Jr. Day, John King declared, "Research shows that one of the best things we can do for all children—black or white, rich or poor—is give them a chance to attend strong, socioeconomically diverse schools." And now, the administration has proposed putting resources behind this idea. The old and outdated political consensus that integration is too hot to touch has given way to a recognition that growing economic and racial segregation of schools can no longer be ignored.