An Easier Way to Enroll in School Lunches
The U.S. Department of Agriculture will test using Medicaid data to automatically enroll eligible students.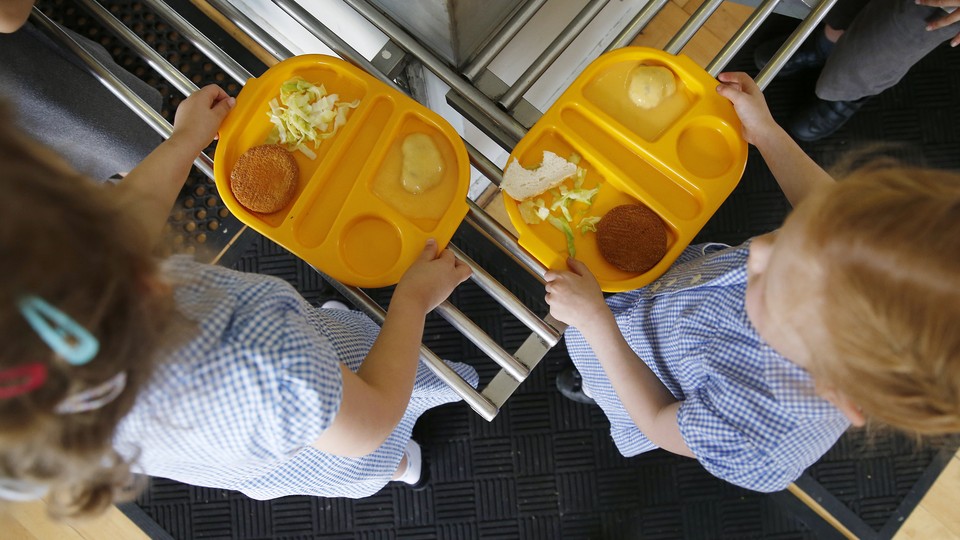 The USDA Food and Nutrition Service has announced a new pilot program for the upcoming school year that hopes to give more children access to the National School Lunch Program.
Under the program, states will use Medicaid data to find qualifying students and directly enroll them for both free and reduced-price meal programs. Under the current system, parents have to go through a cumbersome application process to access the programs, and the paperwork diminishes accessibility.
"Many children who are eligible for free and reduced-lunch meals aren't enrolled in the program—this is going to help ensure that they receive the benefits, too," Agriculture Secretary Tom Vilsack told The Washington Post.
The pilot program will test three key things: whether the program has an impact on including families who are currently not signed up for free or reduced-price lunch; whether it'll also work for families that are signed up already; and whether it will make a dent in the federal costs of providing school lunches and breakfasts. States must apply and be accepted to the pilot program in order to participate. The White House says the USDA hopes five states will participate in the coming school year, and that the agency is looking to expand to 20 states over the next three school years.
The USDA has high hopes that proving the utility of this program will eventually lead to national adoption. According to the Post, a small version of the program tested in New York City saw a 7 percent increase in enrollment just for free lunches.
Childhood health and nutrition has been a key issue for the Obama administration. In 2010, Obama signed the Healthy Hunger-Free Kids Act, which reauthorized and updated federal nutrition programs. And First Lady Michelle Obama has been outspoken about tackling childhood obesity through her Let's Move program.
This new program is not the only announcement the administration made regarding child hunger on Wednesday. President Obama also announced his 2017 budget will include $12 billion over the next 10 years to extend the Summer Electronic Benefits Transfer for Children (Summer EBT) program, which provides extra benefits during summer months to families whose children get free or reduced-price meals in school. According to the White House, only a fraction of the 22 million students who receive free or reduced-price meals have access to this food source when school is not in session. Summer EBT aims to make sure these children are not under-nourished during the summer months.
This budget item will need to be approved by Congress, while the USDA FNS pilot program will go through as an executive action. Vilsack told the Post he thinks both will have bipartisan support. "It's pretty hard to position yourself against feeding kids, politically speaking," he said.