The Other Children of Silicon Valley
Thousands of low-income kids—most of whom have immigrant parents—are missing out on the early education they need to keep up with their affluent peers.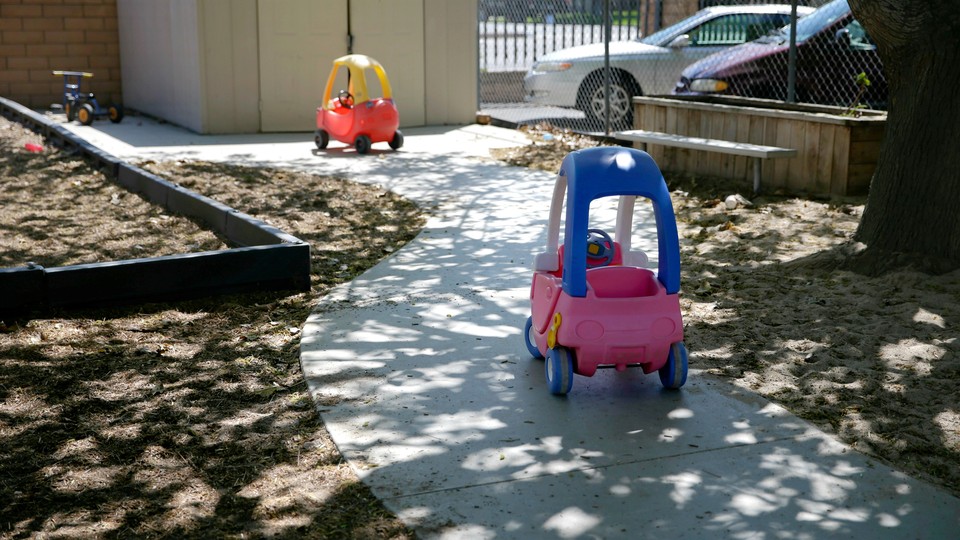 January is preschool open-house season, and parents with the wherewithal to be picky have lots of criteria to think about. In Silicon Valley—home to public schools that produce some of the best test scores in California—hoards of moms and dads are likely narrowing down their myriad options as they tour campuses, review guidebooks, and consult with fellow parents. The area reflects the degree to which American parents have become obsessed with ensuring their kids have an academic edge by the time they start kindergarten. It also reflects the growing national reality that the children born to low-income immigrants are typically among the children who get left behind: Close to three-quarters of Silicon Valley's low-income preschool-age kids have at least one foreign-born parent, and thousands of them are not enrolled in preschool, meaning that kindergarten may be their first experience with formal education.
Fancy preschools in Silicon Valley abound. There's Action Day Primary Plus, ranked the area's No. 1 preschool by Bay Area Parent, whose "Tiny Tot" dance classes, weekend sports programs, and other activities "promote enjoyment and confidence through movement." There's Galileo Preschool, "which provides an innovative, project-based learning environment for children" and a curriculum that includes everything from American Sign Language to community service. Or there's the Children's World Bilingual Montessori School, where kids are exposed to both English and Mandarin on a daily basis as they learn the decimal system, Chinese culture, gardening, and more. The sticker price for enrolling full time in one of these preschools? $1,365, $1,320, and $1,200 a month, respectively.
These price tags are hardly surprising; private preschool is really, really expensive almost anywhere you go. But they mean that even in the nation's tech hub, where the poverty rate is significantly lower than the U.S. average, the young children of lower-income parents often miss out on the benefits of early-learning opportunities. According to a recent report from the Urban Institute, Silicon Valley tends to mirror the rest of the United States when it comes to early-education inequality. About three quarters of 3-year-olds from poorer families aren't enrolled in preschool, but a majority of their wealthier counterparts are. Among 4-year-olds from lower-income families, nearly 40 percent don't attend preschool, compared to only a fourth of upper-income families. "Even in a place of incredible wealth, we're finding similar gaps," said Erica Greenberg, one of the study's authors.
While the return on investment of prekindergarten education is widely debated, researchers tend to agree that high-quality early-learning experiences are most beneficial for children who are poor or speak English as a second language. These programs often provide stimulating environments that the kids may not otherwise get at home: opportunities to develop broad vocabularies, fine-tune motor skills, and eat more nutritious meals, for example.
What's most noteworthy about the Urban Institute's findings is that the kids in Silicon Valley who are missing out on preschool are overwhelmingly from immigrant families. These families aren't made up of the "highly skilled immigrants" who, as Bloomberg might put it, imported to the area for their brains. The valley has "an unusually large low-income immigrant population," the report says. This is a population consists primarily of service workers—people who, according to ThinkProgress, "help supply Silicon Valley with housekeepers, janitors, restaurant workers," and the like.
Silicon Valley's income inequality is well-documented. According to a June 2015 report by the Silicon Valley Institute for Regional Studies, the median annual income for high-skill, high-wage earners across the region is $119,000—more than four times that of low-skill, low-wage earners. And the inequality manifests itself in the education system in obvious ways. More than half of the low-income children in Silicon Valley have parents with low levels of formal education, according to the Urban Institute report; close to 60 percent only have a high-school degree or less. Meanwhile, public-school teachers are being forced out of their communities because of skyrocketing housing prices. Rich kids in those same neighborhoods pay as much as $400 an hour to consultants to help them get into colleges that are less and less attainable to their poorer classmates.
Less obvious, perhaps, is that the achievement gap in Silicon Valley isolates children who are born to poor immigrants, children who "face the double burden" of being poor and living in households that struggle with "language barriers, a lack of familiarity with U.S. systems, and—among those undocumented and mixed-status families—fear of government institutions," the report says. (The vast majority of the children in Silicon Valley with immigrant parents—97 percent—are U.S. citizens.)
The percentage of low-income preschool-age children in Silicon Valley who have have at least one immigrant parent exceeds rates seen in urban areas known for their large immigrant populations, such as Miami, Los Angeles, and Houston. And while a majority of Silicon Valley's low-income immigrants come from Mexico and Central America, a sizable minority come from other parts of the world; parents who've immigrated from Vietnam and the Philippines, for example, account for 10 percent of the young low-income children in Santa Clara county.
California for its part spent $1 billion on prekindergarten this past school year, a 12 percent increase from the year before. But these programs involve lots of red tape. And according to Greenberg, the ethnic and linguistic diversity within the poor immigrant population poses significant "logistical challenges," hampering outreach and efforts to ensure the families are aware of all their early-education options. As the study notes, early-learning programs in the U.S. are funded, organized, and delivered in complex ways, and "subsidies for child-care assistance may be much less well known to this community."
Interestingly, Greenberg said that the bureaucratic issues that deter undocumented or mixed-status families from enrolling their children in early-learning programs are why some advocates in the area are pushing for a universal preschool. Universal preschool, in which the government provides prekindergarten for all kids regardless of their ability to pay, has been criticized by some educators and researchers who say the already-limited pre-k funding should be reserved for those with limited means. But in Silicon Valley, according to Greenberg, universal preschool would simplify enrollment; parents likely wouldn't need to fulfill eligibility criteria beyond child age and home address, and that means fewer barriers to preschool access for undocumented families.
Indeed, cost isn't the only reason so few low-income immigrant parents put their children in preschool. In some cases, parents simply prefer to care for their kids before they're old enough to enter kindergarten, whether because of cultural reasons or because of unfamiliarity with U.S. approaches to early learning. In other cases, immigrant parents, especially those who aren't documented, have a general fear or distrust of government institutions and are wary of signing up for publicly funded programs such as California's need-based state preschools. "Interactions between and among [these] barriers can compound the difficulties facing low-income immigrant families," the report says.
The early-education barriers faced by Silicon Valley's low-income immigrants are typical nationwide: Foreign-born parents throughout the U.S. are less likely to access any type of licensed child care, preschool, or child-care-assistance program for their children than their U.S.-born counterparts. As Silicon Valley works to expand access to early-childhood education, the Urban Institute report concludes, other areas in the country that are witnessing similar demographic might want to pay attention. The outcome may never mean sign-language instruction and Chinese-culture classes for disadvantaged children, but it may mean more opportunities for them to start kindergarten equipped with the basic skills they need to succeed.