Why Is the College-Application Process So Complicated?
One teen's misunderstanding of the SATs made the application process far more overwhelming than it needed to be.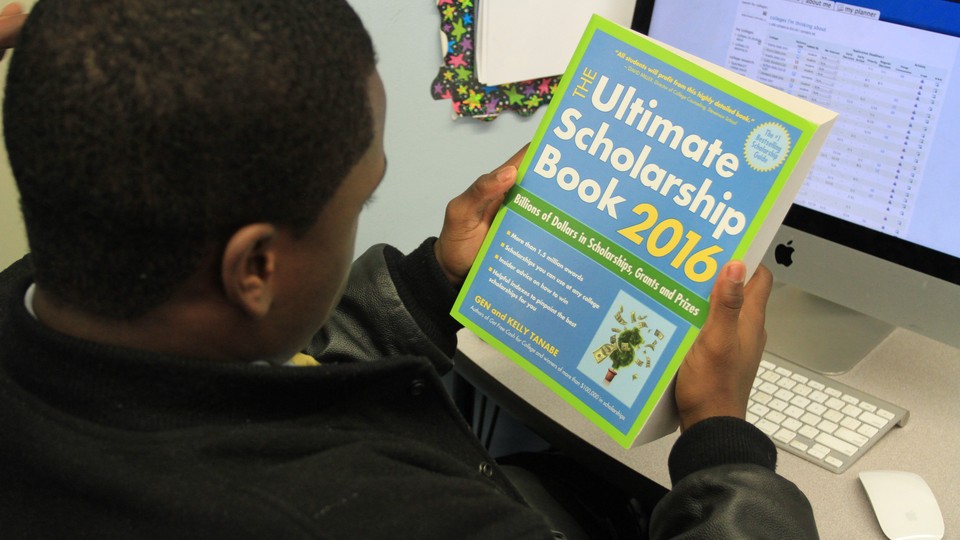 Jamal Trotman is a star at Eagle Academy for Young Men in Brooklyn.
He made the All-State football team and was a team captain. He wants to be a journalist, and he's interned at NBC and at the investment firm Blackstone. His counselors say he's a dedicated student and selected him to be his school's spokesman at a college fair last fall.
But his college options could be limited by a misunderstanding: He didn't realize he needed to answer most of the questions on the SAT.
The mistake could have been a small one. (Like many students, he eventually retook the exam after preparing more seriously.) But the SAT trouble, and a series of other recent setbacks, might have significant consequences. Though he still has time, months into the search process, he hasn't sent off many applications, overwhelmed by his long list of schools.
"This process is more of a nightmare rather than an experience to me," he said.
I first met Trotman, who was born in Guyana and lives in Flatbush, at a college fair this fall. He agreed to let Chalkbeat check in throughout his college search—and his story illustrates just how many opportunities there are during the application process for students to get tripped up.
---
Oct. 23: The College Fair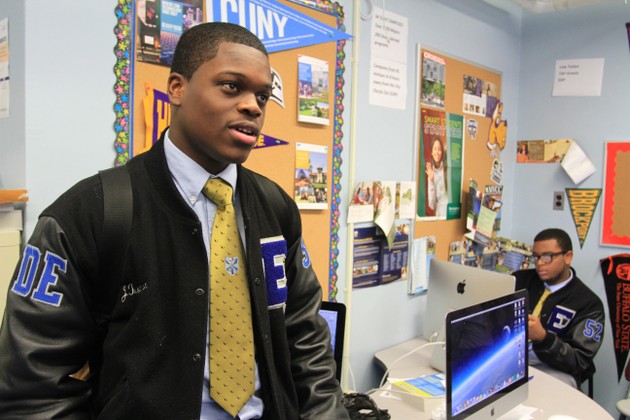 Eagle Academy II, a small, all-boys public high school that serves mostly black and Hispanic students, is focused on helping its students get to college. The school had a 95 percent graduation rate last year and has a dedicated college counselor.
At a college fair at Eagle Academy's other campus in the Bronx, Trotman explained that he already had a dream graduate school in mind: Columbia's Graduate School of Journalism. But he was still unsure where he wanted to go first, though some applications would be due in a few months. The end of football season would mean more time to look into schools, he said.
Trotman has a B average and a passion for writing. But when he was younger, Trotman thought he would attend a trade school and enter the construction industry.
"After I found my love for writing, it just made me want to go to college," he said.
Nov. 2: A Massive List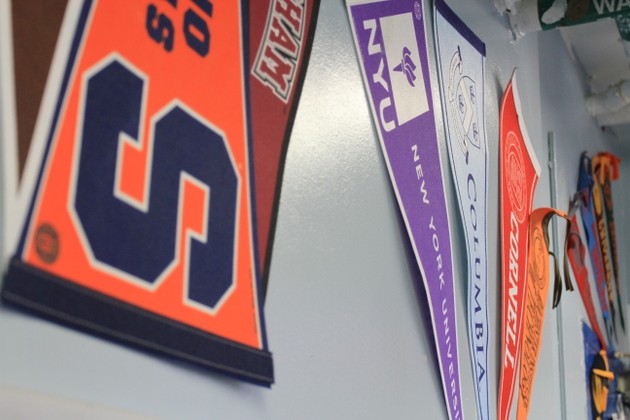 By November, the college search had taken on a life of its own.
Trotman's dream to study journalism had spawned a confusing list of about 50 potential schools—and he had no idea how to pare it down. Northeastern, Syracuse, and University of New Hampshire were under consideration. If it weren't for football, he said, he'd think about Brooklyn College.
He knew he wanted a school with a good journalism program and low tuition bill. He also hoped to move out of state—and to play football. Still, schools made his list when family members or advisers suggested them, and he had trouble deciding which would best match his resume and need for financial aid. This confusion lasted well into his college application process.
"The minute I try to take a school off my list then I realize, oh, I put that school there for a reason," he said.
Trotman isn't on his own as he works toward his goals. His three older brothers went to college, an aunt went to Rutgers, and he has mentors from his internships. Eagle Academy provides a college counselor and a host of other advisers to students. (Citywide, 79 percent of high-school students said someone at their school was helping them plan for after high school, according to the city's survey, but many high-school counselors are stretched thin.)
Trotman's grateful to have the help, but sometimes it can be overwhelming.
"It's just everyone," he said. "'Hey, you should check out this school, you should check out that school.'"
Hefty tuition is about the only reason Trotman had removed a school from his list. He's doesn't want to apply to schools that cost more than $35,000 each year out of fear that he would end up with the bills.
Monteka Maddox, the school's college counselor, says that's a misconception about financial aid that a lot of students come to her with.
"There are plenty of guys here who graduated last year who aren't paying anything," she said.
Nov. 28: The Offseason Arrives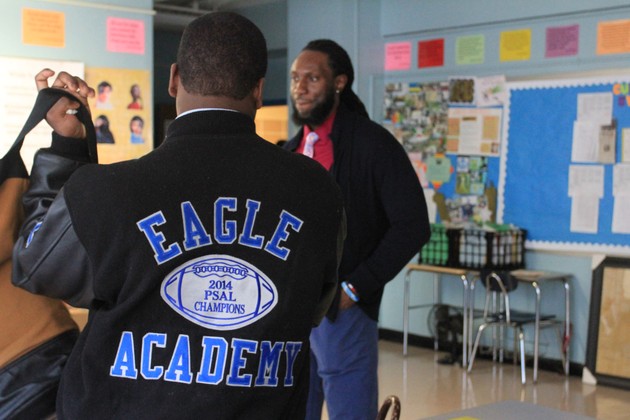 For the second year in a row, the Eagle Academy football team made it to a city championship game. Playing in the championship with his "brothers" was a milestone Trotman had worked toward for years.
In the third quarter, Trotman was blindsided by an opponent from Frederick Douglas Academy. His foot slammed into the ground and his body twisted in the opposite direction.
"At first I thought it was just a cramp in my calf," he said. "Then I realized I couldn't get up."
His team won the game. But Trotman began the offseason—the time he had waited for to select schools and finish applications—at the latest possible date, with two torn ligaments and and a torn meniscus. He scheduled surgery on his knee and began walking with a brace and cane.
Dec. 16: Waiting for His SAT Scores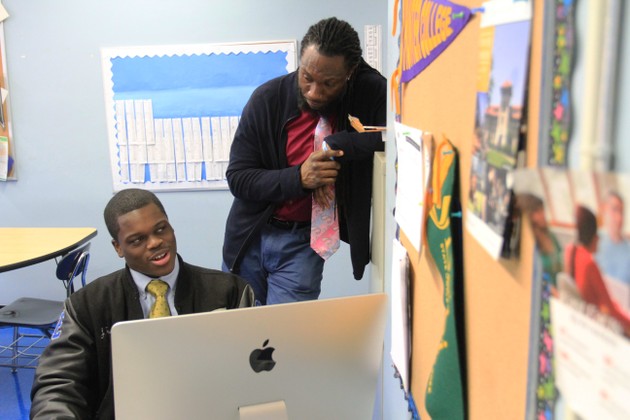 Trotman hobbled into his college adviser's office on December 16.
He still hadn't applied to SUNY or CUNY schools, and he still had about 40 schools on his list. He was also deep into the 800-page "Ultimate Scholarship Book."
"This is even more effective than FAFSA to me," he said, referring to the basic federal financial-aid form, "because I can just look through the book, skim through it real quick, and apply."
Trotman hadn't applied to schools yet because he was waiting on his SAT scores, he explained. He took the test in May 2015, and was under the impression that he could reach his goal of scoring a 1,000 on the reading and math sections combined by answering only about half of the questions. (It was a strategy he acknowledged later—with his typical good-natured attitude—was "kind of stupid.")
He ended up with an 890. That's 20 points below the average score in New York City for the reading and math sections in 2015, and 97 points below the national average.
Determined to boost his score when he took the test again in early December, Trotman enrolled in an SAT-prep class. He had studied hard, sometimes skipping homework to complete practice questions. He knew the new scores would be released soon.
"I know it's going to be better," he said.
Dec. 21: Expecting SAT Scores But Getting Something Else
Trotman stayed up until midnight on December 21 to check his scores. When he logged on, he faced an unwelcome surprise: His scores didn't exist.
Confused, he called the College Board, which administers the SAT. No one could provide answers because staff members were out for the holidays. The next Monday, Trotman had surgery on his knee.
News arrived just three days before the Jan. 1 application deadline for some colleges. His test was under review, which his counselor said was likely because his score increased so much.
College Board officials told Trotman that he'd have to wait until mid-January to receive his scores. In the meantime, he will miss a few early January college application deadlines. (College Board did not respond to questions about the reason for Trotman's delayed scores to protect his privacy. They said scores can be delayed for a number of reasons.)
The questions almost certainly won't prevent Trotman from going to college. Plenty of colleges have rolling admissions or later deadlines. After he gets the scores, he's hoping to get his applications sent out quickly.
But in the meantime, he's waiting to take the next step.
"It's kind of a setback," he said. "This right here is my make-it-or-break-it for my future."
---
This post appears courtesy of ChalkBeat New York.