How Fears of Deportation Harm Kids' Education
The threat of raids could be preventing some undocumented immigrants from sending their children to school.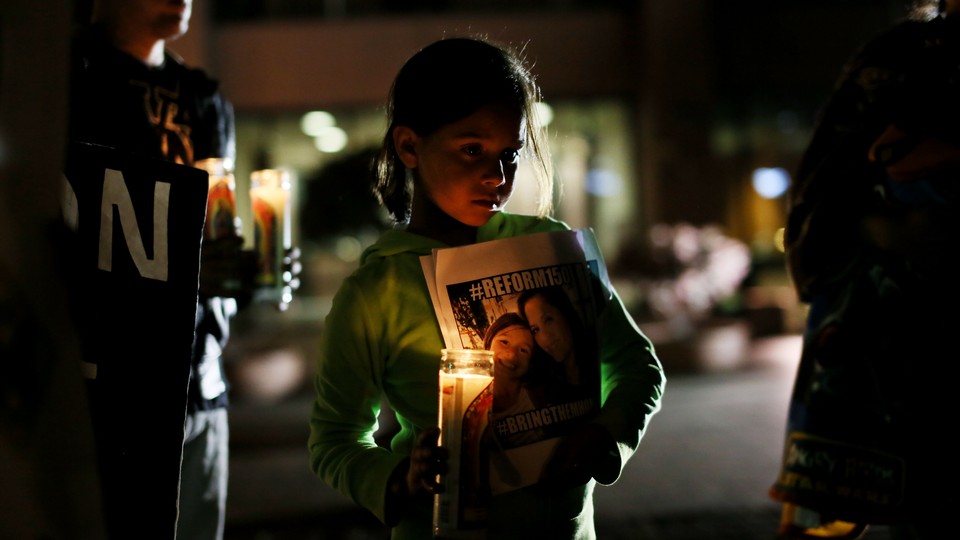 For many, the New Year represents new beginnings, a chance to start fresh with a clean slate. But this was not the case for hundreds of undocumented adults and children swept up in deportation raids in the first days of 2016. Federal authorities, stepping up immigration enforcement, fanned out primarily into Georgia, North Carolina, and Texas to take unauthorized immigrants with deportation orders into custody. Immigration officers are focusing their efforts on some 100,000 families that flowed across the U.S. border in 2014, reportedly in an attempt to escape violence in their home countries like El Salvador, the current murder capital of the world.
To casual observers, this might appear to be just another flare-up in the firestorm over national immigration policy. Yet a primary focus of the Obama administration's latest action is on the most vulnerable of immigrant groups—mothers and children—at a time when Latinos, who make up the largest percentage of undocumented immigrants, represent the fastest-growing segment of the U.S. public-school population. With raids and deportations aimed largely at Central American children, the debate is extending beyond the divisive issue of undocumented immigrants. Educators, advocates, and community and elected leaders are questioning the untold hardship on schoolchildren as America limps along with seemingly complex, confusing immigration laws and regulations.
About 50 million students were enrolled in U.S. public elementary and secondary schools in 2012. Of those, 7 percent (3.5 million children) had at least one undocumented parent, according to data from the Pew Research Center for Hispanic Trends. While most of the children with unauthorized immigrant parents were born in the U.S., the remainder, about 49,000, are undocumented themselves. This kind of data underscores the striking fact that immigration policy is education policy. Specifically, as current immigration policy separates families and leaves children parentless, the educational and emotional impact on even U.S.-born students can be staggering.
A CNN feature in 2013 profiled teen siblings in Florida orphaned after their father was deported while they were at school. It was the second time the children, who are both legal residents, lost a parent to deportation—their mother was returned to Nicaragua in 2008. "Constantly worrying that their parents will be snatched away, children often feel angry, helpless, and trapped," CNN's Cindy Y. Rodriguez and Adriana Hauser wrote. A study by the advocacy organization Human Impact Partners published the same year, "Family Unity, Family Health," found that the deportation scares take a mental and physical toll on undocumented immigrants' children. Researchers linked the threat of detention and deportation to poorer educational outcomes, concluding: "U.S.-citizen children who live in families under threat of detention or deportation will finish fewer years of school and face challenges focusing on their studies."
This research provides important insight given the current round of federal raids triggering deep-seated fears in the Hispanic community. As immigration agents target adults with school-age children in several states, even those exempt from the sanctions are anxious and scared.
"Fear is at an all-time high in the community. Parents are not going out unless they absolutely need to," said Zorayda Moreira-Smith, the senior director for schools and community development at CASA de Maryland, an immigration advocacy-and-assistance organization. Moreira-Smith said a consequence of the immigration raids is that parents are laying low, and if their child is at risk of being detained and deported, they're keeping them at home. In practical terms, this means children missing doctor's appointments, missing playdates, and of increasing concern to educators, missing school.
High Point High School in Beltsville, Maryland, nicknamed "Central American Ellis Island" by the principal, offers a snapshot of the challenges for schools and teachers amid swelling fears. In Maryland, Hispanics account for a rising share of the state's population, and in larger jurisdictions like Prince George's County, much of the growth is tied to an influx of Central American immigrants. In a recent NPR interview, the principle of High Point, Sandra Jimenez, reported a dramatic drop in attendance right after the winter break, attributing it in large part to heightened stress over the federal raids. Of the students who enrolled over the past year, only half are now coming to school; attendance for this same group, mostly unaccompanied minors, was at 90 percent or higher prior to January.
For some, however, these trends are a good sign. Roy Beck, the president of NumbersUSA, a self-described immigration-reduction group, says the White House is trying to send a message that the country has immigration limits that must be enforced. "Parents who are violating our immigration laws have unfairly subjected their children to the fearfulness that comes to all who live outside the law," he said, adding that deportations are designed to reduce the "far-more-frightening illegal journeys from Central America that adults entice or force children to make."
School leaders like Jimenez offer another perspective on the subject, though, emphasizing the educational, rather than the political, context. "It's also the law that someone in the United States has the right to an education," she told NPR. "Once you're in my community, I want you to be educated."
This view is endorsed by the executive of Prince George's County Executive Rushern L. Baker, who called on federal authorities to halt the raids due to the "fear and anxiety this situation is creating in many of our neighborhoods." A recent Education Writers Association "Latino Ed Beat" blog post also quoted a statement from the county's schools chief, Kevin Maxwell, noting "the devastating impacts of [Department of Homeland Security] actions on the academic, social, and emotional well-being of all of our students." Next door in Montgomery County, Maryland, leaders have been equally vocal, reassuring its large Central American community against fearing the deportation threats. Nestor Alvarenga, a liaison to the local Hispanic community, revealed to Bethesda Magazine that "people are in panic mode … parents are afraid and we've had parent coordinators and principals [notify] students who haven't come to school." He stressed that immigration agents "to this day [haven't] gone into a school …hopefully it stays that way."
Moreira-Smith, the immigrants-rights advocate, advises teachers and school officials to recognize the fear and educate themselves about immigration actions impacting their students and families. "The reality is our teachers and our schools are busy teaching … and this fear is unknown to them. This is being heavily covered by Spanish media, but English media is failing to cover it [so] many teachers and schools are not aware that this is an issue." She also encourages school districts to be a source of stability for immigrant families by telling them that schools are welcoming and safe places for their children, as well as safe havens for the families as a whole.
Key to accomplishing this goal is working with community partners, said Moreira-Smith, to reach out and educate the undocumented-immigrant community about their rights and about the resources that may be available to them—all intended to bring some normalcy to an otherwise bleak situation. "There is no hope," she said. "Our youth are smart, driven, and have a future awaiting them, but too many of them don't believe that future is possible due to their status."