Teaching MLK's Life—The Man, Not the Myth
A look at the rewards and risks of social-justice teaching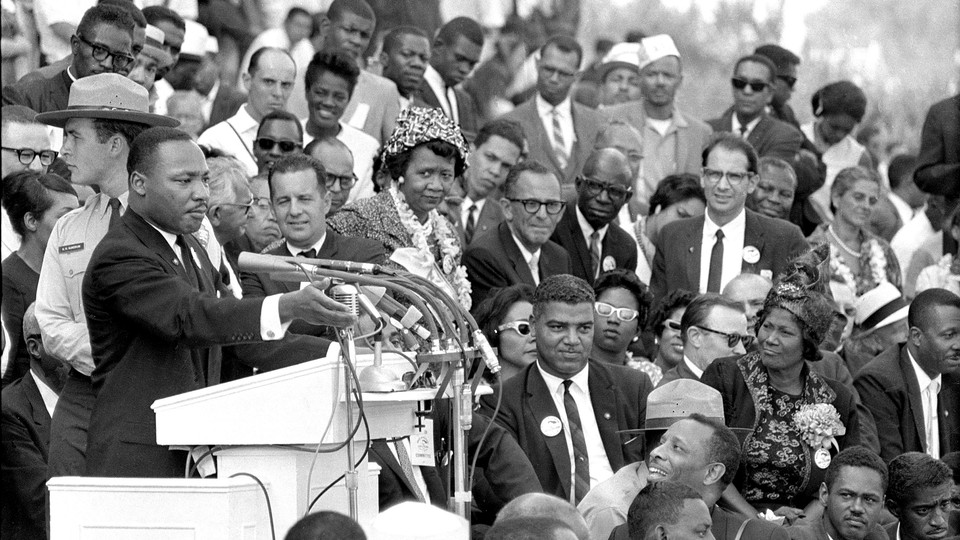 A year after leading thousands of protesters in the famous Selma-to-Montgomery march, Martin Luther King Jr. brought his campaign to end racial discrimination to Chicago. Rather than voting rights, the target was housing inequity in a city known in 1966—and even today—as the most racially segregated in the nation. King moved his family into a dilapidated apartment on Chicago's West Side, launching the Chicago Freedom Movement and bringing national attention to the fight for better housing, better schools, and better jobs for blacks in the North.
Now 50 years later, seventh- and eighth-graders at Seward Academy on Chicago's South Side study King and the very issue that brought him to their city. The Chicago teacher Gregory Michie says his lessons on the social-justice icon are designed to upend what he views as a simplistic and clichéd image often presented in schools. Since many of his students know King's famous excerpt hoping for a day when no one is judged by the color of their skin, Michie's social-studies class zeroes in on lesser-known sections of the "I Have a Dream" speech, like the "fierce urgency of now" and "tranquilizing drug of [white] gradualism." The youngsters quickly realize that they've never really heard the full message of the speech, he said, and "it's a lot more nuanced, and more fiery, than they'd thought."
As the country observes the federal holiday named in King's honor, it seems that schools are increasingly coming under sharp criticism from educators and activists for their approach to teaching King's life. Some question a sanitized teaching of the black civil-rights movement, its leaders, and other struggles for social justice that denies students an accurate and complete account of history. These debates are complicated by the inherent professional dangers in teaching through a social-justice lens.
In her book Language, Culture, and Teaching, the multicultural educator and author Sonia Nieto writes that schools in attempting to make King "palatable to the mainstream … have made [him] a milquetoast." Nieto notes that it is rare for teachers to explore King's "consistent opposition to the Vietnam War [and rebuke] of unbridled capitalism," ignoring the breadth of his protests. What's more, this tendency to romanticize history and heroism impairs Americans' ability to confront racial injustices today, says the social-justice activist Bryan Stevenson, founder and executive director of the Equal Justice Initiative. "Everybody gets to celebrate the march on Washington, everybody gets to celebrate the legacy of Dr. King," Stevenson told the nonprofit news organization The Marshall Project last year, and "no one is accountable for all of the resistance to civil rights, all of the damage that was done by segregation."
When it comes to King and the treatment of social justice in classrooms, textbooks and materials are frequently lacking, with important parts of history sandwiched into commemorative months for racial and ethnic groups—Black History Month and National Hispanic Heritage Month, for example. This and other factors make it nearly impossible for students to grapple with and think critically about King the man, not the myth, says Greg E. Carr, chairman of the Department of Afro-American Studies at Howard University. "King warned us about the threats of racism, materialism, and militarism. This country doesn't want to hear that," Carr asserts. Instead, King is presented as a one-dimensional champion of racial unity, he said, and the better part of his words and actions are edited out "to make him fit that surreal representation."
Social-justice teaching has its philosophical roots in educating students for a more just and equitable world. Rethinking Our Classrooms: Teaching for Equity and Justice describes classrooms "where students and teachers gain glimpses of the kind of society we could live in and where students learn the academic and critical skills needed to make it a reality."
The best way for teachers to educate students on King is to let him and his colleagues speak for themselves, Carr says. The civil-rights movement coincided with the rapid growth of televisions in American homes. In 1950, 9 percent of U.S. households had a television set; by 1960, TV ownership had increased almost tenfold to 87 percent. For educators, this translates into a treasure trove of primary sources for students, with "hours and hours of [King's] speeches, statements, and actions … to get a sense of the fullness of his ideas." Among Carr's favorites are the Pacifica Radio Archives and the 1970 documentary King: A Filmed Record...Montgomery to Memphis with original footage of civil rights actions. Carr also relies on Stanford University's Martin Luther King, Jr. Papers Project—seven volumes of letters, speeches, church sermons, and published and unpublished writings. "The best way to teach King is to [study] the black people who produced him, who surrounded him, who continued his work."
Teaching for social justice also shows a positive correlation with student outcomes. A 2009 research review published in the journal Equity & Excellence in Education found a measurable impact on academic achievement, class participation, and attitudes about learning among racially and linguistically marginalized populations. And a study released last week by Iowa State University finds the benefits of social-justice education hold true for affluent, white students as well.
Still, even with these academic gains, social-justice lessons can be a risky proposition, leaving teachers vulnerable to accusations of political correctness and politicizing the classroom. In a recent case that gained some notoriety, a high-school teacher in New York City claims she was fired for teaching a lesson on the Central Park Five, who were wrongfully convicted and jailed for the 1986 rape of a Central Park jogger; administrators allegedly warned her this content would "rile up" black students.
"When teachers commit to addressing social justice issues within the classroom, particularly issues that adversely affect blacks and Latinos, the stakes are so much higher," explains Awo Okaikor Aryee-Price, a seventh-grade teacher in Hackensack Public Schools in New Jersey and founder of the #SoJustEdu Twitter chat, created to bring a more heightened awareness to the importance of social-justice education. She attributes the opposition to school leaders who are uncomfortable with disrupting the status quo by arming students with the knowledge and tools to affect change from those in positions of power. "Covering up and co-opting Dr. King's message muddies the examples our children need to see. Stories of resistance are empowering and liberating," she says.
Aryee-Price concedes that the consequences for social-justice teaching—from being fired and harassed, to being marginalized and labeled a troublemaker—are real, yet encourages her peers not to give up. "The very act of teaching in public schools is an act of social justice … it is the responsibility of social-justice [teachers] to dissent and demand better."
Carr, the Howard professor, echoes this opinion. "The classroom is a political space," he states, noting that it's critical for teachers to devote themselves to developing students' ability to think independently. In the era of Black Lives Matter and a resurgence of movement activism, he and other educators uniformly agree helping students connect present-day events to prior resistance struggles can only deepen and grow understanding.
Back in Chicago, Michie used one of Dr. King's quotes, "A riot is the language of the unheard," last year in a unit on the Ferguson protests to help his middle-schoolers make sense of what was happening—and as a counterpoint to those who simply labeled the protesters as violent or "thugs."
"Learning about the history of lynching and racist housing policies are honoring King's legacy," Michie says. "We forget—or never learn—all of the painful history that made his efforts necessary."