Learning Empathy Through Dance
Schools are increasingly using movement and expression as vehicles for teaching kids social-emotional skills.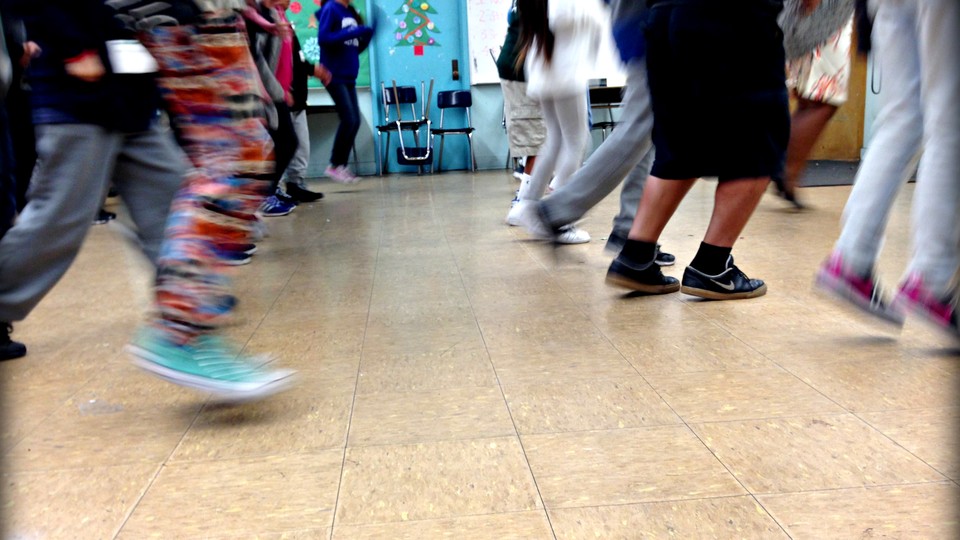 "Ch-ch-tsss. Ch-ch-tsss." On a chilly Wednesday morning, Baja Poindexter sounded out the steps of the rumba to a classroom of fifth-graders at West Athens Elementary School, located in one of Los Angeles's most violent neighborhoods. She encouraged her class of mostly Latino students to do the same. They tenuously clasped each other's hands in ballroom dance "frame," or body position, and swayed to the music at "Miss Baja's" command. "Side, together, to the lady! Side, together, to the gentleman!" she bellowed.
Toward the end of the hour, the students grew restless and squirmy, the volume of their chatter drowning out Poindexter's voice. She paused. "You've got enough things against you in the outside world. When you come to school, it should be a safe space for you, but you have to make it that way by being respectful to each other."
Poindexter is a teaching artist for Dancing Classrooms, a nonprofit based in New York City that brings ballroom dancing to schools primarily in underserved communities. Started by the dancer Pierre Dulaine in 1994, the 10-week program was featured in the 2005 documentary Mad Hot Ballroom and uses ballroom as a vehicle for teaching elementary- and middle-schoolers social-emotional skills like respect and teamwork and, by extension, empathy. For many underprivileged students, in-class time with programs like Dancing Classrooms is the only time they will have regular exposure to the arts.
"You can't touch someone in a ballroom-dance frame and that person, for any length of time, be an 'other,'" said Rodney Lopez, the global program director.
For Poindexter, 26, teaching ballroom is also an empathic exercise. Growing up in Chicago's South Side, she started working at age 12 to help financially support her family while participating in every free or low-cost dance program she could find. She often used dance as an outlet for the same frustrations she sees in her students at West Athens. She said one of her classes last year descended into a collective crying fit when students threw verbal jabs at each other about relatives dying from gang violence.
"They're at a disadvantage, and, at some point, they realize they're at a disadvantage," she said. "Will dance keep them away from some of these negative things? I do believe that, and that's why I teach."
And by the end of 20 classes, which culminate in a regional showcase and competition, the effects in the classroom are palpable: In a 2014-2015 survey of L.A.-area school principals, 66 percent reported an "increased acceptance of others" among their student bodies, while 81 percent of students said they treated others with more respect, following the program. Rob Horowitz, the associate director of the Center for Arts Education Research at Columbia University's Teachers College, recently conducted a two-year study on the program in New York City whose results have yet to be published. In year one (2013-14) of the study, 95 percent of teachers reported their students improved cooperative and collaborative skills; researchers observed 95 percent of students demonstrating cooperative skills.
"They're more respectful toward the girls. In the morning when we go into class, they always say, 'Ladies first.' [After the 10 weeks], I call them ladies and gentlemen so they remember," said Michael Peñate, a teacher.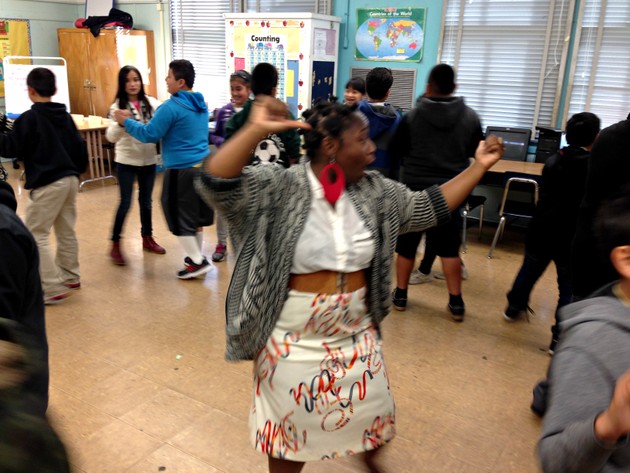 It's a similar belief in the power of movement that prompted Ricka Glucksman Kelsch to start Dance and Dialogue. The free one-day workshop convenes middle-schoolers from various socioeconomic strata in L.A. County to take master dance classes in different genres; last year's event featured a class taught by a deaf instructor. They also bond with each other by sharing personal stories in small group sessions modeled on the Native American talking circle. Topics range from coming out to parental substance abuse, and Kelsch credits the willingness of students to share to their common interest in dance. "These kids don't know each other. They would never tell each other this," she said.
Kelsch teaches dance part-time at the elite private school Crossroads School for Arts & Sciences in Santa Monica (the Snapchat CEO Evan Spiegel and actress Kate Hudson are alums) and was partly inspired by her own privileged students, some of whom she said "didn't know that some students wake up and, less than a mile away from Crossroads, don't have food to eat, don't have outfits to put on, wear the same clothes every day."
In its first year, Dance and Dialogue drew 80 students; now in its third, the workshop is expanding to two days (one for middle-schoolers and one for high-schoolers), and Kelsch anticipates over 300 students will participate. Approximately 80 percent of the students will hail from underprivileged communities.
Studies have shown the cognitive benefits students experience through being exposed to dance and other art forms, which is then linked to improved test scores and grade-point averages, especially for disadvantaged students. However, empathy—the notion that someone can share in and feel the feelings of another—is a squishy concept. It's also not always easily quantifiable, although a 2010 University of Michigan study indicated declining rates of empathy among college students which some attribute to lack of interaction and play with peers at a younger age, qualities inherent in dance.
"[Dance] is incredibly effective in terms of social-emotional development and in terms of being able to incorporate kids from different backgrounds, different ethnicities, different social backgrounds and have them do something common," said Columbia's Horowitz. Horowitz is leading a two-year study on Dancing Classrooms commissioned by the organization.
While the long-term effects on students' capacities to be empathic aren't yet clear, Horowitz's findings suggest a lasting impact. "Empathy is hard to observe, but we do see kids helping each other with the dance or seeming to care about each other. We know that we can't reduce everything from the arts to a number, but we work on it."
Numbers, though, are crucial for making the case that arts education deserves a place in the classroom. Since the 2008 recession, arts funding in school districts around the country has been adversely affected, making programs cost-prohibitive for schools in low-income communities in particular, where other sources of funding are often hard to come by.
Last year, the Los Angeles Unified School District revealed the results of its Arts Equity Index, a survey of school principals on arts instruction and access at their schools filtered by factors like local income and professional development for arts teachers. LAUSD officials then categorized the approximately 635 participating schools' programs in categories that ranged from "non-existent" to "excelling." The results were abysmal, revealing what some officials had feared: that arts education access had been restricted to mostly affluent schools while poor ones languished. Dance programs were particularly lacking.
"What we find ourselves doing sometimes is putting the fewest amount of dollars in the schools where the students need it the most," Rory Pullens, the district's head of arts education, told an audience at an event last March. In an email, Pullens said he hopes to boost LAUSD's arts budget to $33 million in the 2016-17 school year from its current budget of $26.5 million; some argue a robust program would require $45 million in funding.
The 1970 Ryan Act compounds the problem for dance curriculum specifically in California. Pioneered by teacher-turned-congressman Leo J. Ryan, it abolished dance- and theatre-specific teaching credentials in the state, creating a hurdle for specialists to teach. Anecdotal evidence suggests that this may not have been Ryan's intention, but Ryan himself did not live to formally clarify its language: In 1978, he was gunned down while investigating the Peoples Temple settlement (a.k.a. Jonestown) in Guyana.
But there are places bridging the gap between student populations who have access to arts education and ones who don't. At Gabriella Charter School (GCS) in East L.A.—where 88 percent of students are considered socio-economically disadvantaged, qualifying for free or subsidized lunches—dance is an integral part of the K-8 school's curriculum. GCS students dance for at least one hour day, often integrating movement with academic subjects: Think of a "digestive dance" to help learn how food moves through the digestive system in fifth-grade science or original choreography inspired by chemical bonds in eighth-grade chemistry. Students also learn to critique each other's dances, which, the principal Rhonda Sivaraman argued, makes them more empathic toward each other.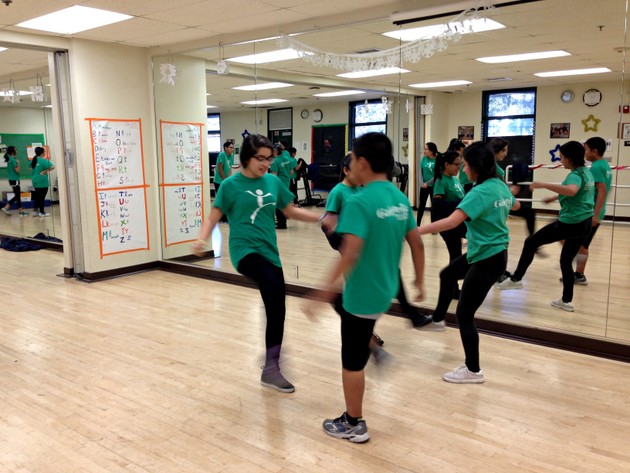 But even a dance-heavy curriculum is not necessarily a treacly, "You Got Served"-style panacea to issues like bullying. Much of the evidence that dance is an effective tool for improved school environments and student relationships is anecdotal and survey-based. It also relies on variables like a school's administrative investment and program continuity, the latter of which goes back to funding. In a three-year study of dance education in Utah (led by Horowitz and published in 2008), school teachers reported positive impacts on students' social skills, but 28 percent were "not sure" if peer relations improved.
"I cannot say we've never had instances [of bullying], but if you can show me a school that has had no bullying or behavioral problems, please point it out," said Sivaraman.
Still, dance can be an effective tool for conflict resolution. When Sara Potler LaHayne studied as a Fulbright Scholar in Bogotá, she observed Colombian students bonding with each other over reggaeton music and dancing, engaging with each other more than they were with textbook lessons about compassion and diversity they were learning in class. The experience inspired her to start Dance 4 Peace in 2008. Later re-branded as Move This World, the nonprofit outfits schools with a video-based curriculum of daily ritualized tools (movements and mantras, for example) designed to help students and teachers manage stress and express emotions.
"Think '8-Minute Abs' but for emotional well-being. Empathy is a muscle that we have to flex. It takes active work. You don't just check the box that you're emotionally intelligent," said Potler LaHayne of the program, currently in 34 Title I schools. The results are encouraging: Move This World partners reported an aggregated 37 percent decrease in incidents of conflicts from the 2013-2014 to 2014-2015 school years, although the decrease cannot be exclusively attributed to using the curriculum.
Certainly it's a nice idea, that somehow if students, regardless of ability or class, could simply "dance out" their problems during the school day.
"Dance is the ultimate form of expression, which sounds elitist," Kelsch said. "But when I watch West Side Story, I say, 'If we could just solve the world's problems like that.' Just do a pirouette and BOOM. 'I'm mad at you.' Wouldn't that be great?" She laughed. If only it were that simple.