Why Are So Many Preschoolers Getting Suspended?
The frequency of punishment has a troubling racial skew.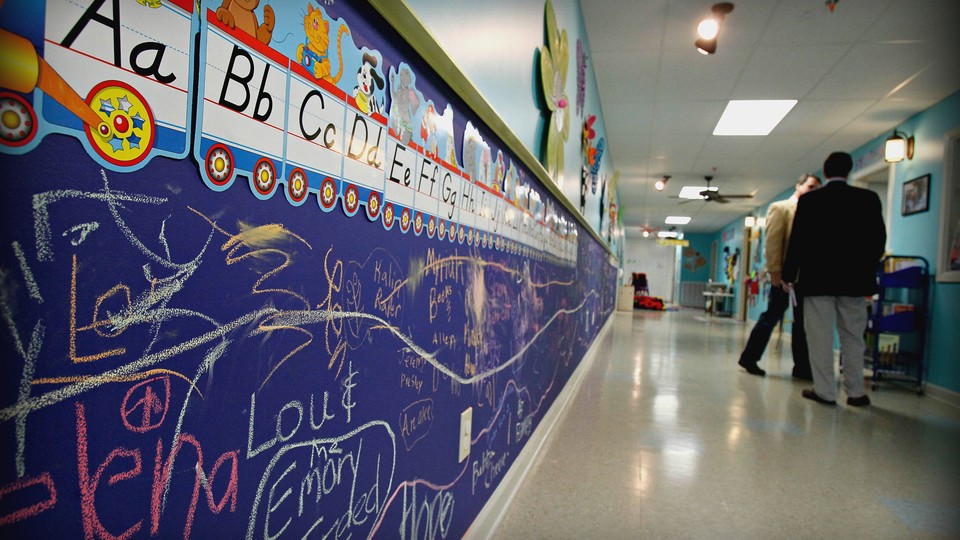 Tunette Powell travels across the country counseling families and mentoring youth. An award-winning motivational speaker and author, her professional work in the education field ranges from training nonprofit leaders to consulting for colleges and universities. But none of Powell's career-related skills could prepare her for the frustration and helplessness of seeing her two sons suspended from preschool, which she pegged to overly harsh and racially biased discipline. In a July 2014 Washington Post opinion piece that gained national attention, Powell relates how her boys—ages 3 and 4—were suspended from their Omaha preschool program eight times total in one year. Once published, the essay resonated with readers nationwide. "So many parents reached out [to me] … a lot of black mothers" who shared her experience with excessive suspensions, said Powell. "We live in a time when we just say, 'Suspend them, get rid of them.'"
A glance at news headlines confirms that Powell and her sons are not an anomaly. From a 3-year-old suspended for too many toileting mishaps to a 4-year-old booted out of school for kicking off his shoes and crying, toddlers are racking up punishments that leave many parents and child experts bewildered. Overall the rise in school suspensions and disproportionate impact on youth of color has triggered a flurry of interest from activists and high-ranking government officials, and for good reason: A February 2015 report from UCLA's Civil Rights Project examined out-of-school suspension data for every school district in the country and found that nearly 3.5 million children—about six out of every 100 public school students—were suspended at least once during the 2011-12 school year, with close to half of those (1.55 million) suspended multiple times.
But for some more astounding than these discipline statistics were the thousands of the nation's youngest learners—nearly 8,000 preschoolers—suspended from school in the same year, often for relatively minor disruptions and misbehaviors. For researchers and educators immersed in this work, why preschoolers are put out of school and the entrenched racial disparity seems most closely tied to reasons such as teacher bias and children living in poverty whose hitting, biting, and pinching is frequently labeled misconduct rather than developmental delays.
Walter S. Gilliam, a psychologist and researcher at Yale University's Child Study Center, led the first expansive study of preschool expulsions a decade ago. In a random national sample of more than 4,500 state-funded pre-k classrooms in 40 states, his 2005 report revealed 3- and 4-year-olds were expelled from pre-k programs more than three times as often as students in kindergarten through high school. The rates of preschool expulsions varied dramatically with age, gender, and race: 4-year-olds were expelled at a higher rate than 3-year-olds; boys were over four times as likely to be ousted from prekindergarten as girls; and black children were expelled about twice as often as Latino and white youngsters, and over five times as often as Asian-American children.
Most disturbing is that the patterns of inequality first uncovered in Yale's 2005 survey are repeated in data released last year by the Department of Education. For the first time in 2014, preschoolers were included in the department's Civil Rights Data Collection on school discipline—and disparities abound. Black children accounted for 18 percent of preschool enrollment but almost half (48 percent) of the children suspended more than once; in contrast, white children were 43 percent of preschoolers, but only 26 percent were subjected to repeated suspensions. Likewise, boys comprised 54 percent of children in preschool programs, yet represented the vast majority of pre-K students suspended either once or multiple times.
In a recent blog post for the American Psychological Association, Gilliam zeroed in on the contradiction behind these staggering numbers. "There are some children who do not benefit from early-care and education programs—the ones not allowed to attend because they were kicked out," he wrote, pointing to the widespread push for universal preschool and touted gains for low-income students of color, with scant attention given to instructional days lost to suspensions. "Access means entry … and it also means protection from having those same opportunities later denied."
What makes preschool-age suspensions and expulsions further problematic is how out-of-school punishment feeds the school-to-prison pipeline. Research shows that repeated suspensions breed student disengagement, making youth more likely to dropout and more susceptible to entering the juvenile justice system. This was the definitive conclusion of an October report from the Center for American Progress and the National Black Child Development Institute that highlights the trends, underlying causes and lasting harm of preschool suspension and expulsions. Pertinent to the groups' findings is how little preschool discipline is rooted in young children's behaviors as opposed to adult behaviors—due to implicit biases and a gross misunderstanding of toddler development.
Georgia S. Thompson, the director of NBCDI's affiliate network and training institute, says many factors intersect in assessing a preschooler's disruptive behavior, namely race, class, and cultural understanding. "Poverty absolutely presents an extenuating circumstance in preschool suspensions," said Thompson, adding that children in poverty often attend poorly resourced preschool programs with teachers ill-prepared to respond to behavior-management issues and more prone to opt for suspensions. A Pennsylvania State University study that examined the impact of race and socioeconomics on punitive discipline also found "race and class … inextricably linked."
According to Thompson, other causes for preschool suspensions include staff untrained in culturally responsive teaching approaches, leaving educators unable to triage when faced with a child whose background is unlike their own—and schools where active play is sacrificed in exchange for academics in an effort to close learning gaps. Expecting toddlers to sit still for long periods "is not developmentally appropriate. Young children learn through … inquiry and discovery," she said, and when teachers misunderstand this they're "more likely to recommend suspension or other inappropriate interventions."
The need to address these alarming disparities and preschool-suspension rates is garnering more notice from local, state, and national leaders. Since last year, Connecticut, Chicago and the District of Columbia have banned preschool suspensions for minor offenses like disruption and defiance, citing data and the effect on toddlers' social and academic development. And last December Education Secretary Arne Duncan and Health and Human Services Secretary Sylvia Mathews Burwell issued federal guidelines aimed at helping public and privately run early childhood programs eliminate expulsions and suspensions, along with the stark racial and gender disparities in these practices.
In a "Dear Colleague" letter the secretaries called for immediate redress: "As a nation, we share the responsibility of ensuring that all of our young children have access to enriching opportunities that will set them up for success and empower them to be our future leaders. By expelling or suspending 3- and 4-year-olds, we do just the opposite—we set their trajectories in a negative direction, before their first day of kindergarten."
For Powell, the Omaha mom, breaking the pernicious cycle of preschool suspensions is an equally urgent issue. She herself was suspended as a preschooler, and now working with youth she sees how excessive suspensions take a toll on students and their spirits. Last year while teaching in a citywide summer program in Omaha, she asked a class of 35 high school students to stand up if they'd ever received a suspension—only one child remained seated.
"I was suspended a lot growing up [and] hated school because it was such a negative environment. [Eliminating suspensions] can be addressed and solved … it's not rocket science."
---
Related Video
At this year's Aspen Ideas Festival, we asked a group of professors, activists, and authors to weigh in on misconceptions about race and racism.