Inside an After-School Program for Refugee Children
The curriculum helps them learn English and share elements of the culture of their home countries.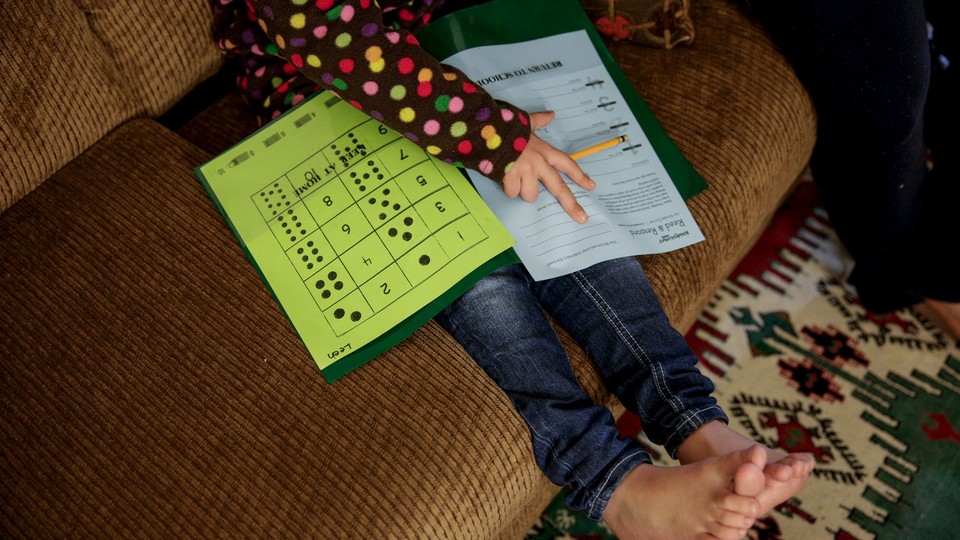 CHARLOTTE—The first thing I noticed about Sil Ganzo was her warm smile. It stayed put as the 33-year-old showed several journalists, myself included, around the center where she runs an after-school program, OurBRIDGE, for new arrivals to America. Roughly 70 kids from 20 countries, from kindergarten to fifth grade, pour into the center after school in waves. Most are refugees from countries like Nepal, Burma, Iraq, Afghanistan, Somalia, El Salvador, and Honduras.
As we stepped into the building, several of the kids yelled a singsong, "hi!" I walked around, taking pictures; a little girl giggled sheepishly as she worked on a math problem. Others posed unabashedly. A little boy in the corner started reading just a tiny bit louder, sneaking glances to see if I was watching.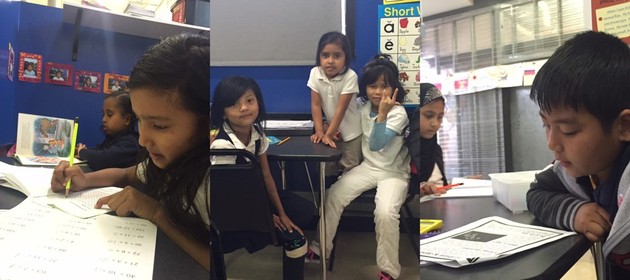 The entire time we were there, Ganzo talked excitedly, rapidly. She has a light Argentinian accent. She came to America 13 years ago to work as an au pair. While living in the U.S., she met the man who is now her husband. It took her a few years to zero in on a suitable long-term career.
"I really didn't want to work for the sake of working," she told me later, over the phone. "I wanted to find something I was really good at, and that I really love doing."
And she did, when she started working at a for-profit after-school program for refugee kids in Charlotte in 2010. Within three years, she became its director. When, in 2013, grant money ran out and the program was set to close up shop, Ganzo looked for a new ways to get it back on track.
"I literally went on the computer and typed 'how to start a nonprofit,'" she says. With the help of a few volunteers, community donations, and a law firm that helped them pro bono with legal matters (such as filing for 501(c)(3) tax-exempt status), she succeeded in reviving the program. Since September 2014, OurBRIDGE has been the only nonprofit for immigrant and refugee kids that works as a childcare center, after-school enrichment program, English-language tutoring program, and cultural-awareness program—all folded into one.
"It wasn't just an after-school [program] anymore—we had immigrant kids, we had adopted children," Ganzo recalls. "It was more like a movement. The community did not let us die.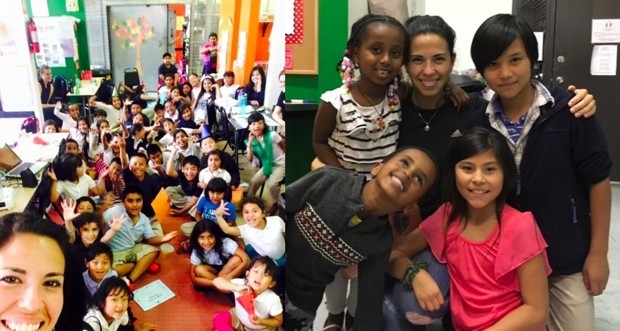 On the days she isn't working from home, Ganzo usually gets to the center by 10 a.m., after dropping her two young kids off at school. She then takes care of logistics: answering emails, paying bills, making sure people on payroll are getting their salaries. After that, she and her program director Andrew Eastwood go over the kids' plan for the week. They oversee volunteers and tutors who usher the kids in, make sure they eat their snacks, do their homework, and go out to play. Kids with particularly limited English speaking abilities get special attention in their reading assignments, and participate in group discussions.
The staff also designs projects to help the kids apply the language skills they've been working on, as well as explore topics they wouldn't necessarily learn about in school. Ganzo is particularly proud of a petition the kids drafted to the owner of a nearby park, suggesting solutions for the dog poop they had encountered while playing there. I took a picture of a part of their letter (please note suggestion #4):
A big part of Ganzo's role is to make connections with the children's parents—to make sure they know that their kids are safe, fed, and in an environment that respects and values where they came from. (Ganzo and her colleagues make sure the children research their country of origin, and share their music, food, and other aspects of their culture with others in the program.)
Ganzo really believes that the space she's created is, as she says,"like a home, like a family" for the kids. Many of the ones that have aged out of the program are doing well, she says, giving the example of a Nepalese girl who couldn't speak a word of English when she joined the program, but is now the president of her high-school class. Many others have come back to volunteer.
This is why her mind, nowadays, is occupied with expanding the program. She wants to reach out to the hundreds of refugee kids and unaccompanied minors that have recently arrived in Charlotte. "They have nowhere to go, and that really really bothers me," she says.
But in order to grow, she has to first get Charlotte's residents and politicians to understand that these kids add value, not problems, to the community.
"I am so—I think disgusted is the right word. I never knew that so many people felt this way about refugees," she says, her voice breaking with passion when I asked her what she thought of all the anti-refugee sentiment going around. "It's very wrong for our political leaders to shift people's opinion that way without any knowledge of the topic." People need to educate themselves, she adds, about how rigorous and lengthy the refugee-vetting process is, and how unlikely it is for refugees to the U.S. to pose a terror threat.
To that end, OurBRIDGE is organizing a rally during their annual winter potluck on December 6 so she and others can come out in support for refugees in Charlotte.
"If we help these families thrive, they're really going to be an asset for our community, because of the cultural richness they bring," she says. "They're really thankful people, they really want to do good."
---