Silicon Valley's College-Consultant Industry
For a price, these services help high-school students find summer internships, refine their essays, and prepare for the application process. But is it worth all the effort and stress?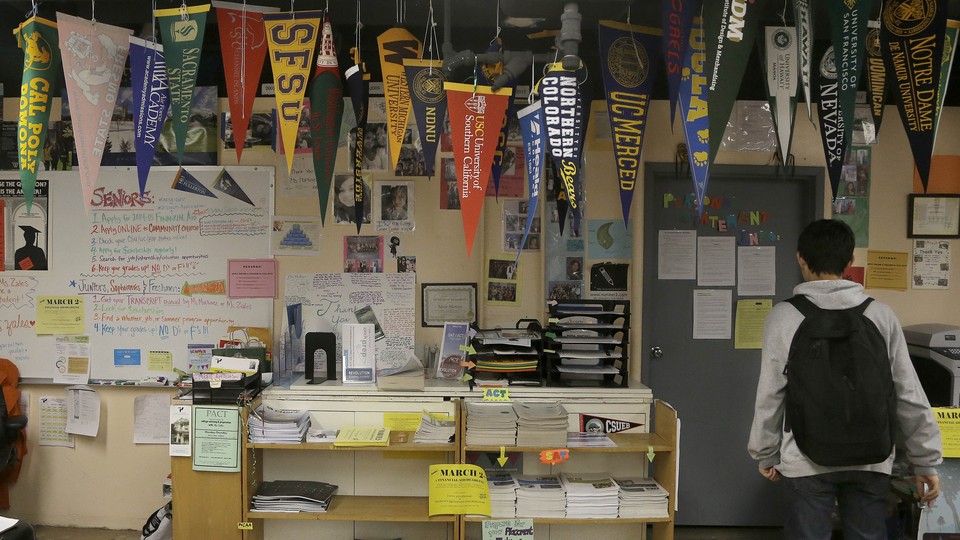 "Applying for college is not what it used to be. It is insanely more competitive these days and if you can afford the help of a professional, get it."
So read one post on a message board for the Berkeley Parents Network—an online forum for people who live in the San Francisco Bay Area. It was in response to a publicly posted question in June of 2013 that began, simply, with "HELP!" The author of the question went on to describe how "Everyone I know has hired a private tutor/counselor to prepare for college applications," and lamented how her daughter, who she says has a 4.3 GPA and high SAT scores ("they are high, but not perfect"), was told by a counselor she contacted that her daughter "will not get into any tier 1 schools."
In the end, the author of the post, who chose the pseudonym "Out of My League," appeared nervous about—and determined to master—what's become a cutthroat world of postsecondary admissions: "So, families, is the whole college application process so out of our league that we need a hired professional to guide us? What do all the kids who cannot afford this service do? If you have found help out there, what does it look like? What is worth the price and what isn't?"
Private college-admissions consulting is a rapidly growing industry across the U.S. According to the Independent Educational Consultants Association,  the number of independent admissions consultants in the U.S. has grown from 2,000 to nearly 5,000 in recent years. In a nationwide study, the marketing firm Lipman Hearne found that of students who scored in the 70th percentile or higher on the SAT, 26 percent had hired a professional consultant to help with their college search. The San Francisco Bay Area has a higher concentration per capita of independent college-admissions consultants than "most cities," says IECA communications manager Sarah Brachman, though the association doesn't have specific numbers. The IECA's most recent report found that nationally, $400 million was spent on college consultants in 2012. Hourly rates in the Bay Area can be as high as $400 an hour, and comprehensive packages with regular meetings throughout high school can add up to several thousand dollars.
Irena Smith, a former Stanford admissions officer who now runs a private college-consulting practice in Palo Alto, says Silicon Valley currently has high numbers of very ambitious, high-achieving kids with parents who went to prestigious colleges themselves and have big aspirations for their children. "The area is a perfect climate for independent college consulting to proliferate," she says. "I'm contacted by a lot of parents who are completely freaking out that their 14-year-old is not spending the summer productively. They want to know how to get them the internship at fill-in-the-blank big company."
The "freaking out" Smith describes can have very serious impacts. In this month's Atlantic cover story, Hanna Rosin details the clusters of teen suicides in Palo Alto, and the effects to which parental pressure to excel can drive kids to take their own lives. "The yardstick for the children of the meritocratic elite is different, and it can intimidate as much as it can empower," Rosin writes.
The stated purpose of the private college-counseling professionals, according to the IECA, is to "assist students and families with educational decision-making." But in practice, the process can be much more extensive—counselors can do everything from setting students up with internships and volunteer opportunities to providing several rounds of edits on college-application essays.
A 2014 study conducted by the IECA on criteria that colleges look for in prospective students found that both well-written essays and "personal characteristics that will contribute to a diverse and interesting class" have grown in importance over the last couple years. Because of that, finding impressive activities to do over the summer has increasingly become a point of focus for high-achieving students, as well as their often overzealous parents, especially in competitive environments like Silicon Valley.
Nationwide, high schoolers are pursuing postsecondary education at growing rates: 70 percent in 2009 versus 45 percent in 1960. And in California, as well as some other states, there what's known as the "secondary crunch," says Kaye Storm, director of the Office of Science Outreach at Stanford University. Despite gaining recognition from advocates in the past few years for its emphasis on recruiting lower-income students, University of California schools have had to resort to enrolling out-of-state or international students who are able to offset declines in state funding by paying more tuition. "The landscape is changing, and it's creating this kind of flurry of anxiety," Storm says.
Some high-school students in Silicon Valley take on internships through programs at higher-ed institutions, such as Stanford University, that are considered rigorous even for undergraduates already enrolled in college. Stanford's Office of Science Outreach offers nine different summer internship programs for high schoolers, according to Storm, some of which are reserved for first-generation or low-income students and provide stipends but others of which  cost money or, at least, don't come with pay. "Those are obviously for upper-middle-class and upper-class privileged kids," admits Storm.
Storm says she's seen the demand for summer internships at Stanford increase greatly within the last several years. "We have many many more kids interested than we can serve," she says. One internship program at the Stanford Medical School, which accepts 70 high-school students each summer, got close to 1,300 applications last summer. For high schoolers who aren't accepted into official internship programs, Storm estimates at least 100 do "ad hoc" internships—students email professors and persuade them to let them spend their summers in their labs.
For these types of situations, which often involve assisting undergraduates in their research, Storm says she suspects two primary motivations on the students' parts: "One is a genuine interest in science or engineering," she says. "The second reason is many kids see these programs as something to put on their college applications, to talk about in their essays … The demand for these programs has really increased as the difficulty of getting into top schools has increased." Acceptance rates at some of the nation's top schools are at record lows. Last year the University of Pennsylvania's acceptance rate, for example, dropped below 10 percent for the first time in history. At Stanford University, the acceptance rate in 1970 was 22.4 percent, compared with 5.7 percent in 2013. "I think kids view that anything they can do in the summer to set themselves apart when they apply to college," Storm says.
In addition to internships, students may also pursue volunteer opportunities—and these opportunities aren't always your typical beach clean-ups and soup-kitchen activities. Many college-consulting companies encourage their students to participate in overseas volunteer programs that can cost thousands of dollars.
One for-profit college consulting company with locations throughout the Bay Area, IvyMax, offers "Global Philanthropy Leadership Programs" during summer and winter breaks that students enrolled in their college-preparatory programs can take advantage of. Through the programs, students may travel to a desert in Mongolia to build sustainable-energy sources, or to Ningxia—one of the poorest provinces in China—to work on microfinance lending outreach—among other places. The programs, which last 15 days, cost between $2,900 and $4,900.  While the students are abroad, time is set aside each day for writing "reflections," which are frequently turned into fodder for college essays upon returning home, says Shin Wei, the CEO of IvyMax.
The programs are intended to help students "become more open-minded and globally aware," Wei says, stressing the importance of living a meaningful life, and points out that service and leadership are interconnected. However, Wei can tell from speaking with clients that the primary motivation often appears to be finding something that will set their child's college applications apart. "That's what initially many of the parents focus on," he says, "that these kinds of activities will enhance their students' profiles and give them such an advantage in the college admission process."
And the IvyMax website strategically promotes and responds to this perspective. It starts by encouraging students to think about how they'll spend their school breaks and goes on to promote its programs, first enticing potential participants with the prospect of engaging in social change (and potentially becoming famous) and then by reminding them of the increasingly cutthroat college-admissions process. "At IvyMax, we believe that students of any age can follow in the footsteps of world-renowned Nobel-prize winners, economists, environmentalists, biologists, and social entrepreneurs by dedicating their time to a cause," it says. "In the increasingly competitive realm of college admissions, it is students who make unique and significant contributions to the community that have a story to tell."
Zishan Huang is a senior at Castro Valley High School, in San Francisco's East Bay. She began working with IvyMax her junior year and has participated in two Global Philanthropy Leadership Programs overseas. Planning to study finance in college, she signed up for IvyMax's microfinance program, viewing it as "a real scenario to help me step ahead of other people and actually experience what's going on." She incorporated much of the reflections she wrote during the program into her college application essays. "I didn't know anything about microfinance [before the program]," she says, "but it helped me shape what I want to do in the future. I want to change the negative feelings associated with the business world and help people in developing countries." At the same time, she admits IvyMax is considered "a really expensive program" by her peers, many of whom may pay a private consultant for a few hours of essay editing but not much else.
It's undeniable that hiring private college consultants—even reasonably priced ones, even just for a few hours—is still cost-prohibitive for many. And cost aside, poor students, no matter how high-achieving, still apply to college at far lower rates than their middle- and upper-income peers. The reasons often have to do with their limited exposure to college. Additionally, high-school guidance counselors rarely have the resources to give each student as much support as he or she may need. Nationally, the ratio of high school guidance counselors to students is about 500 to one. However, in California it's more like 1,000 to one.
That doesn't mean low-income students in the Silicon Valley area aren't also getting third-party help, though. Stanford, for example, offers a handful of summer-internship programs that aren't cost-prohibitive. One of them is RISE, which places high-achieving low-income students—who data shows seldom enroll in selective colleges despite excelling in secondary school—in paid internships in science laboratories. Mike Frank, an associate professor of psychology who has hosted RISE students in the past, touted the program's impact on students who are not, at least according to the statistics, expected to go far. He recalls how his first intern from the program, who was later accepted to Yale, invited her to dinner at his house after the program ended. He felt the impact of the program when he met her parents. Though very supportive of their daughter, they had blue-collar jobs and no experience with elite college applications. "I just don't think they would have said, 'Hey which field of science do you want to go into? Let's pull up these web pages and find you an internship,'" Frank says.
Because of such disparities in opportunity, Frank admitted to ignoring emails he gets from students, presumably those who are more privileged, seeking ad-hoc internships. Hinting at the potentially superficial benefit of many ad-hoc programs, he says: "I guess I could try to manufacture more [work for interns], but a lot of the work my lab does is technical. We don't have test tubes to clean."
Other programs in the Bay Area, meanwhile, are dedicated to providing free guidance to low-income students who qualify. Students Rising Above, for example, provides select high-achieving low-income, first-generation students—many of whom have been in the foster system, suffered abuse, and have been homeless—with free counseling for applying to college and pairs them with mentors who help guide them through their whole four-year college experience, including helping them line up summer internships as undergraduates. They may have spent their summers working low-paying jobs or taking care of relatives rather than working with consultants on applications or traveling to volunteer, but these experiences often prove to be essay material that's just as—if not more—compelling.
According to Irena Smith, the private college counselor and former Stanford admissions officer, much of the emphasis placed on summer enrichment is largely overhyped. When they do speak up in the media, admissions officers tend to echo this sentiment. Janet Lavin Rapelye, the dean of admission at Princeton, told the New York Times that students should "use the criterion of interest when selecting extracurricular activities, rather than how a list of activities might appear to a college admission office." A former Stanford University dean of freshmen wrote a column in the same newspaper saying that many of the students she encountered "taught me that a pre-programmed, enriched, spoon-fed, caged-in, 'checklisted childhood' may in fact lead to an impressive 'resume' and even admission to a highly selective college, but that such achievements can come at the expense of self-efficacy—a true, innate sense of self that is undermined when a person has too much of the stuff of life planned and handled for them."
Smith recalls a student  who wrote an essay about working her summers in a fast-food restaurant, and was accepted to several Ivy League schools. "Given the population of students I see, she probably shone like a diamond in the applicant pool at Harvard," Smith says flatly, emphasizing that the student's unique way of looking at the world and the way she wrote had more to do with her acceptance than the exact circumstances of her summer job.
"I've worked with students who have spent their summers traveling to rural China with their family, to working at Coldstone Creamery, to doing pretty high level research in a lab, to sometimes just kind of being lazy," Smith says. "I think the biggest misconception people have is that there are these magical things you can do each summer that will get your kid into the perfect college."
Furthermore, recent studies have shown that kids with overly involved parents tend to grow into more vulnerable, anxious, and self-conscious young adults, and there may even be correlation between helicopter parenting and kids with diagnosed anxiety and depression. Or worse. In Rosin's piece, an undeniable correlation is drawn between the suicides of Palo Alto high-school students and the intense pressure they feel towards the future—beginning with, of course, getting into a top college.
The irony is, much of the work and the struggle may be unnecessary, and even detrimental to a successful future. "Whatever the student does should be theirs to find and to like or not like," Smith says, "rather than have a well meaning adult carefully steering them so they avoid all the dead ends and sharp corners. You don't learn a lot if your whole life path is charted."