Reimagining Abandoned Schools
Can art depicting empty classrooms shape education policy?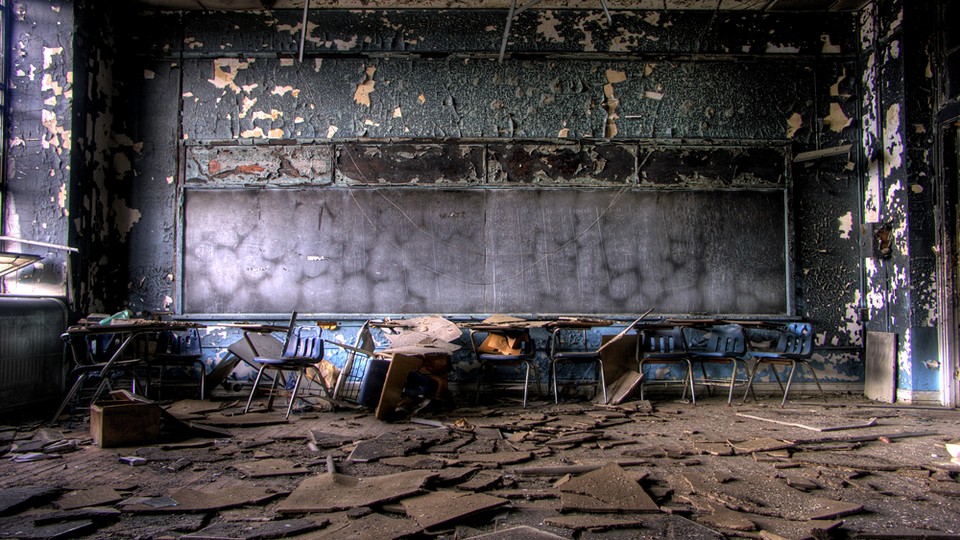 Schools are more than brick-and-mortar buildings children attend during the day to learn; for many families, they're community centers, too. So when a city closes one, people often experience a particular sense of grief and upheaval, as well as uncertainty about their government's commitment to equitable education. Over the last decade, Chicago, Detroit, and Philadelphia have shut hundreds of public schools—frequently leaving behind vacant buildings in impoverished neighborhoods and raising questions about lawmakers' motivations. (Last year, four independent education organizations in Louisiana, Illinois, and New Jersey filed a Title VI complaint asking the U.S. Justice and Education departments to investigate racist or otherwise discriminatory practices in state closings.) It's against this backdrop that contemporary artists are using the empty buildings to explore the emotional toll that school closures take on residents—entering the fraught education debate whether they intend to or not.
Artists have long realized the emotive power of abandoned places, from the 18th-century French painter Hubert Robert (known as "Hubert Des Ruins") to the 20th-century conceptualists who recognized that neglected buildings can articulate complex social issues. One such example is Gordon Matta-Clark, who in his 1974 project, Splitting, famously sawed an ordinary, suburban New Jersey home awaiting demolition down the middle. As the New York Times architecture critic Nicolai Ouroussoff put it: Splitting encapsulated "the growing sense that the American dream was evaporating." (A few months later, the house was destroyed.) Similarly, the husband-wife team Bernd and Hilla Becher are known for their powerful photographs of the declining industrial era. Taken across Europe and North America, the photos feature abandoned plants and factories whose functions, like those who once worked there, had become obsolete.
But a growing body of contemporary artists are putting forth the idea that a shuttered school can be more poignant than a decaying factory or boarded-up home. As the artists interviewed for this article explained, a deserted school and its remnants are at once more universal and personal than are other objects because they represent both a collective childhood experience and a deeply private one. Generally, there are two approaches in this field of art. First, there are artists who document the sorrow and frustration felt by parents, students, and teachers, either photographing empty schools or constructing exhibits from the abandoned furniture and supplies inside them. Then there are the artists who engage in an art form called social practice: They tackle policy questions more directly—urging residents to reimagine derelict schools and engage openly with city leaders.
Either way, there are various possibilities for abandoned art as an agent of social change. Ai WeiWei, arguably one of the world's most famous activists, offers a strong precedent for American artists. In his 2009 piece Remembering, Ai used 9,000 backpacks to spell out the words "She lived happily in this world for seven years" on the side of a Munich museum, criticizing the Chinese government after thousands of students perished in their shoddy classrooms during the 2008 Sichuan earthquake. Heaps of dead children's backpacks were found at the site of the demolished schools. Although Chinese authorities initially censored Ai for publishing the names and birthdates of 5,212 student casualties, the government released a tally of student victims—5,335—a year after the quake and months of obfuscation. Today, many credit Ai's backpack installation and ensuing media coverage for the switch in China's policy. When it comes to shut-down schools, perhaps the haunting images of a crumbling auditorium or a jumble of discarded desks help officials empathize with their constituents and better judge neighborhood impact in the future.
For example, in Chicago, evidence has shown that some recent closures have forced children to cross through gang territory to get to their newly assigned schools. In 2013, analyzing the city's annual budget, the Chicago Teachers Union president Karen Lewis questioned whether the additional security costs (guards and Chicago police support) outweighed the estimated $1 billion the district saved in closing 49 schools. What might the physical display of school artifacts—such as Ai's backpacks—do to inform policymakers versus parent protests or even a hunger strike?
And artists, of course, aren't the only ones to grasp that everyday school items can invoke a shared educational experience and a government's obligation to its youngest citizens. Last month's "Notebooks For Peace," a project based in Charlottesville, Virginia, represented the devastation that a school shooting can have on a community and a nation. Designed by Zoe Bearinger, a senior at the Tandem Friends School and Charlottesville Center for Peace and Justice, it was a display in the city's downtown mall of 262 composition books; a Post-It is tucked inside each notebook with a name and age of a student killed in a school shooting since Columbine. School closures are certainly different from mass shootings and devastating natural disasters. Abandoned school art in Chicago, Detroit, and Philadelphia may simply reflect the challenges of which city leaders are already keenly aware, however painful closings are for those involved.
* * *
Teachers' Democracy Project, a Baltimore advocacy group, recently posed a question about the threat of school closures: "Why would we close any small, safe and relatively successful school, particularly if it is located in a low-income, Black neighborhood and serves as a vital anchor-institutions?" But the hard reality often has to do with fiscal circumstances. According to The Baltimore Sun, the school's 176 students used only 58 percent of the building, its maintenance costs financially draining on the city. Closures certainly stoke feelings of powerlessness, but as Jelani Cobb's New Yorker story on the shutting of Jamaica High School in Queens illustrates, educators and reformers have competing views about why cities close schools and whether students always suffer as a result.
A 2011 Pew research study that looked at six cities that have engaged in large-scale school closings—including Philadelphia, Chicago, and Detroit—suggests that closures only minimally affect student performance. Achievement measures fell in the final months of a school's existence (the emotional zenith for students and faculty), but tended to rebound or improve afterwards. Still, closures in struggling neighborhoods could have social ripple effects. While there's no direct evidence that they do, closings might make it more difficult for teachers to recognize incoming at-risk students because they don't share an on-going relationship, a key factor education experts believe helps reduce dropout rates. Students living in low-income families were five times more likely to dropout than those from more affluent ones, and since closings are generally clustered in economically challenged communities, they could, over the long term, perpetuate the higher rates of imprisonment among students who don't graduate.
* * *
"The thing about a school that's different is that it's symbolic of a commitment," said the artist Matthew Christopher, who photographs abandoned spaces across the U.S., from Bethlehem Steel warehouses to hospitals, movie theaters, and schools. "Everybody has a different idea of what the American dream is," he said. "But the standard that is agreed upon is that regardless of your background, through hard work, intelligence, and ingenuity you can rise above your station. Closing a school knocks rungs out of the ladder, making it more difficult for kids to improve their lot in life." Photographing what was most recently Julia De Burgos Magnet Middle School in northeast Philadelphia in 2007 and seeing its architectural grandeur—as well as the values the school stood for—in ruins, according to Christopher, was heartbreaking.*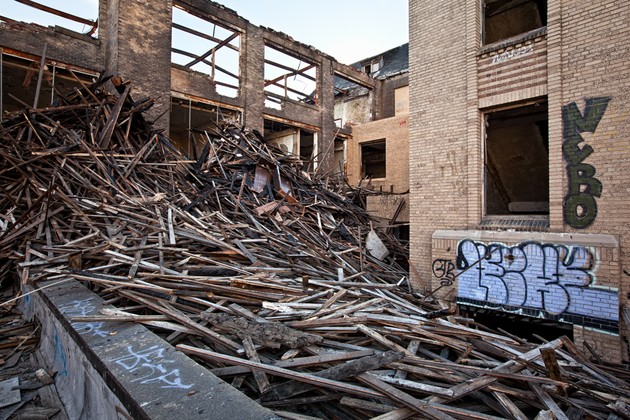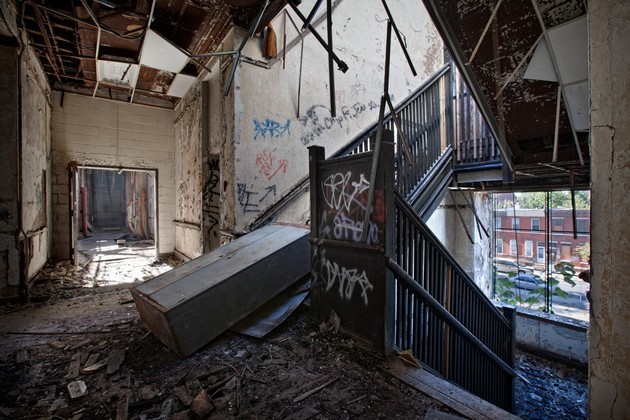 According to Christopher's book, Abandoned America: The Age of Consequences, that building (originally the Northeast Manual Training School) was built in either 1890 or 1905 (sources vary), designed to resemble a medieval castle with a central tower, turrets, and gargoyles at a time when "the idea of publicly funded school for the working class was progressive and controversial." (Christopher and many others refer to the school as Edison High, the school that occupied the building until the late 1980s.)
Several schools occupied and then left the premises before De Burgos Middle and, by the 1990s, as Christopher describes, the building was infested with rats, textbooks were outdated, and student violence was rampant. Named one of the worst in Philadelphia, the school was eventually taken over by the private-management company Edison Learning, which ultimately vacated the building in 2002, leaving it to vandalism and decay, according to Christopher. In 2011, a four-alarm fire engulfed the building's roof. It was finally demolished in 2013, reportedly making the way for developers to construct a discount supermarket and fast-food restaurant.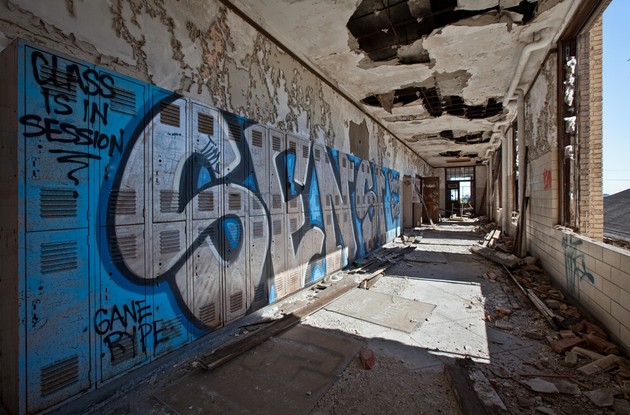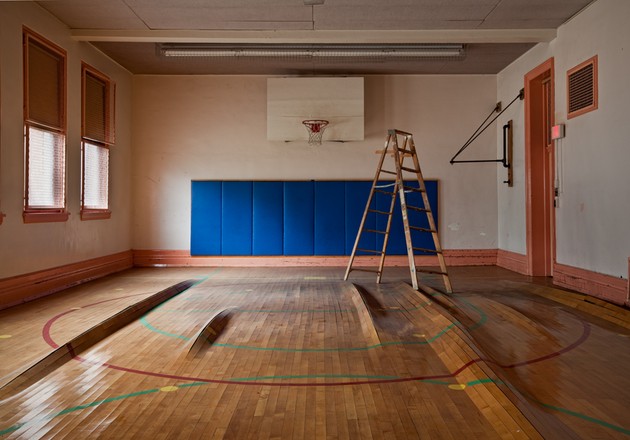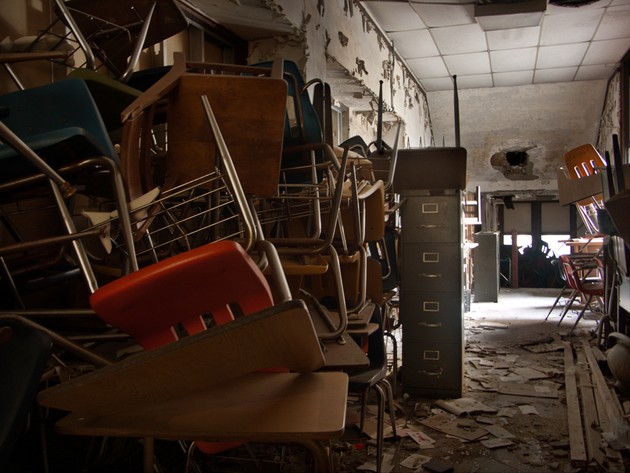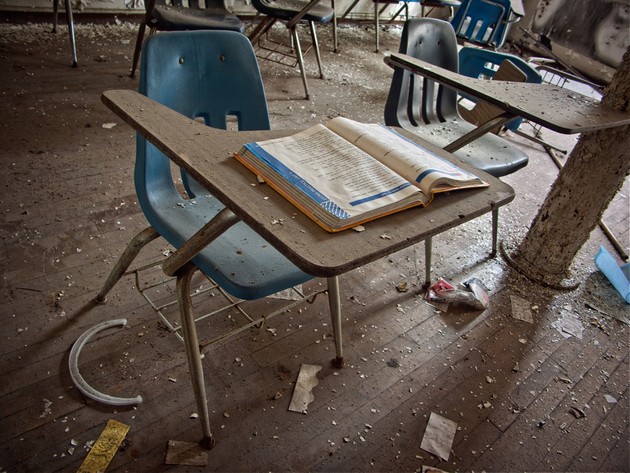 "Trying to fathom how many people had been part of the place, for better or worse, was humbling," wrote Christopher about photographing the Philadelphia school. "There was no reflection or ceremony about it, just a bunch of guys whacking it apart with hammers and power tools." In many ways, this is what his abandoned art—whether a photograph of a school or a Detroit auto factor—strives to do: reflect upon the complex, emotional history of a building and the city around it, while paying a ceremonial respect to those who spent so many hours of their lives inside.
Meanwhile, an anonymous artist known as Detroiturbex is documenting Detroit's economic hardship, by photographing abandoned schools and other buildings around the city—an area that was built for 2 million people but now has only around 700,000. The photographer pairs then-and-now pictures of an abandoned school with research about a neighborhood's particular trends, giving viewers a visual history of Detroit's social challenges, the automotive industry, and the Great Recession.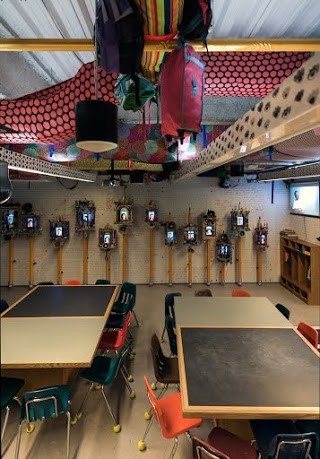 The artist Pepon Osorio's latest project for its part responds to the recent state of Philadelphia school closings. A professor of community art at Temple University and a 1999 recipient of the MacArthur "genius award," Osorio is known for merging conceptual art with civic engagement to create highly personalized installations. For his current show, "reForm," he salvaged chalkboards, lockers, and chairs from nearby Fairhill elementary, one of the 24 Philadelphia schools shuttered in 2013, and reinstalled them in the basement of Temple's Tyler School of Art. Every morning, Osorio said, he would bike past the Fairhill building, struck by the chained doors and what he describes as "the heavy feeling of abandonment that seemed to surround the place, like an architectural ghost"—but also by a sense of urgency. Where did all the children and teachers go? What does this abandoned building cost the neighborhood?
And so his idea of an art show to portray the effects of school closures was born. Funded with a $300,000 Pew Center for Arts and Heritage grant, Osorio encouraged former Fairhill students to cover the walls of the Tyler classroom with written accounts of their own experiences, transcribed on oversized lined paper to resemble school notebooks. For example, 17-year-old Jacob Rodriguez, who attended Fairhill student from kindergarten through eighth grade, penciled: "Whenever I see the school and the ruins, I wanna break into tears." There's also a video loop of students' oral testimony—conveying the fears that, without a neighborhood school, they and their friends are more likely to land in jail.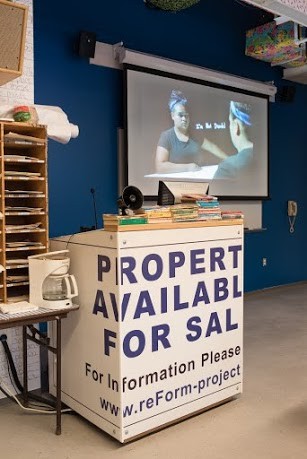 According to Osorio, reForm is more than art—it's both a place for displaced students to gather and define their future on their own terms and, hopefully, a catalyst for Philadelphians to discuss their city's wave of school closures. "The objects are secondary to the stories of the people I work with," said Osorio, who's a product of Puerto Rico's public schools. "My work is political. There's no way around it. But at the same time, I'm interested in the real grief and pain these students feel."
Some art goes even further, aiming to sway public policy by providing the city with their own proposals for how to repurpose its empty school buildings. This fall, using an increasingly popular art form that focuses on civic and communal engagement known as social practice, an artist project, the Stockyard Institute, has issued an open call to Chicago residents to develop site-specific design proposals for their city's abandoned schools. Early next year, the Stockyard Institute plans to present a catalogue of ideas—Reimagining Abandoned Schools—to Mayor Rahm Emanuel's office.
"Our goal is to present the mayor and the board of education with a map of social change and possibility," explained Jim Duignan, a DePaul University art professor and Stockyard Institute's founder. "We have all of these abandoned schools around Chicago now, what would first graders do with them? What about an architect or designer or teacher? Does the neighborhood need a women's health center? A vertical garden?" Although, he asked, during one of our interviews, guess what a group of students at John Hay Elementary proposed for the best use of an abandoned Chicago school? A school.
---
* This article previously referred to the abandoned school that Matthew Christopher photographed as Thomas A. Edison High School, the school that occupied the building before Julia De Burgos Middle. We regret the error.