Campus Politics and the Campaign Against Ivy League Traditionalism
Students are forcing elite colleges to adapt to changing times—and it is, ever so slowly, working.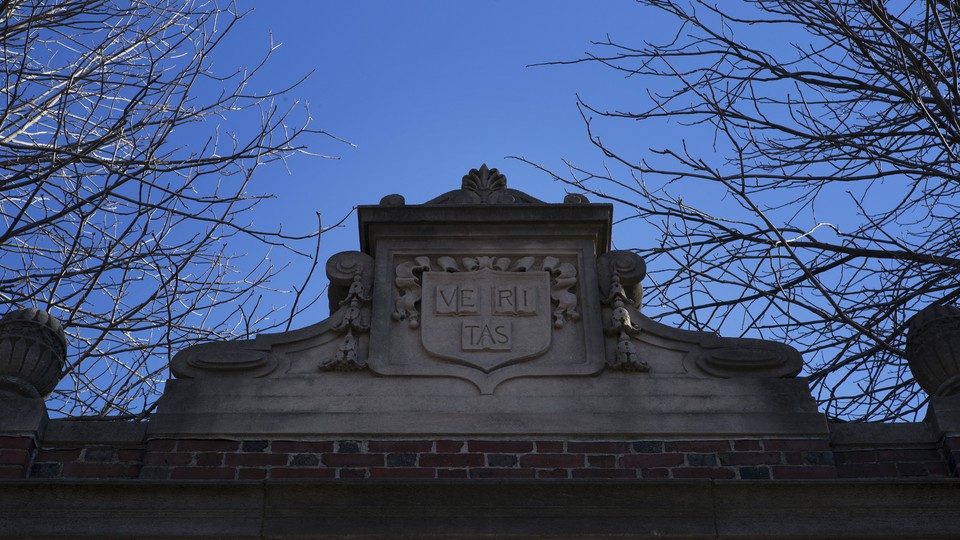 This week, Harvard College Dean Rakesh Khurana sent an email to students informing them that the school would be scrapping one of its most treasured traditions: The heads of its 12 undergraduate residences would no longer be called house "masters." The decision, the result of an unanimous vote by the masters themselves, was partially in response to the racially fueled unrest that's transpired on college campuses, including Harvard, in recent weeks. According to The Harvard Crimson, although the term as it's used in the Ivy League has nothing to do with slavery, some students have nonetheless criticized the word "master" as reminiscent of it, and Khurana and other officials say the change had been under consideration for some time.
"The recommendation to change the title has been a thoughtful one, rooted in a broad effort to ensure that the College's rhetoric, expectations, and practices around our historically unique roles reflects and serves the 21st century needs of residential student life," Khurana, who oversees the Cabot House, told faculty members in a prepared statement.
It may seem like a silly thing to cause so much ballyhoo on campus—to make headlines in The New York Times, The Washington Post, and Time. But the custom is a beloved one that contributes to Harvard's Hogwarts-esque sense of community. The houses "serve as the foundation for the undergraduate experience at Harvard College," each with its own shield and reputation, and students often form intimate, cherished bonds with their "masters," who are either senior administrators or faculty members. (Some of the houses also have "elves"—an affectionate nickname for the Master's Resident Assistants who work in exchange for room and board.) Both the "house" and "college" systems at Harvard and Yale are modeled after ones that originated at Oxford and Cambridge, which have also referred to their heads of house as house masters, among other terms.
Changing the name doesn't take that relationship away, but for some, it injects new, strange meaning into an institution that's integral to the Harvard experience. For others, it's a joke: Critics quickly mocked the decision as symptomatic of higher education's obsession these days with being politically correct—an issue that Greg Lukianoff and Jonathan Haidt tackled in their recent cover story for The Atlantic, "The Coddling of the American Mind."
Dear Lord: now @Harvard has voted that their "House Masters" name must be changed. When will PC nonsense end, already? #tcot #lnyhbt

— Ron Christie (@Ron_Christie) December 1, 2015
Meanwhile, it may seem like the activists and other students of color are focusing on the wrong issues by scapegoating something as seemingly superficial as an administrative title or the name of a campus building or an unofficial mascot or a symbol on school seal. Commenting on the debate over Yale's Calhoun College, The Atlantic's Tressie McMillan Cottom wrote that it may be missing a larger, more important point. "The legacy of racism is not just carved into the facades of university buildings," she wrote. "It is found in the persistence of inherited privilege that shapes the composition of the curriculum, the student body, and the faculty." Similarly, asked about students' effort to remove the name of Woodrow Wilson at Princeton, the Harvard senior lecturer Marshall Ganz, who dropped out of the Ivy League in the 1960s to be an organizer, replied: "It still does not shift the economic reality, the criminal justice reality or the political disenfranchisement reality. It's only a piece of it." Meanwhile, R. Owen Williams has argued that deleting these symbols removes opportunity for debate and dialogue: "Wholesale 'name-changing' in the form of erasure is bad history and, worse, it represents the forfeiture of an important educational opportunity."
The risk is that these initiatives to rename institutions and destroy tradition may ultimately distract and detract from greater progress being made—from universities recruiting more faculty of color, allocating more funding for cultural centers, and investing in diversity training, for example. After all, colleges so far have only seemed to take action on the more superficial of demands: Along with Harvard, both Princeton and Yale have dropped use of the term "master" to describe school leaders, but neither of the campuses have made much headway on other, more substantive goals. Other schools, including Georgetown and the University of North Carolina at Chapel Hill, have decided to rename buildings but have done little else. One of the only demands at Amherst College that has been addressed is the replacement of the school's unofficial mascot, Lord Jeff, who reportedly gave smallpox-infected blankets to Native Americans.
But as Sam Fulwood III, a senior fellow at the Center for American Progress who focuses on race and media issues, argues, what may be making students so uncomfortable aren't so much the icons themselves but rather "the mindset behind defending" those icons. "They want the college to reflect themselves—and the traditions and the symbols of a college experience, in their mind, do not do that," he told me. "What these students have done has been to draw attention … to those traditions" and what they represent.
This sort of activism—rallying for both the aspirational and the tangible—is also part of being a young, college student, according to Fulwood. "The students who are discovering Woodrow Wilson's legacy at Princeton are behaving as if they were the first people to ever find out that he was a racist," he continued. "There's nothing like a new convert—there's nothing like getting new information that sets you on fire … [They're] coming to realize that they can challenge assumptions that sometimes have been deified by institutions, so there is some value in talking about the iconography on a college campus."
Schools' gradual withdrawal from certain traditions could be significant in that it indicates a willingness to embrace the new era into which they're being thrust—an era marked by rapid demographic change, declining numbers of high-school graduates nationwide, and mass mobilization by people whom they've marginalized. "In an earlier time, the purpose of a liberal arts college education was to enlighten and educate the most socially advanced members of American society," Fulwood wrote in a recent paper. It was reserved for white men "who were assumed to be future leaders of government, captains of industry, and masters of the universe"; students of color and women were rarely welcomed.
Nobody thinks—or at least says—this anymore. A visit to any of the elite college campuses across the nation, however, reveals that traditions die hard and that change comes slowly. Debates over the names attached to buildings and the iconography of prominent alumni prove that little has shifted: Sometimes, the past is offensive to the present, leading to conflict and protests …

In effect, what we are seeing on college campuses today is the boisterous struggle of marginalized groups who are reshaping the old college life to fit their contemporary realities. College administrators are trapped, flat-footed, and wide-eyed in the middle of a social and cultural shift that they are seemingly unprepared to accommodate. And it is likely to get worse for those who want to retain the norm of the hallowed halls.
According to Fulwood, for colleges, even changing the name of a building is difficult. Conceding to one demand opens the door to conceding to more, which could mean fundamentally changing the role of higher education to meet the needs of one constituency over others.
And ultimately, Fulwood agrees with Williams and others in that erasing certain symbols and traditions could do more harm than good. "Attempting to sanitize [the iconography] and take it away in the guise of 'This makes me feel better,' I think, is misguided," Fulwood said. "Changing the name doesn't do anything but hide the actual history of what went on on the campus, and that is a far worst place for education because it can pretend that it never happened."