What Is the Future of Higher Education?
Experts in the field offer their reasons for optimism and pessimism going forward.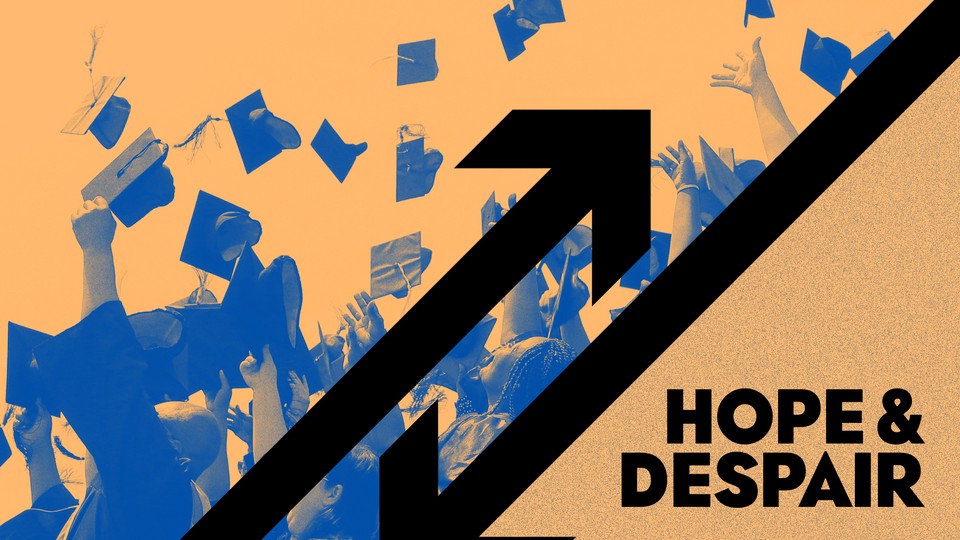 A bachelor's degree is more valuable than ever before, and yet college enrollment in the United States is on the decline. As the economy has improved and tuition has increased, more young adults have sought options outside of higher education. The plight of for-profit colleges—which tend to enroll low-income students—has accounted for much of drop in enrollment. State support for higher education has also weakened. Seven in 10 seniors who completed their degrees at public and private nonprofit colleges in 2014 graduated with student debt.
Colleges have resorted to an array of cost-saving measures, relying increasingly on adjunct faculty and student-tuition increases, among other strategies. Although MOOCs—massive open online courses—may be past their heyday, virtual education continues to gain traction. Vocational and career-and-technical education is having a comeback, while liberal-arts programs are under attack.
One of the most remarkable phenomena to reach colleges this year have been the student protests, their participants vying to improve race relations on their campuses. The unrest has prompted schools to rethink their institutional missions and services ​and commit​ to properly serving new types of students; several ​​staffers and university leaders have been fired or resigned​​ amid these administrative shifts.
We reached out to some of the leading scholars of, experts on, and advocates for higher education, and asked them what, as the year comes to an end, is giving them cause for hope and despair. Below are their answers, lightly edited for length and clarity.
---
Anant Agarwal, CEO of edX
Reason for despair: I am in the field of higher education, and I am continually reminded of how challenging it is to transform this world through technology. While we've seen technology revolutionizing so much of the world around us, and providing so much access to everything from entertainment to communication, the same cannot be said of quality education. Education is a basic human right, but has remained relatively resistant to technology, and continues to be either of poor quality, or simply out of reach for so very many people around the world.
Reason for hope: The progress we've begun to see in technology-enabled learning gives me reason to hope. Online learning has the potential to revolutionize education in both quality and scale, enabling anyone with an Internet connection and a will to learn access to an education. Experiments with MOOCs have demonstrated that quality education can be offered to millions of students worldwide at near-zero marginal cost. Recently, barriers to university credit for MOOCs have also begun to come down, giving me tremendous hope that soon people will be able to get an education and also a meaningful credential to showcase their work.
Education has also been recognized as one of the Sustainable Development Goals (SDG) of the United Nations, so I'm hopeful that nations will now see a reason to invest more heavily in education.
---
Lauren Asher, president of The Institute for College Access and Success
Reason for despair: I'm discouraged that lower-income students and families face such a big gap between the college costs they're asked to cover and what they're able to pay, and this affordability gap has widened over the last decade. It's reflected in the high debt levels of federal Pell-Grant recipients, who mostly have family incomes under $40,000. The most recent data show that nearly nine in 10 college graduates who received Pell grants had loans, and they owed an average of $31,200. Compare that to all other graduates, a little over half of whom had loans with average debt of $26,450. What's driving rising overall debt levels and these income disparities? One big factor is declining state investment in higher education, which shifts the burden onto students and families. For Pell-grant recipients, the cost of attending a public four-year college increased by $7,400 between 2004 and 2012 (the most recent data available), but their total  grant aid increased just $2,900. And despite recent increases, the maximum Pell grant now covers less than a third of the average in-state cost of attendance at a public four-year college: the smallest share in over 40 years.
Reason for hope: One reason for hope is that growing concerns about student debt have led to growing recognition of the role that state investment plays in making college affordable, including for lower-income students. The vast majority of students attend public colleges, and states have been pulling back their support for these schools for decades, leaving students and families to foot more and more of the bill.  However, a number of recent federal proposals for "debt-free" or "free" college would provide higher-education funding for states that continue to invest in public colleges and the financial aid that helps limit students' need to borrow. Done right, this approach would provide a powerful incentive for states, addressing one of the root causes of student debt at its source and helping preserve the value of available grant aid.
---
William Deresiewicz, writer and author of Excellent Sheep
Reason for despair: The continued dominance of a narrowly "practical" approach at all levels. This is the attitude that says that the exclusive purpose of education is to prepare workers for the labor force. It shows up, among other places, in the overwhelming focus on math and reading in K-12 and the fetishization of STEM fields and universal disparagement of the liberal arts in college. It also underlies the continuing privatization of public education through the promotion of charter schools and other aspects of the "reform" agenda as well as the ongoing defunding of state universities—the idea being that if education serves the purposes of the market, it should be under the control of the market.
Reason for hope: The gathering resistance to this mentality, which I see in the movement for tuition-free, or at least debt-free, public higher education; in the opposition to high-stakes testing in K-12, which has led to the repeal and replacement of No Child Left Behind; and in the proliferation of new alternative educational models. Students (and their parents) are getting tired of being treated like revenue streams and exploitable resources. But whether we will gather sufficient political strength to oust the entrenched interests on the other side is still a very open question.
---
Bernadette Gray-Little, chancellor of the University of Kansas
Reason for despair: While I don't find much that causes me to despair, I do have concerns about the way we invest in our future. If public funding for universities continues to decline, we will need to find different ways to support the way we educate our future leaders and the way we discover new things in our country. So many of our great societal and technological advances happen because of universities, and we need to make sure to protect these efforts from harm.
Reason for hope: I am inspired by the enthusiasm and intellectual capacity of our next generation of leaders. I interact with students each day, which is a great joy. Our students are intellectually curious, and they pursue interesting goals. They're building faster race cars and more sustainable buildings. They're looking for cures to the latest diseases. They're already finding ways to do all these things better than their elders. And they're also ensuring that we stay focused on issues like economic disparity and racial inequity. The problems of our society will not be getting any easier during the next 50 years, but I'm glad we will have the young people I engage with today to help try to solve them.
---
Federick M. Hess, resident scholar and director of education policy studies at the American Enterprise Institute
Reason for despair: The ominous push by self-styled crusaders for "social justice" to make bastions of higher education into reeducation camps and to silence or bully competing voices. Major universities have been called upon to ban the use of historic, anodyne terms. To scrape the names of presidents from campus buildings. To bar white faculty from teaching in certain academic departments. To require select faculty and students to undergo mandated reeducation programs. Student protesters accost journalists, harangue faculty, and seek to have professionals fired for the slightest of imagined slights. Their behavior is increasingly Orwellian, yet is met with cheers from campus-diversity officers, prideful looks from left-leaning faculty, indulgence from campus officials, and mostly benevolent adoration from the mainstream press. I see aspiring campus fascists basking in their power and success—much as was the case in 1990 and 1970—but this time liberal civil libertarians and champions of academic freedom are standing silent. I despair because we're in a troubling spiral and I don't currently see any corrective emerging short of scorched-earth campus culture wars.
Reason for hope: The creativity and ingenuity of so many educators and entrepreneurs in the world of education. We have at our disposal powerful tools that we could hardly have imagined a generation ago, including simulators, communications tools, data systems, and software that make it possible to reimagine what teaching and learning should look like. Ventures like New Classrooms, ClassDojo, MasteryConnect, LearnZillion, Rocketship, Carpe Diem, and 4.0 Schools are just a handful of those working to rethink classrooms and schools by taking fuller advantage of talented teachers and offering new opportunities to students. New Classrooms is using new technology to help schools morph math instruction from "one-teacher-lectures-thirty-kids-for-180-days" to a model in which a team of teachers uses an array of instructional tools to help students learn at the pace that suits them. ClassDojo, MasteryConnect, and LearnZillion offer educators tools that help cultivate supportive classrooms, use assessment to fuel learning, and make it easier to deliver great lessons. Rocketship and Carpe Diem are using computer-assisted learning to supplement teacher-led instruction, giving students more practice and teachers more time to work closely with students in more intimate settings. 4.0 Schools is helping team up educators, engineers, and entrepreneurs to devise and then launch promising new community-based schools and learning tools. Such efforts have too often been overshadowed in recent years by a narrow focus on reading and math scores, but I'm hopeful that the end of No Child Left Behind and a larger cultural shift herald an embrace of possibility.
---
Janet Napolitano, president of the University of California and the former U.S. Secretary of Homeland Security
Reason for despair: I'm not someone prone to despair, but, for the future of public higher education, a continuing source of concern is the state of political will and leadership. Across the country, too many states have cut funding of colleges and universities at a time when they should be investing in teaching and research that will fuel opportunity for individuals, families and communities. If there were no elected leaders making higher education a priority, that would be cause for despair, but there are leaders, in California and elsewhere, who recognize the value of a high-quality college education to both society and the individual. The concern is that there aren't enough of them.
Reason for hope: Students and those who teach them give us all plenty of reasons to hope for a future built on opportunity. Across University of California campuses, tens of thousands of first-generation college students are learning side-by-side with the sons and daughters of alumni and other parents who span a very wide spectrum of heritage and circumstance. Like their contemporaries at other public research universities, many are joining faculty in research that is creating knowledge and making the world a better place to live. America's future truly is being shaped by students and their teachers, and that gives me hope.
---
Joshua Wyner, vice president and executive director of the College Excellence Program at the Aspen Institute
Reason for despair: For too long at too many American colleges and universities, it has been assumed that students alone control their educational destiny. So, static lectures, irregular student assignments and feedback, and disjointed course offerings remain in place even though better alternatives exist.
Meanwhile, student outcomes leave a lot to be desired. Evidence shows that college students spend less time studying—yet grades continue to increase (over 40 percent of grades today are As). About 50 percent of college students drop out—they never graduate. And studies suggest that even those who earn a degree often lack the critical reading, math, and analytical skills needed to participate thoughtfully in our democracy and fully meet the demands of a rapidly changing workplace.
Reason for hope: The good news is that we know that colleges and universities can do better. Georgia State University and Valencia (community) College in Florida have dramatically increased graduation rates. Both enroll large, diverse student bodies, including significant numbers of diverse students from low-income families who are excelling. Vassar and Franklin & Marshall College have substantially increased the number of low-income students they serve while seeing no diminution in student grades or graduation rates. And in recent years, national efforts have enabled an increasing number professors to rigorously assess critical thinking and other core competencies with the goal of measurably improving student learning.
These examples offer reason for hope, but it's by no means inevitable that they will become the norm. Achieving these outcomes at a greater number of colleges and universities will require focus in two areas above all others.  First, our nation and states must invest more dollars in talent development. Higher education funding has shifted over the past decade from public taxpayers to students and families. The result is a dramatic rise in student debt, most painful for students who never complete their degrees. Colleges and universities can and should become more efficient and effective in delivering strong student outcomes, but it is, simply put, harder for students to succeed when they bear increasing financial burdens.
At the same time, we need to develop new college and university leaders capable of ensuring that the public and students alike receive a strong return on their investments. With the average age of college presidents now over 60, the sector will soon experience tremendous turnover in leadership. The new generation will be called upon to lead their institutions to deliver more degrees of higher quality to an increasingly diverse population at a lower per-pupil cost. If colleges and universities are to meet this challenge, board of trustees, faculty, and policymakers must ensure that the new generation of presidents believe that all students can succeed—and that colleges and universities are accountable for student outcomes.
Looking into the next decade, then, we may despair about waning public will to invest in higher education. Our elected officials can reverse this narrative if their actions better align with the understanding that postsecondary education holds enormous promise to improve the lives of individuals and strengthen communities, states, and the nation. We may also look to the future and be hopeful about the opportunities we have to usher in a new generation of college leaders prepared to lead institutions to deliver on that promise.