Ensuring Educational Stability for Foster Kids
The new federal education law requires schools to track data on at-risk students' achievement.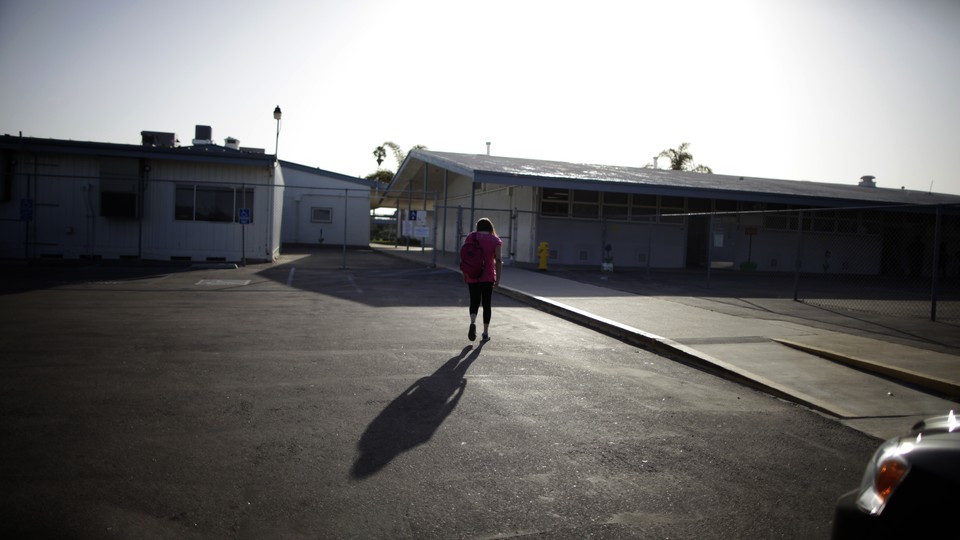 Just before President Johnson signed the Elementary and Secondary Education Act (ESEA) into law on April 11, 1965, he took the opportunity to stress America's commitment to education and its role as a basic civil right. "From our very beginnings as a nation, we have felt a fierce commitment to the ideal of education for everyone." Despite the idealism of Johnson's comments, and the lofty goals of the ESEA, not all of America's children have had equal access to a quality education.
This could change with the implementation of the Every Student Succeeds Act (ESSA), an overhaul of ESEA and its 2001 iteration, No Child Left Behind. At the ESSA signing ceremony on December 10, President Obama echoed Johnson's sentiments and added a specific promise to the very children who have traditionally been overlooked by education legislation: "With this bill, we reaffirm that fundamentally American ideal—that every child, regardless of race, income, background, the zip code where they live, deserves the chance to make of their lives what they will."
Foster children, one of America's most overlooked and underserved populations, have long been deprived of equal access to sustained, quality education. Barely half of all children in foster care could expect to graduate high school by age 18 due to frequent changes in home placement and gaping communication disconnects between education and child-welfare agencies. As reported here a year ago, "Students in foster care move schools at least once or twice a year, and by the time they age out of the system, over one third will have experienced five or more school moves. Children are estimated to lose four to six months of academic progress per move, which puts most foster-care children years behind their peers."
The ESSA contains provisions designed to close the achievement gap for students in foster care by protecting their educational stability. The ESSA allows children to remain in the same school regardless of changes in placement, even if they move from one district to another. Furthermore, the law requires schools and state agencies to provide transportation, rapid enrollment, and record transfer, as well as a dedicated point person tasked with ensuring the educational well-being of children in state care.
Despite the catchy and well-intentioned name of the 2001 reauthorization of ESEA, plenty of children were, indeed, left behind. Fortunately, the ESSA requires that state and local agencies maintain data for these at-risk subgroups. Child-welfare agencies have long known that at-risk youth, such as children in foster care, are at increased risk of academic failure, but reliable national data has not been available to track markers of educational achievement, such as graduation rates. The ESSA requires schools to track the academic achievement of these groups so states, school districts, and child-welfare agencies can observe and react to trends in their school progress.
Kate Burdick, a staff attorney at the Juvenile Law Center, is "overjoyed" with the improvements to ESSA. "The devil may be in the implementation details, but now, there's clearly an obligation on schools to protect school stability, and there's no question that schools are equal partners with child welfare."
Whether or not the new provisions of the ESSA are effective in protecting the school stability of foster children and other at-risk youth comes down to those devils of implementation that Burdick mentioned. The good news, she stressed, is that meeting the educational needs students in foster care improves education for everyone. "The things that really matter when it comes to the success of foster kids—emotional stability, positive adult role models, and the knowledge that someone dependable is looking out for their best interest—that's what matters most for all kids."
The ESSA is a victory not only for foster children, but also for education as a whole. The law passed with bipartisan support at a time when opposing sides in the ongoing education-policy debate are deeply entrenched.
If the ESEA purported to make education a civil right, the ESSA promises to deliver that right to America's most vulnerable students. Just before he signed his name on the ESEA in 1965, President Johnson acknowledged the incredible power of education to change the lives of America's children:
As the son of a tenant farmer, I know that education is only valid in its passport from poverty, the only valid passport. As a former teacher—and I hope a future one—I have great expectations of what this law will mean for all our young people. As President of the United States, I believe deeply no law has signed or will ever sign means more to the future of America. We have established the law. Let us not delay in putting it to work.
As the country implements the ESSA, it would do well to remember how much is at stake for America's children today, and how little time it has to lose.
---