Why Are Fewer College Presidents Academics?
Tim Wolfe, the former president of Mizzou, is one of a growing number of leaders in higher education with a business background rather than an academic one.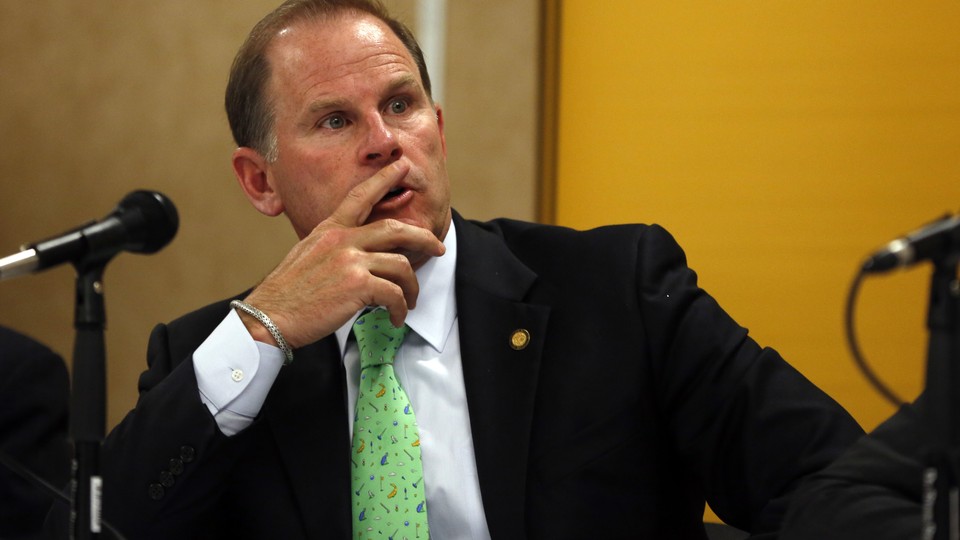 Only two hours away from Ferguson, Missouri, a series of events quickly enflamed the University of Missouri in Columbia this fall.* In a few short weeks, reports of racial slurs and a poop-smeared swastika led to a protest during a homecoming parade, one hunger striker, tents in Carnahan Quad, and a trending Twitter hashtag, #ConcernedStudents1950. When the football team threatened to boycott its November 8 game with Brigham Young University unless Mizzou's president stepped down, the crisis required a fast resolution.
Timothy M. Wolfe, the president of the University of Missouri, had done little to deescalate tensions with students as the situation deteriorated in September and early October, according to Arthur G. Jago, a management professor at the school. In The Chronicle of Higher Education, Jago argues that Wolfe acted "autocratically," failed to consult with faculty and students about several major decisions, and was dismissive of students' concerns. These actions, according to Jago, resulted in the protests, the football boycott, and Wolfe's ultimate resignation on November 9.
Many within the higher-education community are wondering whether Wolfe would have handled the crisis more tactfully and had the support of faculty members if he were a career academic. Wolfe isn't a former college professor who taught for many years in his field and later worked his way up the administrative hierarchy. He's a former executive at IBM and Novell Americas who was hired by Mizzou's Board of Curators because he could, as Board Chair Warren Erdman has said, "sell" the importance of the school to others and run the school efficiently. Once he was at the helm of the university, some faculty members started to express concern about his lack of academic experience.
Wolfe is part of a trend in higher ed of putting non-academics in leadership positions at colleges. Twenty percent of U.S. college presidents in 2012 came from fields outside academia, up from from 13 percent six years earlier, according to the American Council on Education.
Many of the non-academic college presidents come from the law and business worlds. Jonathan Lash, who now oversees Hampshire College, was previously a lawyer who served as president of the nonprofit World Resources Institute, a Washington-based environmental think tank. Before Bruce Benson was selected to lead the University of Colorado in 2008, he had a successful career in the oil industry. He has also been involved in banking, real estate, cable television, and restaurants. Neither Lash nor Benson have Ph.Ds.
Other nontraditional college presidents have government backgrounds. Margaret Spelling, the new president of North Carolina, is the former Secretary of Education under George W. Bush. Janet Napolitano, the former Secretary of Homeland Security, is the president of the University of California. Bill McRaven, the chancellor of the University of Texas system, is a former admiral in the navy and commander of the U.S. Special Operations Command. Purdue's president, Mitch Daniels, is the former governor of Indiana. Florida State's president, John Thrasher, was the Speaker of the Florida House of Representatives.
Proponents of non-academic candidates say that leaders from the worlds of business or government or law are needed to innovate, control costs, and manage a complex organization like a college institution. They have proven skills in fundraising and important connections in their professional networks. Academics may know a great deal about anthropology or molecular biology, but they haven't been trained to run an operation that serves tens of thousands of students and tens of thousands of employees. With growing resistance to high tuition costs, increased administrative costs, and tightening government resources, business leaders would seem to be a good fit for the job.
Non-academic administrators are often viewed with suspicion by faculty.  College isn't an oil company or a law firm, they say; a college is supposed to produce knowledge, not profits. Some say these nontraditional college presidents are cutting costs by replacing tenured faculty with low-paid adjuncts—that these outsiders are not familiar with the culture and traditions of academia that prize debate and the full participation of all faculty members. Meanwhile, corporate leaders aren't experienced at managing Zeta Zeta Zeta with its late-night keggers and hazing rituals, handling a Young Socialist Club protest on the steps of the business school, or sorting out the grievances  between the anthropologists and the economists. A college campus is a highly complex environment, they say, that can only be understood by someone with decades of experience.
One of the most contentious academic vs. non-academic battles for college leadership is currently happening at the University of Iowa. Back in the spring, members of Iowa's business, political, economic development, and philanthropic sectors effectively called on the university's search committee to place more value on candidates' leadership, fundraising, and organizational skills than on their appearance in scholarly publications. With that mission, they chose Bruce Harreld, the former president of Boston Market Co. and a vice president at IBM, as the school's new president and announced their decision in early September. The University of Iowa's governing board said that selecting him would send the message that "the status quo is unacceptable."
In response, Iowa's governing board warned that this selection would badly damage relations with faculty, and the faculty voted no confidence in the statewide Board of Regents over the appointment of Harreld. One survey found that just 3 percent of surveyed faculty found him qualified to be Iowa's next president. Faculty have not warmed up to him since he began his job in early November, resulting in an apology to Harreld from a local business organization. The executive director of the business group said, "The way [Harreld has] been treated by some on this campus is not fair. It's not who we are as Iowans."
On the academic website "HASTAC," Cathy Davidson, a professor at CUNY Graduate Center, wrote in a blog post that she didn't think that Harreld was qualified to run a college campus in part due to his lack of academic experience. She then questioned the trend of applying the business model to higher education. What place is there for collegiate traditions of discourse and shared governance in a profit-minded university? What happens to non-profitable areas of a school—the hospital, students services, sports—if colleges are treated like a business? She argues that this shift could even open up moral and legal questions over universities' nonprofit tax status.
Protests have happened at numerous other colleges this fall, many of which are led by traditional administrators. Those administrators include Ithaca College President Thomas Rochon, whom students have also called on resign (he hasn't), and Claremont McKenna College Dean of Students Mary Spellman (she has). And it's hard to know for sure how president with a background in academia would have reacted to events at Mizzou. After all, things spiraled out of control very quickly; students there were well trained in their activism from a year of protests in Ferguson. Few anticipated how important the students' ultimate trump card—the football team—would prove. Ultimately, the theory that Wolfe's non-academic roots meant that he wasn't interested in fostering a dialogue with students is probably one of many explanations for the outcome.
However, it's worth noting that college administrators at many other schools, like Princeton, have been careful to react differently than Wolfe. Princeton's president, Christopher Eisgruber, quickly met with student protesters, agreeing to consider or otherwise implement their demands, including that Woodrow Wilson's name from school buildings and that the school create a mandatory class on "the history of marginalized peoples." He asked the Board of Regents to form a sub-committee that would would collect information about Wilson's legacy and issued a long memo to the entire college that recognized their concerns and laid out plans for the future. While Eisgruber is the first president of Princeton to not have a Ph.D. in 200 years, he has a long history in academia as a law professor.
There are many lessons that have come out of Mizzou. One of those lessons might be that a college campus has a unique culture that cannot be managed like a hierarchical corporation or a governmental bureaucracy. A student protest about racism isn't a pesky union grievance that can be managed behind closed doors or an inappropriate email that is outsourced to the Human Resources department. There is real value that comes from having a deep understanding of the dynamics of a college campus and from having the loyalty of faculty. Other non-academic college presidents should take note.
---
* This article has been updated to reflect clearer distinctions among the backgrounds of non-academic presidents.