How Colleges Are Stepping Up Campus Walkability
Campuses are erecting signs that show people how close certain destinations actually are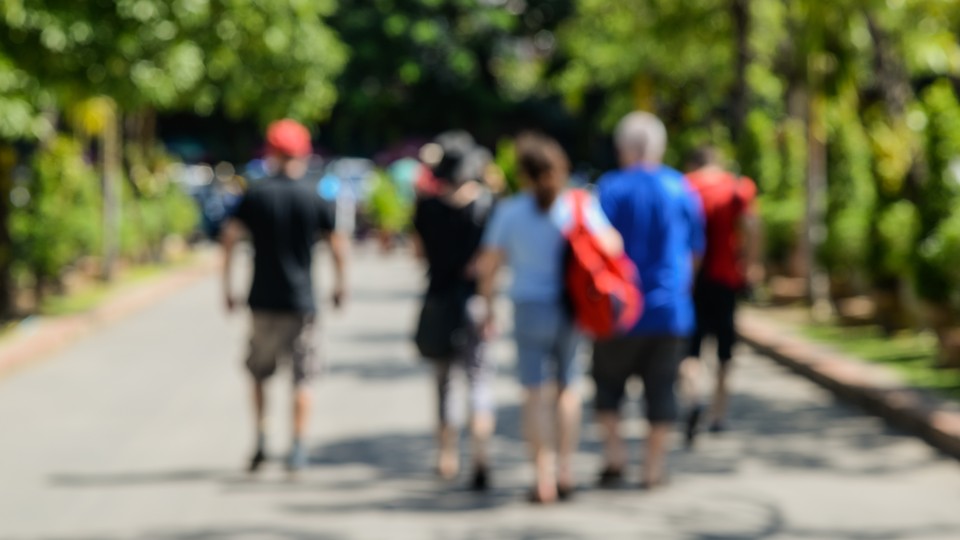 Two University of Kentucky students pause in front of a streetlamp in the middle of campus. One holds his phone up to a bright blue sign attached to the pole, and steadies his camera over a QR code.
"I had no clue that was three minutes away," his friend says.
The student holding the phone nods, and both head off walking down a slope toward several restaurants close to campus, occasionally checking the phone screen.
This scenario is a common occurrence since the installation of nearly 80 signs around campus as part of Walk [UK], a collaboration with the civic startup Walk [Your City]. The bright blue signs show the distance in minutes to on- and off-campus destinations that may be closer than students, staff, and visitors realize.
This initiative was started in early June, modeled after the Walk [Your City] program in Lexington, Kentucky. However, campus administrators paid special attention to the program after the U.S. Surgeon General issued a statement in September promoting walkable communities as a public-health strategy. Colleges and universities were specifically highlighted as a sector that can promote walkability through policy and campus design.
In addition to encouraging students to walk—instead of driving to nearby restaurants or shops—these signs are also a way for campus researchers to analyze how university populations might utilize technology to make walking a larger part of their daily commutes.
Each sign has a different phrase:
It is a 16 minute walk to work out before heading home.

It is a 3 minute walk to get lunch or a snack.

It is an 8 minute walk to get a check-up.
To the side of these is a QR code, a machine-readable optical label, which students can scan with their phones for directions to the locations advertised.
The Walk [Your City] initiative was initially launched in Raleigh in 2012 by the then-graduate student Matt Tomasulo. As Sarah Goodyear described on CityLab earlier this year, the signs were meant to help people think differently about distances in the city, and to encourage them to get out of their cars and explore their communities under their own power.
Goodyear continued:
The project drew international notice and received lots of favorable press coverage. It also got the attention of Raleigh's city government, which eventually took the signs down for violating local ordinances. But the city's planning director was a fan of the concept behind Tomasulo's action, and soon they reached a compromise. The signs went back up, with the blessing of the city, as a pilot education project.
Since it debuted in 2012, the program has spread to 50 other U.S. cities, including Santa Fe, New Mexico; Greensboro, North Carolina; and Mount Hope, West Virginia.
Tomasulo is excited to see the Walk [Your City] initiative move to university campuses. "When you think about it, university campuses really are like small cities," Tomasulo explains."I think a lot of people, in this case students, overestimate the amount of time or distance between two locations."
The signs also offer the opportunity to research how people interact with point-of-decision prompts, he adds. These prompts are motivational messages or posters—like the signs on UK's campus—that are placed in spaces where viewers need to choose, say, whether or not to climb stairs or continue walking instead of using other forms of transportation.
So far, the only large-scale research done on these prompts was the "Walk to Fly" study put out by Division of Nutrition, Physical Activity, and Obesity at the CDC. The "Walk to Fly" project was designed as a way to promote and evaluate walking in airports, as opposed to taking airport shuttles or the monorail system. The study found that a prompt—a large poster that let travelers know that it was only a five minute walk between concourses—increased the number of walkers by 14 percent (around 675 travelers) per day, a percentage that held steady for the five-month research period.
The point-of-decision prompts provided for the University of Kentucky and surrounding areas in Lexington are distinct in that, thanks to the QR codes, they can offer insight into people's choices. "We can see how many signs have been scanned," says Melinda Ickes, of the university's department of kinesiology and health promotion. Ickes and her team are also conducting surveys to learn about students' "perceptions of distance," and how they're incorporating walking into their daily lives.
The University of Kentucky Hospital physician Connie Jennings posits that the technology may have a positive effect on student health.
"This is the first generation that may live shorter lives than their parents, and inactivity plays a huge part in that," Jennings says. "I tell my patients that there are so many little things that can add up to the recommended 150 to 180 minutes of exercise per week. For some people, using an app to track their steps or to direct them to a walking path would be really beneficial in helping them fit that in."
A couple of other colleges and universities have created Walk [Your City] campaigns. Wayne State University in Detroit for its part did a larger campaign, which ended up aligning with citywide campaign, bridging that campus-community gap. Ideally, Tomasulo would like to see these campaigns spread to campuses nation-wide. In the meantime, though, the University of Kentucky's initiative is doing well; shortly after the signs' installation, Murthy, the surgeon general, even recognized the campus program via Twitter:
In addition to getting students moving, adds Tamasulo, these programs have a picture-big goal. He says they offer opportunities for campus health, wellness, and transport to become "part of national conversations" with every three-minute walk.
---