California's Higher-Education Crisis
Scores of highly qualified students are failing to secure spots at the Golden State's public universities.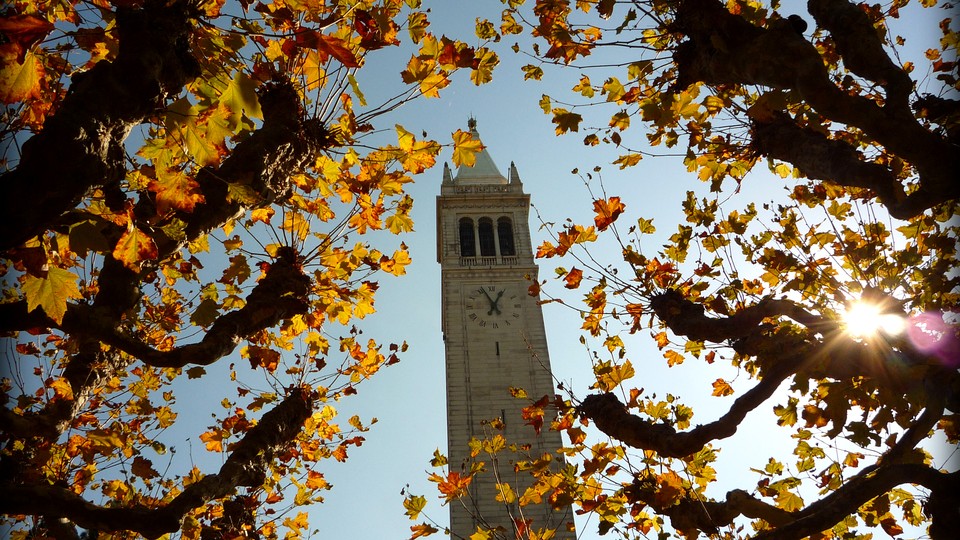 Monday was the deadline to apply for a coveted spot as a University of California student. For certain UC hopefuls, that deadline marked the culmination of years of sleep deprivation and SAT prep, writing-center visits, new extracurriculars, and one last frenzied Thanksgiving break.
But tens of thousands of this year's UC applicants won't be admitted to any campus—and at most of the schools, a majority of applicants will get rejection letters.* That applies to both in- and out-of-state students; even some of the brightest and most qualified of the bunch won't make the cut. The UC system famously ranks among the Ivies and other elite colleges when it comes to selectivity. California's 1960 Master Plan for Higher Education built exclusivity into the university's brand, guaranteeing tuition-free admission to the top 12.5 percent of California's public high-school graduates. Today, even as California's high-school population grows in size and in ability, the plan's enrollment thresholds remain fixed in place. The Campaign for College Opportunity, a nonprofit that advocates for access to higher education for all Californians, released a report on Monday suggesting the state is far from providing every in-state student a chance to pursue such education. And according to Michele Siqueiros, the CCO's president, that means "students need to be virtually perfect to get a spot at the University of California."
The master plan made a lot of sense back in 1960, the campaign's report points out. The idea was to distinguish and efficiently provide for each of California's three higher-ed tiers—the UC, California State University, and community-college systems—while ensuring access to postsecondary education for Californians, regardless of their ability to pay. But times have changed. Tuition at the UCs has nearly doubled since 2000. And today's applicants simply aren't "the same students that we were educating in the '60s," said Nina Robinson, the UC's associate president and chief policy advisor; they're far more prepared to enter college than their predecessors.
The main problem now is that admission to most UC campuses has grown so competitive—and state funding and physical space have become so scarce—that scores of qualified in-state students are getting turned away, the CCO says. At six of the nine undergraduate UC schools, the average GPA among admitted students last year was higher than 4.0. (The UC gives students a GPA bump for taking AP courses.) At the three most competitive campuses—Berkeley, UCLA, and UC San Diego—the median scores on the 2400-point SAT were 2140, 2120, and 2070, respectively. The gap between the number of applicants and admitted students has more than doubled between 1996 and 2013. "Would we like [the UC system] to be larger? Sure," Robinson said. "Is that likely to happen? Probably not."
And it's not just the UC schools. Even some of the California State University campuses—which draw from the top third of the state's high-school graduates—have been rejecting qualified applicants. In fact, roughly one in four of the system's 23 campuses now has admissions standards that are higher than the baseline CSU eligibility requirements, a phenomenon known as impaction. The university system had to deny admission to tens of thousands of eligible students between 2009 and 2014, says the CCO report. The gap between the number of applicants and those admitted to CSU has grown as fast as the UC's own gap.
"Students who would've gotten into UCs are lucky to go to CSUs, and students who would've gotten into CSUs are being locked out," said Lynda McGee, a college counselor at a downtown L.A. magnet high school, in a press briefing Monday. The situation is so dire that McGee advises high schoolers—students whose taxpaying parents, she emphasized, have helped bankroll UC and CSU schools over the years—to apply to private or out-of-state colleges where they have a better shot at admission. "We need to be able to offer more to our students who are residents of our state," she said.
But hefty state funding cuts in recent years have forced  California's higher-education institutions to rely more heavily on tuition revenue, prompting them to favor out-of-state students who pay higher rates to attend. "It's absolutely a priority of the UC system to enroll in-state students as opposed to out-of-state ones," Robinson said. "We're in the access business, and we cannot admit everyone who's qualified … it makes it difficult for us to fulfill our basic mission."
The institutions are, by and large, doing what they can to mitigate the impact of cuts on in-state students. "Impaction doesn't mean 'there is no room at the inn.' It means that space is limited," Toni Molle, a spokeswoman for CSU, said in an email.  Students who are less likely to get accepted at their first campus of choice, she added, are "borderline" applicants, whose GPAs and test scores barely meet eligibility requirements. The university system is also striving to reduce the time students have to spend pursuing their degrees, hiring more tenure-track faculty, improving advising services, and better preparing students, among other efforts. CSU also boasts one of the most diverse student populations in the country.
The UC system has gotten lots of recent kudos for making economic mobility a priority. "Several of its campuses got top spots this year on both The New York Times' College Access Index and Washington Monthly's National Universities Rankings, which serve as de facto accountability tools that in part grade higher-education institutions on their contributions to society. The Times' David Leonhardt highlighted the university's emphasis on keeping tuition relatively affordable, expanding access for community-college transfers, and recruiting low-income students; Latinos are now second-largest ethnic group admitted to the UC system, making up close to 30 percent of last year's freshmen class. Leonhardt described the university as "California's Upward Mobility Machine."
Ultimately, though, the reductions in state funding have started to take an exaggerated toll on that progress, as Leonhardt acknowledged: "California, rather than making another push to bring college to the masses, is taking small steps in reverse." And the students most affected by these shifts are those who are already disadvantaged, according to Thomas Saenz, the president and general counsel for the Mexican American Legal Defense and Educational Fund. Students who are low-income, first-generation college-goers, or minorities tend to have less access to the kinds of resources that are more or less critical to a competitive UC application today—things like AP courses and SAT prep—than do their more advantaged peers. They're also less-equipped to navigate the increasingly rigorous college-application system.
The competition for admission is only expected to intensify, posing significant challenges for the state's workforce-development goals: Officials anticipate they'll need 1.1 million additional workers with bachelor's degrees by 2030 to meet those needs. And the state already has the nation's lowest percentage of undergraduate students enrolled in a four-year university. The vast majority of California's post-secondary students go to community colleges, where less than half of all students complete their programs within six years. "It's not," as Siqueiros said, "an imaginary problem."
---
* This article previously stated that a majority of this year's UC applicants won't be admitted. We regret the error.