What Role Do Asian Americans Have in the Campus Protests?
Often stereotyped as "model minorities," are they removed from—and do they possibly contribute to—the problems facing black students?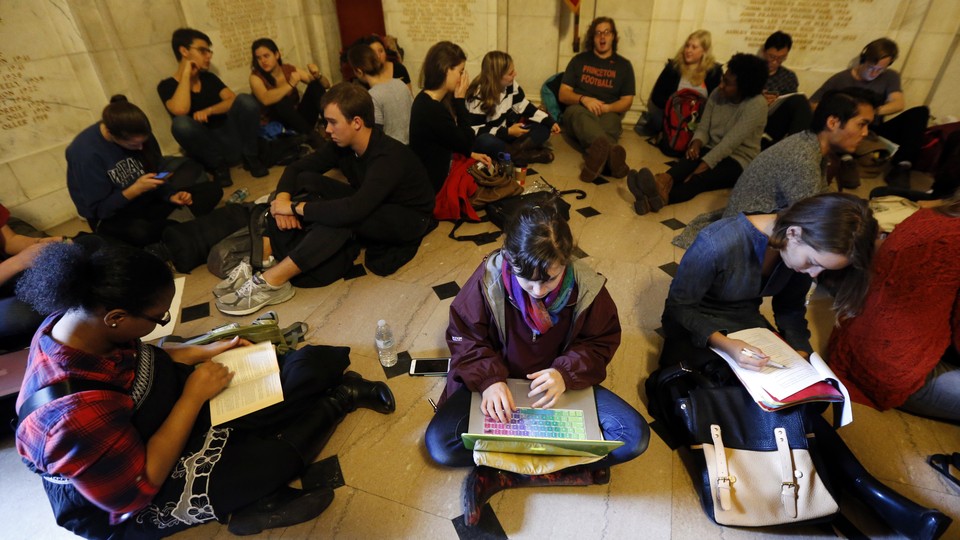 Last month, Princeton University President Christopher L. Eisgruber signed a document agreeing to take measures against racial inequality on campus, most notably the possibility of removing the name of Woodrow Wilson, a noted racist, from campus buildings. The agreement came after a 32-hour student sit-in in Eisgruber's office by the Black Justice League, a group of activists at Princeton.
When the agreement was made, I rushed to the president's office to witness the student response. It had been 20 years since the last student sit-in in the university president's office, when Asian and Latino American students protested the lack of minority faculty representation. Among the 100 or so Princeton students who demonstrated in solidarity with the Black Justice League as its members exited the president's office, I observed many white and black faces. But I saw very few like mine. The relative absence of Asian Americans, who make up over a fifth of Princeton undergraduates, points toward the uncertain role that we have in today's campus protests. Often stereotyped as "model minorities" by our professors, peers, and police, are we removed from—and do we possibly contribute to—the problems facing our black peers?
The designation "Asian American" itself is complex. While Chinese, Korean, and Japanese Americans often occupy positions of privilege in middle- and upper-class America, Asian Americans from countries such as Vietnam and Cambodia are among the most socially and economically disadvantaged in America. When talking about Princeton, I am referring to the former group, which makes up the majority of Asian American students on campus.
Following the administration's decision to at least consider the Black Justice League's demands, Hunter Dong, a junior involved in the school's undergraduate student government, posted a Facebook status that praised the actions of the group as a positive step in racial progress but questioned the inclusiveness of the demands.
"I really wish other cultural groups representing minorities on campus were at least broadly mentioned as part of the final document," Dong wrote, in reference to the demands' emphasis on prioritizing the Black Justice League's role in future campus reform over that of other students. When I asked Dong about his view on the protests, he highlighted his frustration with the oftentimes-overlooked Asian American perspective during discussions of minority rights. "It seemed like there wasn't any room in there for any other minority or culture groups to attend these meetings and talk with the administration," Dong said. He was especially concerned that these conversations about racial equality would not address issues that Asian Americans face on campus.
Julie Chen, a junior who participated in the Princeton protests, told me about the implicit racism she experienced as an Asian American woman in the philosophy department, a field historically dominated in the U.S. by white men. Chen said she attended one of her philosophy classes the night of the Black Justice League's sit-in and "in a very condescending way" was asked by a classmate whether she felt like she needed an Asian center on campus. "I think that they expected the answer to be no," Chen said. "Asians are minorities whenever it's useful for people to frame them as such."
Last spring, Princeton's Asian American Students Association (AASA) ostensibly got involved in campus activism when the group changed its Facebook cover photo to express solidarity with the Black Lives Matter movement. But this fall, when the activism came to Princeton, the group did not take an official stance. For Lena Sun, a senior and former president of AASA, the recent protests presented a point of conflict. On Wednesday, she had planned to participate in the walkout the Black Justice League organized before the sit-in but ultimately decided against leaving class.
During our conversation, Sun, illustrating a common mindset shared among Asian Americans, suggested that the stakes for their participation in the protests may feel lower than they are for their African American peers. When the model-minority stereotype is internalized, she suggested, an Asian American student might think, "Look at the privilege that we have. Does it make sense to be as invested in this as other people are when things are so much better for us?"
While the "model minority" stereotype—which paints all Asians and Asian Americans as high-achieving academic robots—might pressure us to succeed academically, it also separates us from other minority groups. Some students, like Sun, see themselves more as "allies" to their black peers in the fight against racial inequality rather than oppressed persons of color themselves. "It's convenient to sit back and think: 'Well, I've always been told that I'm a model minority so maybe I am and that this isn't the time or place for my voice.' But I think that's an excuse," Sun said, acknowledging that she still feels guilty about not showing solidarity.
The lack of Asian American participation in campus protest is not unique to Princeton. In a recent article in the Columbia Spectator titled "Asian America, Address Anti-Blackness," Kelvin Ng, a freshman at Columbia, equated lack of engagement in conversations on race with complicity. "By stereotyping Asian Americans as apolitical and high-achieving, the model minority myth maintains white supremacy, flattens the diversity of Asian-American identities, and undermines solidarity among marginalized groups," Ng argued.
At Yale, Yuni Chang, a sophomore in the Ethnicity, Race, and Migration program, has observed a similar absence in Asian American voices while involved with Next Yale, the student-activist group that escalated racial activism at the university this year. "It's really disappointing when I come to a forum [where students discuss racial equality] and I only see three or four Asian Americans in a space filled with hundreds of other people," Chang said, echoing Sun and Ng's concerns.
Throughout our conversation, Chang emphasized the "anti-blackness" in which we Asian Americans inadvertently engage when we fail to support African American efforts toward racial equality. "As an Asian person, a person of color, you are privileged by the ways in which black students are treated on campus," Chang said. Sometimes the groups are explicitly compared. Last May, the Duke political science professor Jerry Hough was criticized for a comment he made on a New York Times article in which he praised the "simple old American first names" of Asian American students and criticized the "strange new names" of black students.
Asian Americans are not threatened by police violence or academic condescension in the same way that African Americans are. According to information collected by The Guardian on police killings in 2015, Asian Americans were six times less likely to be killed than were African Americans. A 2013 report on faculty diversity conducted by Princeton University shows that there were twice as many Asian full professors than there were black ones. Faced with these unacceptable discrepancies, we cannot remove ourselves from the struggle of our black peers.
In fact, the Princeton African American Studies Professor Kinohi Nishikawa, himself an Asian American, stressed that accepting the model-minority myth and complying to existing social structures not only hurts the efforts of other minority groups, but also undermines the Asian American voice.
"I want to show my Asian American students that it is an unfortunate burden to live up to the model-minority myth that was set up to prop up inequalities in America. It's a burden on us because these ideals are both impossible to meet and because they are ideals premised on the continued exploitation of other minorities," Nishikawa said. "But more profoundly, they are ideals premised on the continued minoritization of Asians and the continued patronizing of Asians as the silent, docile Americans in the American polity."
Nishikawa continued: "We remain silent and prop up a fundamentally unequal system at our own peril. At the expense of our continued minoritization. It is in our self-interest to speak out—we belong and they belong too. We are not tokens. We are ourselves self-determining people. We do a disservice to ourselves by not wanting to make waves."
When Huey Newton, the founder of the Black Panther Party, was imprisoned in the 1960s, Asian Americans acted, holding signs like "Yellow Peril supports Black Power" to demonstrate solidarity. We must not forget that America once saw us as threats, barring our entry through immigration quotas and placing us in internment camps. "It's hard to come to terms with your community benefitting from black students being seen as problem students," Chang said. "In other words, it's hard to realize that you can be both an oppressor and an oppressed person."