A For-Profit College Initiative That Just Might Work
Strayer University and Fiat Chrysler Automobiles have partnered to cover the costs of attendance for all car-dealership employees and their immediate family members. But who will benefit the most?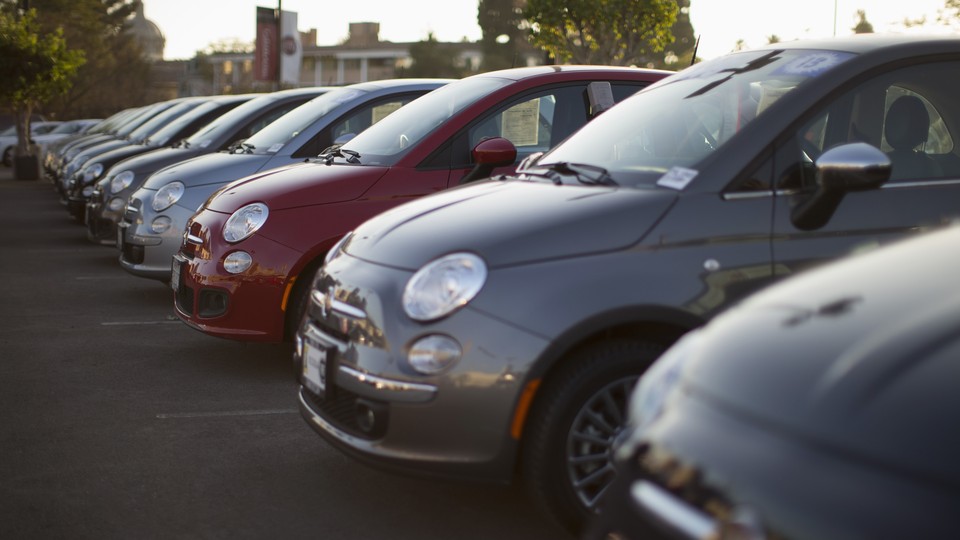 After years of unprecedented financial and enrollment gains, the for-profit college industry is in a tailspin as once-mighty firms are shuttering or agreeing to large legal payments to settle cases in which they were accused of misleading students.
But while the bad press has coincided with a sharp drop in enrollment, some of the industry's perceived better actors have been pairing with leading business brands to provide college educations to their employees. And in the case of one high-profile partnership, the early results look good.
This week, the for-profit provider Strayer University and the U.S. division of Fiat Chrysler Automobiles—maker of Chrysler, Jeep, Dodge, Ram Truck, and Fiat—announced the creation of two programs that provide a Strayer college education not only to virtually all car-dealership employees—but also to all their immediate family members.
Large-scale partnerships between companies and universities have become increasingly popular, including one between Starbucks and Arizona State University Online that The Atlantic covered earlier this year. But unlike those arrangements, the deal between Strayer and FCA covers all the costs of attendance upfront, meaning participating students won't need to take out loans or pay for textbooks to earn an associate's, bachelor's, or master's degree.
For Strayer—which already enjoys partnerships with other companies—the move could mean thousands of more students enrolled at its online or physical campuses. For FCA, it represents a notable investment in its affiliated employees and a welcome mat to the franchise workers of rival automakers in search of better employee and family benefits.
The program for employees, called Degrees@Work, is now available to all of FCA's 2,600 dealerships. To participate, the dealership pays the manufacturer a monthly rate based on a sliding scale that takes into account the size of the dealer's workforce. The smallest dealerships—those that sell 400 to 500 vehicles a year—pay about $500 a month for all its employees to take advantage of the Strayer degree program. The largest dealerships, which can sell 6,000 vehicles a year, pay slightly less than $1,000 a month. Dealerships that want to offer the Degrees@Work Family program would pay roughly three times the amount they would for the employee-only benefit, said Alistair Gardner, who oversees dealer network development for FCA of North America, adding that enrollment in the Degrees@Work employee program is higher than the company had originally anticipated.
Before going national, the employee benefits were rolled out regionally in the Southeastern United States, where more than a third of the roughly 350 dealerships have signed up since May. In that time, several hundred FCA employees have enrolled, said Karl McDonnell, the CEO of Strayer Education, which owns Strayer University. The university even overhauled portions of its curriculum across its several dozen academic programs to provide sales and business case studies that are directly relevant to the automotive industry.
"The very early read is that they're faring incredibly well in the classroom, which means they're accumulating credits," said McDonnell, who noted the FCA students are performing "better than our average student on just about every metric that we look at."  "It remains to be seen what the future holds," he continued, "but I think we all agree that given the generosity of the benefit, we would expect over time that this will be thousands of employees participating ... across the country."
Previous studies have calculated that just 5 percent of employees take advantage of their employer's college-education plans, though it's likely participation in this program will be higher given its perks. Whether smaller firms can follow suit is hard to predict, Robert Kelchen, a scholar of higher education at Seton Hall University, said in a previous interview, because programs like these typically require both large companies and sizeable education institutions to make the economics work.
Ben Miller, the senior director for postsecondary education at the left-leaning Center for American Progress, said in a phone interview that Strayer probably benefits more than FCA does from this arrangement. "We know right now that two of the biggest challenges facing for-profits are [that] acquisition costs for students are rather high [finding students and getting them to enroll], and they're bumping up against 90/10 problems because they cannot find people who can pay out of pocket."
The 90/10 rule is a federal threshold that states for-profit colleges cannot generate more than 90 percent of their revenue from federal aid like Stafford loans and Pell grants (though military benefits like the GI Bill are exempt from the rule). Analysts have suggested that a surge in students whose tuition costs are covered by their employers may help a for-profit university stay under that 90/10 threshold—a limit with which many for-profits have struggled to comply given their reliance on low-income students whose federal aid may not cover the full cost of education.
But the partnership may also shift the balance of power between the student and university, Miller argued. "Rather than being accountable to individual students … [the university is] accountable to Chrysler," Miller said. "You've got a larger entity with more bargaining power here, and presumably, if Chrysler is unhappy with the quality of what Strayer is offering, they would pull this deal."
Still, while a free education saves the employee and his or her family members tens of thousands of dollars, it's also a major time commitment that in this case may not yield commercial benefit. A study published this month found no evidence that job seekers who list a for-profit degree on their resume attract any more attention from employers than those who attended public community colleges or no college at all.
As with all higher-education institutions that receive federal aid issued to students, government regulations order Strayer to make public its graduation rates for full-time students enrolled in college for the first time. That rate is 25 percent for Strayer students who enrolled between 2005 and 2008 and graduated six years later. Nationally, the six-year graduation rate is 59 percent for students seeking bachelor's degrees, while the three-year rate for associate's degree students is 29 percent.
But Strayer officials say just 1 percent of their students fit the description of a full-time, first-time student; most come to the school with prior course credit. For students enrolling with roughly two years' worth of existing college credit, their graduation rate is 56 percent for undergraduates and 54 percent for graduate students (its MBA program graduates 59 percent of students), according to data provided by Strayer.
The university's finances have taken a hit since the heady days for the industry, before Senate scrutiny in 2010 and declines in new students wreaked havoc on for-profit postsecondary providers. Security and Exchange Commission filings show Strayer Education generated $105 million in net income for 2009 and enrolled 55,000 students in the 2009-10 winter term, which marked a growth of 9,000 students from the prior year. The current picture is different: Figures filed with the SEC show 2014 net income of $46 million (a jump from $16 million in 2013) and enrollment for the 2015 fall term of around 43,000 students.
However, unlike some of its competitors in the industry, Strayer has managed to avoid embarrassing multi-million dollar federal settlements; Education Management Corp., for example agreed this month to cough up nearly $100 million for allegedly paying recruiters based on the number of students they enrolled. Nor has it seen the outright end to operations that greeted Corinthians Colleges, Inc., the result of suspicious recruiting practices and federal investigations into misleading job placement figures that ultimately forced the company to turn the lights off earlier this year.
Miller of the Center for American Progress said that one explanation for Strayer's relatively straight and narrow past is that the university focuses more on four-year undergraduate and master's degrees. "Part of the secret is that as much as for-profits talk about providing [an education] to low-income students, the ones that seem to be better than others are ones that play more in higher-up credentials," Miller said. "The more bachelor's and graduate credentials you offer, the better your results look, because, I think the truth is: The for-profits didn't figure out how to do certificates well."
McDonnell suggested that the private sector has already endorsed Strayer University as a worthwhile institution, saying that a quarter of Strayer's students come from partnerships the university has with Fortune 1000 companies, including representatives from many Fortune 100 firms. "I don't believe these large companies, FCA included, feel confident sending us their employees if they didn't feel like there was real, tangible value in the classrooms, and we take the quality of our programs very seriously," McDonnell said.
Gardner of FCA is hopeful that the partnership with Strayer will staunch the high turnover of dealership employees, particularly sales associates, which he estimated to be around 40 to 50 percent per year—a figure that's lower than the industry average of more than 60 percent. Employee churn eats up a lot of money for U.S. companies in general, with one study from 2008 calculating that turnover can cost up to 200 percent of the annual salary. Gardner also believes the plan for employees and their families can propel the United States to graduate more students from college without debt.
"This genuinely is a new direction for what education can be, and I think the key to this whole conversation is that's what Strayer University has allowed FCA to do," Gardner said. "We've been able to collectively … launch a program for the probably 100,000 employees of these 2,600 dealerships all across the country that is completely different from anyone else's program."
---
Related Video
What it's actually like to pay your way through college as a barista.