The Ever-Growing Ed-Tech Market
The industry is worth more than $8 billion—even though skeptics question whether the new products improve learning.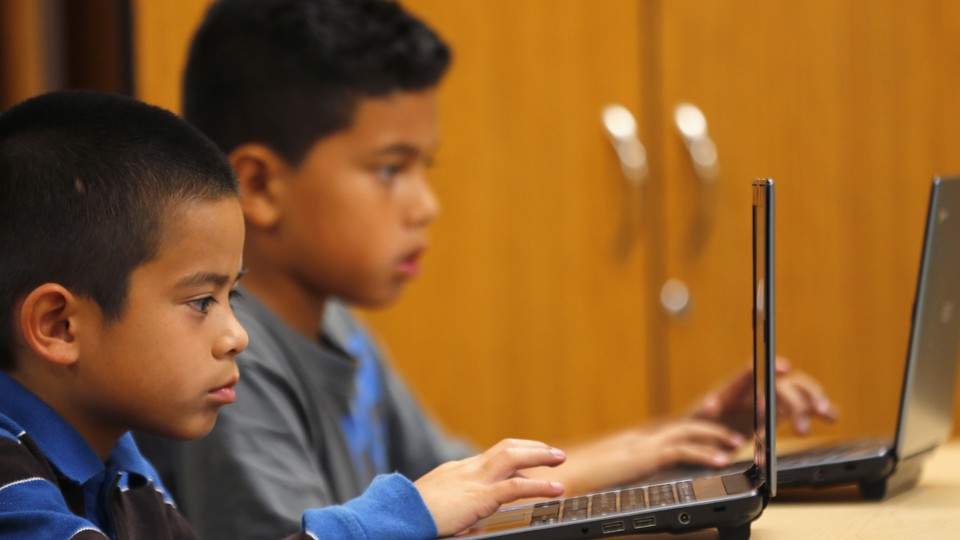 Every few months, a new study claims that gadgets in the classroom don't improve learning—but that hasn't stopped the educational technology market's steady upward climb.
The ed-tech market totaled $8.38 billion in the 2012-13 academic year, the most recent year the Education Technology Industry Network has such information available. That number is up from $7.9 billion the year before, and up 11.7 percent from 2009, when the network began compiling these annual reports.
The group, which serves as a support for ed-tech developers, places the technology into four categories: content (for example, interactive software that teaches language arts and math), instructional support (testing and productivity tools), management (learning management systems, class-scheduling software), and "special categories" (online courses, as well as tools for niche areas like Advanced Placement materials or special needs).
The network analyzes the data reported by organizations—including nonprofits—that receive revenue by selling ed-tech products to K-12 schools in the United States. One hundred forty-four organizations responded to a survey for the 2012-13 report; researchers then extrapolated that data to quantify the broader market of about 855 companies. From these figures, we can start to grasp how the ed-tech industry has grown over the last several years.
Revenue from online courses for K-12 jumped 320 percent from the year before, in part because the definition of "online course" has expanded. "We used to think of 'online course' as a stand-alone offered course like MOOCs (Massive Online Open Courses), but now companies have really broadened to include any digital curriculum that can even be integrated within the classroom and with face-to-face work," said Karen Billings, vice president of the Education Technology Industry Network. "This reconceptualization could be a fundamental shift for the K-12 market."
The testing and assessment market, which raked in $2.5 billion during the reported year, was the single largest category of any segment. The assessment market increased so quickly because of the growth of test-friendly Common Core standards a few years back when this data was being collected, Billings explained. She added that—given President Barack Obama's recent push to limit testing in schools—the segment may soon see a testing pushback that will hurt revenue down the road.
Revenue for management systems—such as Blackboard Learn—grew 40 percent, putting it back at levels last seen in 2010. The growth is consistent with more ed-tech products across the board, but the pre-'10 dip in this particular area happened in part because "nobody wants to call their product a 'learning management system,' because that doesn't sound exciting," Billings said. "So if a product is mainly [a learning management system] but also offers some content, they'll try to put it in a 'content' category instead."
More schools buying ed-tech products means that more investors are pouring money into related startups. According to industry group EdSurge, American ed-tech companies raised a total of $1.36 billion last year, up from $1.2 billion in 2013. For K-12 alone, investment grew 32 percent last year to roughly $642 million. Continuing that trend, K-12 investment had already totaled $679 million in the first half of this year alone.
Shifting school policies have made it easier to partner with ed-tech companies, which has in turn lured more investors in. That certainly wasn't the case a decade ago, says Tony Wan, the managing editor of EdSurge. In the past, schools initiated a lengthy "request for proposal" process and evaluated many different companies' offerings before making a decision—a process that could take anywhere from six months to two years, which is "a lifetime for most startups," Wan said.
Now, schools are allowing companies to directly demo their products for three or six months at a time before committing. That means startups are able to get their products in the classroom much more quickly.
For example, New York's Department of Education has a unit called the Innovation Zone, or iZone, that acts as a middleman to match schools with ed-tech companies, depending on the needs of both, for these short-term trials. There are similar examples across the country, from a partnership between California's Silicon Valley Education Foundation with the New Schools Venture Fund, to an organization called Leap Innovations that works with schools in Chicago.
But this newfound efficiency doesn't mean that kids have equal access to new gadgets. Though 99 percent of public schools in the U.S. have some degree of Internet connectivity, a portion of students are offered high-speed broadband, while others wait for their rationed-out Internet time. As the ed-tech market grows, companies will, by necessity, first serve the classrooms with the infrastructure to support their technologies. This can lead to a widening in the so-called "connectivity gap"—which activists say can directly contribute  to the achievement gap plaguing K-12 education.
As for future shifts in the market, Wan predicts there will be growing investor interest in so-called behavior management apps like Remind and ClassDojo, which allow teachers to communicate with parents more often and more consistently. Arts and humanities ed-tech tools haven't taken off yet, in large part because success in those areas is much harder to quantify and assess than in STEM fields, Wan said. And digital textbooks, a once-hot area, are in a tight spot. "Digital textbooks still tend to be PDFs, and most people would agree that an interactive PDF might not be the best way to go, so [I] think we're going to start seeing a lot of questions about what it means to be a digital textbook in this day and age," Wan said.
The U.S. Department of Education has started independently tracking technology-related equipment spending after an influx in requests from researchers, according to department spokesman Stephen Cornman.  He added that, currently, ed-tech spending is included in general supplies and equipment, but this new information won't be available until March next year.
The Education Technology Industry Network is also in the process of finalizing its report for the 2013-14 year. Billings said it projects that the amount of money schools spent on classroom technology will have continued to grow by a few percentage points. "We have come back after the economic downturn a few years ago, and we're expecting the numbers to be good," she said. "I don't think the market is a bubble."