What It Means to Give Pell Grants to High Schoolers
Under a new proposal, the federal higher-education aid will be given to teens participating in early-college programs.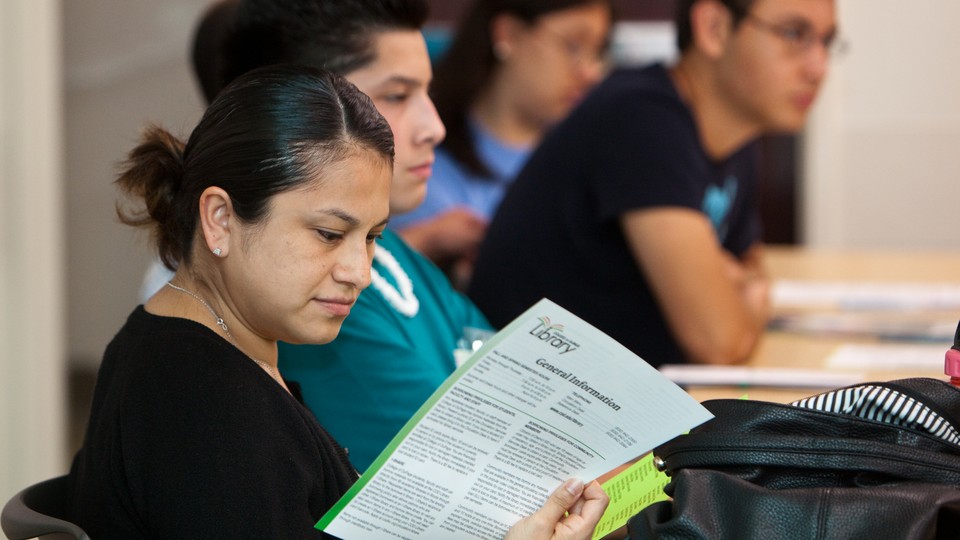 Last week the White House announced a new higher-education experiment that will direct federal grants to some high-school students who want to enroll in college classes.
The plan is to start small, with the administration offering $20 million to help defray the college costs of up to 10,000 low-income high-school students for the 2016-17 academic year. The money will come from the overall Pell-grant pot, which is currently funded at more than $30 billion and used by 8 million students.
While Pell money for K-12 students is new, enrolling in college while still in high school is not. According to 2011 data from the U.S. Department of Education, 1.2 million high-school students took part in a dual-enrollment program, which enable the mostly juniors and seniors to test drive college courses. Another 136,000 students enrolled in college courses independent of any joint effort.
The programs are widespread. Federal estimates from 2011 show half of all colleges and universities taught high-school students—and nearly three-quarters of those were community colleges. While many dual-enrollment programs cover costs associated with college tuition, books, and fees, roughly half do not. If President Obama's expanded Pell initiative takes off, students in less generous dual-enrollment programs could rely on the federal aid to cover those costs. A maximum Pell grant is roughly $5,800.
However, in recent years this early-college model has grown in sophistication, with some partnerships allowing high-school seniors to earn an associate's degree together with a high-school diploma in the same year, often at no additional cost to the students. The combination has been shown to increase the likelihood lower-income students attend and graduate from college, in part because they feel more academically prepared for the rigors of college and the credits they earn in high school often reduce the price tag of a degree.
One program earning rave reviews is in south Texas, where the Pharr-San Juan-Alamo Independent School District currently enrolls more than 3,000 high schoolers who are also taking college courses through a partnership with regional postsecondary campuses. Since adopting the early-college model, PSJA's high-school graduation rate soared from 62 percent in 2007 to 90 percent the past three years—a figure that's higher than the state and national averages. The data become more impressive when accounting for the district's student population: It's 98 percent Hispanic, nine in 10 kids are considered poor, and nearly half are learning English. Graduation rates for such students in the United States tend to be much lower.
"We're … serving everyone from dropouts, even young adults in their 20s, to serving students whose goal is to go to the most elite institutions in the nation," said Daniel King, the superintendent of PSJA.
The district's early-college model is comprehensive. In addition to its partnerships with nearby colleges like South Texas College and University of Texas-Pan American, PSJA provides childcare for its students with kids. The district's guidance counselors also work on the campuses of partnering colleges to provide the district's dual-enrollment students tailored support. PSJA's career counselors are also licensed as college advisers, which allows them not only to guide their students to various colleges, but also ensure the credits they earned transfer to universities post-PSJA. Last year's graduating class included nearly 1,100 seniors who earned college credit—700 of whom earned the equivalent of a semester of college work.
The district's early-college students are able to earn certificates or associate's degrees in information technology, welding, biology, and more. Through a deal with a local hospital and South Texas College, PSJA students can earn a high-school diploma and an associate's in nursing, after which they'll work at the nearby hospital and also receive support to earn a bachelor's. The school district also hires its own. King recently brought on three recent graduates as teachers after they completed PSJA with associate's degrees and spent another two years completing their bachelor's degrees. Your math is not deceiving you: These new teachers are 20 years old.
The Federal Reserve Bank of Dallas touted the district as a model for economic development for the Texas region along the Mexico border. The federal bank also found PSJA's dual-language curriculum promising; students who are still learning English take some of their classes in Spanish, which has encouraged 3,000 of the student's parents to enroll in the district's English-language and GED programs.
The early-college movement counts as its members nearly 300 schools across the United States. Jobs for the Future, a nonprofit that's a leading voice in integrating issues of labor, K-12 and higher education, lists nearly 50 early-college high schools in Texas alone and 280 across the country.
"There's a whole set of low-income young people who would flourish and don't have the opportunity to go to [expensive colleges]," said Nancy Hoffman, a vice president at Jobs for the Future. The four-year college experience is a "luxury for a lot of low-income young people today. And we hope that they can get a two-year degree … [and] at age 20 have a usable credential that can make them independent and responsible."
Another early-college model has the backing of one of the nation's most storied corporations. Pathways in Technology Early College High School (P-TECH) is a New York City partnership between IBM, the city's school district, and New York City College of Technology. The school has received major press attention and even got a shout-out from President Obama at his 2013 State of the Union Speech.
Unlike other early-college models, P-TECH is a grade-9-to-14 program where students earn a high-school diploma and an associate's degree in either computer-systems technology or electromechanical-engineering technology. The public school's students do not pay for textbooks, tuition, or college-associated fees, which are all covered by P-TECH.
Rashid Davis, the school's inaugural principal, said the idea for P-TECH was hatched during a U.S. Open tennis tournament match in 2010 after a conversation between then-head of New York City schools Joel Klein and the former CEO of IBM, Sam Palmisano. Fast-forward five years and the school is in its ninth semester with 95 percent of the original set of students still enrolled. Already six of P-TECH's students have earned an associate's degree and were invited to work for IBM, though three students chose to continue their educations at four-year universities.
Eight in 10 of P-TECH's student population is considered low-income, a figure Davis cites to express that the school is challenging misconceptions about the abilities of poor, black, or Hispanic adults. "Nationally … young men of color have the highest dropout rates and low [college completion] and high-school rates, and so we're happy that at the end of the 8th semester, 82 percent [of our students] were college-ready in English, and 84 percent were college-ready in math," said Davis, referring to figures that are above the city average.
The New York campus has spawned similar P-TECHs in Colorado, Connecticut, and Illinois. It's expected that nearly 100 P-TECHs will dot the United States by the end of 2016.
Several reports point to the effectiveness of the early-college model, which the U.S. Department of Education conveniently pointed to in its factsheet about its plan to distribute Pell Grants to high-school students. A widely cited study found that early-college students had higher high-school and college graduation rates than students who didn't go through such programs.
Some critics of the early-college model say teenagers lack the maturity to learn among college students. Others say the college courses the students complete in high school lack the rigor of the real thing. In an essay for The Chronicle of Higher Education, one professor wrote that a dual-enrollment student who earned 65 college credits in high school failed his class and possessed SAT scores that were in the 11th percentile.
But the momentum in support of dual-enrollment programs continues to grow. "What we find is that there's a dramatic change that takes place in these young people as they engage in their college work," said King. "They actually go through a fairly [rapid] maturation process. I think really in modern society we've actually delayed taking responsibility."
Hoffman said that when paired with work experience, the early-college model could chip away at the common frustrations that students have with the applicability of what they learn in school. Plus, work experience forces kids to interact with adults. But even without the jobs boost, the early-college model places adolescents in rooms with (arguably) more mature college students.
"If you want to impede the maturity process for teenagers, put them all together and don't let them out," she said.
---
This post appears courtesy of the Education Writers Association.