What Happens When Students Create Their Own Curriculum?
Dozens of schools around the U.S. are opting to ditch the traditional school structure altogether to motivate teens in new ways—and it seems to be working.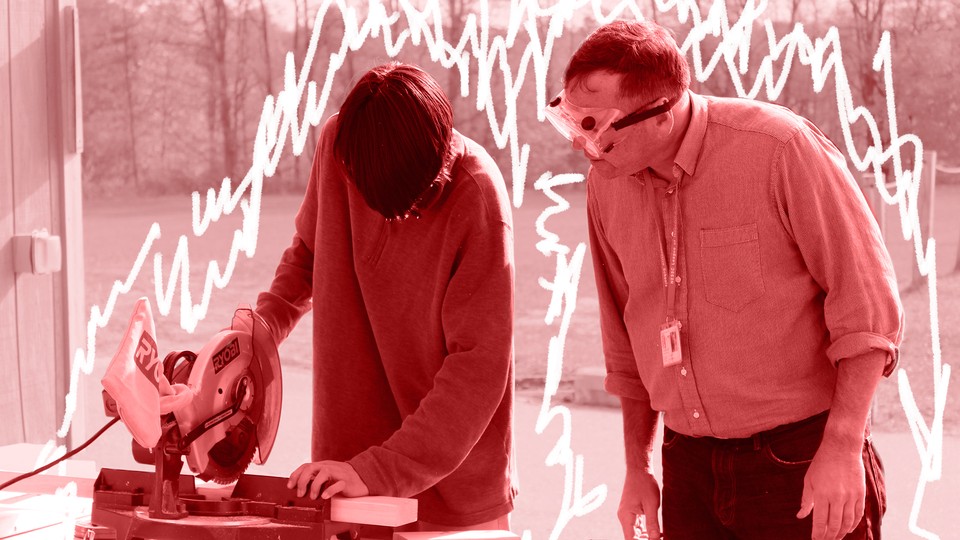 This story is part of a short series on innovative ways teachers are rethinking the traditional lesson plan. What's one that resonated with you or the student in your life? Tell us about it: hello@theatlantic.com.
Nothing in particular stands out about the two adjoining rooms at South Burlington High School, one littered with desks, the other lined with simple grey cubicles. Yet the 30 students working inside are taking part in a uniquely personalized curriculum unlike anything their peers—or most U.S. high-school students—ever get to experience.
Big Picture, a program with a chapter at South Burlington, bucks the traditional model of high-school learning. There are no tests, no grades, and, for some students, no traditional classes to sit through.
That's because the program is centered around the concept and execution of self-directed learning. With input from advisors, working professionals, parents, and peers, each teen participant creates his or her own curriculum, tailored to fit personal interests.
Big Picture's model is now used in more than 60 schools across the U.S. And in Vermont, it's also a precursor to a new statewide mandate meant to take effect over the next three years: Public-school students in grades seven through 12 will soon be required to create their own personalized learning plans.
Within South Burlington's larger student population of around 900, Big Picture accounts for just a small portion of students. The program is broken into two sections: Big Picture 101 for new participants, and a 201 level for upperclassmen and experienced participants. Students aren't required to take classes like English or biology—though they can if they so choose.
Each Big Picture student comes up with a big idea, or hypothesis, for their year-long independent project, such as 17-year-old Joey Mount's plan to design a clothing line and launch an accompanying website. Teens tap into their pre-existing interests, then come up with creative ways for the topic to be reimagined to gain proficiency in subject areas like science and math.
The goal is for students to stay motivated and learn while gaining real-world experiences—and honing the tricky art of time management. Four staff members help guide, coach, and hold students accountable: two advisors, one Americorps Vista volunteer, and one program director.
Over the course of each semester, projects are carefully vetted and executed according to reporting standards, which are also predetermined by students. It's a process that the advisor Jim Shields said evolved over the program's seven years at South Burlington.
"Most students who find us, find us for a reason: School isn't working for them," Shields said. "If you think of high school as having a ceiling and a floor, there's the students who are struggling because they're falling through the cracks in the floor. Then there's the students who just wanna take the roof off, who are held back by high school."
This year's crop of Big Picture projects covers a diverse range of topics. Shields's students are gaining the academic proficiencies required for them to graduate by studying artistic endeavors like blacksmithing, clothing design, e-games, and pinhole photography. One is conceptualizing and designing a card game meant to increase face-to-face interaction among participants; another is producing a film examining how depression and anxiety manifest in high-school environments.
To earn their proficiency-based diploma, which results in a non-traditional transcript, the program requires that students achieve "a minimum level of  proficiency and competence when it comes to mastering the essential knowledge and skills they need to succeed in college, work, and life." At South Burlington, those lofty concepts are measured with the help of a rubric.
Kids are also required to seek out mentors related to their topic of study—a professional photographer for a project exploring pinhole photography, or perhaps a coder for another tackling e-game design. Second-year students also spend two full days a week working at internships, putting in 80 hours each 12-week semester.
Furthering that community involvement, the introductory students are also immersed in planning a group project, which the entire Big Picture group executes together. This year, they're trying to open a café in South Burlington.
Although Big Picture is self-selective and small by design, Shields said he doesn't turn many interested students away. "We look at a lot of things," he said, "grades being an indicator but not the most important indicator. They may have no good grades, but started their own rock band, and they tour."
After filling out a paper application, potential program participants are invited in to interview. The applicants and their parents are both required to submit essays, in which they explain why they think the program will work for the student. The process culminates in a test of sorts. Applicants are given a choice of two prompts to answer, both of which require the teen to consider how, exactly, they might complete a structured project over the course of the semester.
Sam Caron, 16, said he had trouble staying focused in a traditional classroom. He's a first-year participant, and this year, his project is the creation of a cider press.
Comparing a traditional high-school schedule with a self-designed Big Picture curriculum is like comparing "apples and oranges," Caron said. "Here, what I put into it is what I get out of it. It's just that with this, I want to be putting more into it, because it's stuff that I'm interested in."
So how does making a cider press earn the equivalent of an A in, say, chemistry or world history?
To fulfill science proficiency requirements, each participant enters Vermont's annual state science fair. Their entry has to have an angle related to their independent project, forcing them to think creatively in order to come up with a scientific hypothesis that can be executed and tested.
Caron will be testing and designing a contraption to demonstrate how best to extract the most juice from a single apple for this year's science fair.
A panel of judges consisting of scientists and science teachers review each experiment according to a rubric. For other students, science fair feedback is just constructive criticism. For the Big Picture kids, it effectively replaces their grades, proving or disproving their science proficiency.
Shields said Caron's cider press project would fall under the Big Picture "reasoning and problem solving domain." The 16-year-old will learn through research, gaining hands-on experience while using the scientific method.
Throughout the year, students assesses their own work to measure what they've learned and to make sure they've identified, mapped out, and realized plans toward achievable goals. They also participate in exercises like weekly "Socratics," where they read, analyze, and discuss a news article or piece of literature chosen by advisors or peers. Reflection and self-assessment are key.
At the end of the semester, instead of grades, feedback for each independent project comes after an "exhibition of learning." Students give presentations to their peers, parents, and the public on their topics.
On a recent Monday, Shields stood in the Big Picture 101 room, moving from teen to teen as they worked through the day's plans on laptops. As the bell sounded marking the end of the two o'clock session, his seven students put on their jackets, grabbed clipboards, and walked outside into the crisp Vermont air.
Their destination? Three local supermarkets two miles up the road: Hannaford's, a New England chain; Trader Joe's; and Healthy Living, a pricier health-food store. The students were on a fact-finding mission to help build toward opening their café, the program's collective community project. On this particular outing, their goal was to figure out which menu items would be the most affordable.
As the group distanced itself from the old brick school, Shields walked along the sidewalk, in the middle of the pack.
The teens led the way.