Using a Murder Mystery to Teach Grammar
Bored with the standard grammar exercises, a teacher in Portugal got creative, creating crimes for students to solve.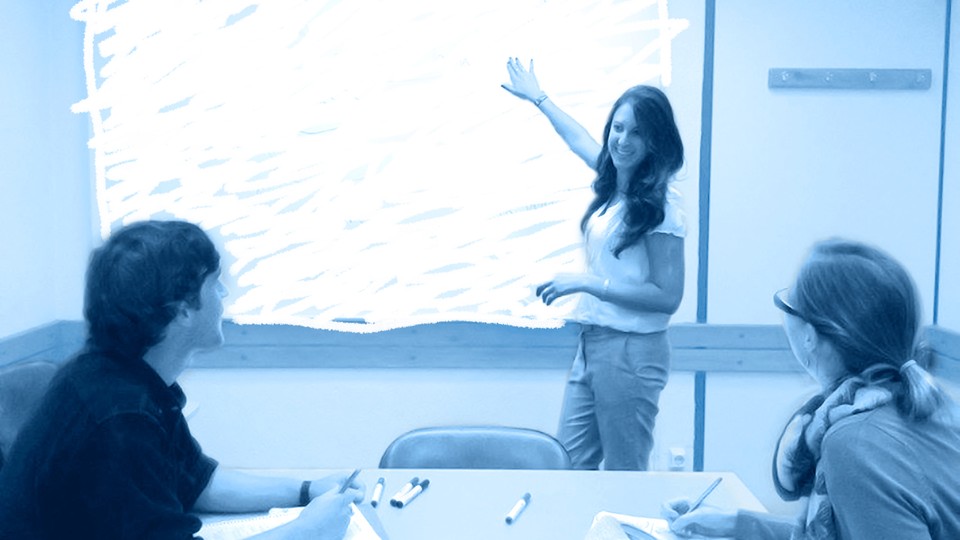 This story is part of a short series on innovative ways teachers are rethinking the traditional lesson plan. What's one that resonated with you or the student in your life? Tell us about it: hello@theatlantic.com.
A little over a year ago, Jeni Peake noticed her students at The Cambridge School in Lisbon, Portugal, seemed tired of the standard grammar exercises. And it didn't seem to be a consequence of childhood distraction—Peake teaches English to a handful of classes of students ranging in age from kindergarten-age to adults.
"I wanted to liven my classes up a bit. [My students] were getting demoralized and fed up of repetitive, gap-filling exercises," she said. "Although they are important, sometimes they can make a lesson very dry." So Peake took her teaching in a different direction—toward the downright macabre. These days, Peake infuses her lesson plans with murder mysteries to tap into her students' morbid curiosities.
Peake starts the hour-long lesson—which she typically does once a year with each of her classes—by drawing an outline of a murder victim on the board, introducing all of the relevant vocabulary that students will need to crack the case. "So everyone, I've got some very bad news," she'll announce to the room.
"There has been a deeply unfortunate incident resulting in a murder last night. I've brought you all here today because you are the suspects." She presents the cast of characters she created to shape each story, handing out cards with new identities to students who will play key roles.
Then her students consider the four main categories of a scenario: the suspect, weapon, setting, and motive. Peake tailors the game for her more advanced classes, adding multiple options in each category. (One particularly wry group of 15-year-olds listed "Jeni's jokes" as a possible implement of torture.)
Peake then has each student create a grid marking everyone's name and guessing the motives of potential perpetrators. The students start to interrogate one another, flexing their past-tense prowess as they pick over alibis. Portuguese is banned from the classroom; if anyone veers into speaking in their native tongue, Peake employs the element of surprise, sneaking up on students to tell them their English sounds somewhat suspect.
"The best thing about this activity is the students really want to find out who did it, and this encourages them to use the target language," Peake said.
When she first set out to find a new way to engage the wide array of ages in her English classes at the Cambridge School—which also offers classes in French, German, and Portugese as a foreign language—Peake researched a number of different plans before adapting the murder mystery idea that caught her eye online. Her teenaged students responded to the approach, and Peake expanded the method to her other classes.
"The motives section lets them get really creative: We've had contributions like 'he hadn't done his homework,' 'he stole my girlfriend,' and 'she owed me lots of money.' It's also a great way to challenge their vocabulary when discussing things like the murder weapons," Peake said. Some of the more imaginative items students have suggested: a wooden spoon, a harpoon gun, and a shark tank.
"[The murder mystery lesson] was really different and surprising," said 24-year-old Ana Caterina Alves, one of Peake's students. "It led us into a hypothetical situation and we were part of the story because we became characters and detectives. The purpose was to find the murder weapon and the murderer, and with that goal, we developed our communication skills and learned new vocabulary. That will be useful in and out of class."
Versions of the murder mystery lesson plan have become well-liked across the globe. One take on the method has held rank for the last two years within the top 100 most accessed pages on Macmillan Education resource site OneStopEnglish, garnering more than 1,000 hits each month.
"It's safe to say it's a popular one," said Sarah Milligan, commissioning editor at Macmillan. "One of the main benefits of this lesson is that it shows teachers how they can easily set up a role-play activity which helps students to practice English in a safe and comfortable environment. Additionally, this lesson combines various skills like reading and speaking with practice of specific grammar points."
While finding creative approaches to teaching grammar has been cheered in the past, Peake's murder mystery method might not jibe with education experts. For Janet Isserlis, program manager for adult learning at Brown University's Swearer Center for Public Service, using the concept of murder as the basis of a lesson is unnecessarily dark.
"It could be 'fun' but it feels very misguided. Why not create a lesson where something goes missing, where someone makes some mistake or spells or even steals—why murder?" Isserlis asked. "I'm not convinced that there aren't other contexts, situations and examples that can engage learners in using language and critical thoughts as effectively—if not more so."
But innovation in the classroom can be challenging, Milligan said. Educators continually face a difficult task in finding creative lesson plans that cater to all. "Teachers need more support and time to spend planning creative lessons," Milligan said. "A teacher who is expected to teach nonstop with little or no planning time or training could not be expected to come up with fresh new lesson ideas."
Peake said she's glad to have left the "comfort zone of the dreaded textbook," and plans to use the murder mystery framework for other lessons, too.
"I'm thinking about using the exercise to practice reported speech," she explained. "The students would have to write up the questions their characters asked and the answers they were given. There's always a lot of noise and laughter during these sessions, which I take as a good sign."