Sesame Street's New Brand of Autism Education
The show's newest initiative aims to change how people think about and discuss the condition.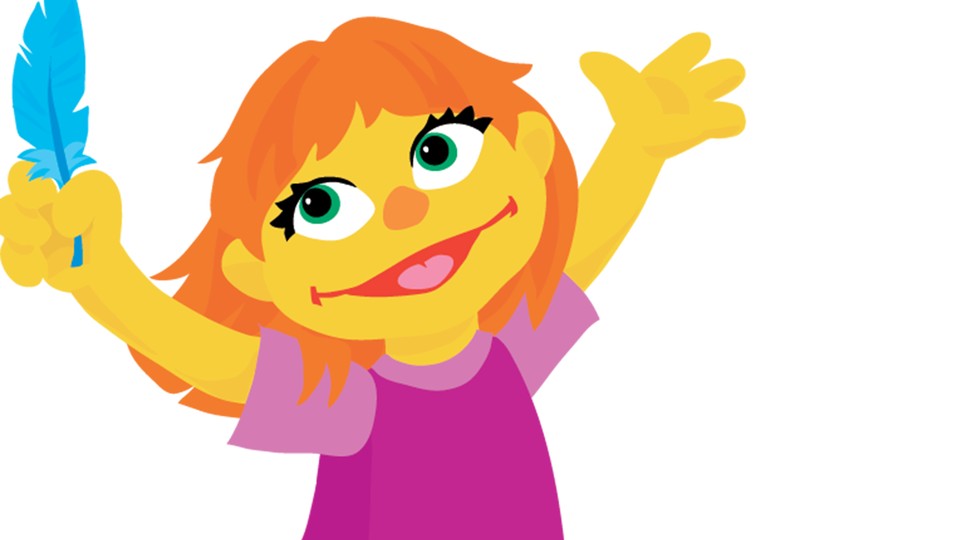 "How come Garrett does not want to talk to me?" Grover, the blue-haired Muppet, asks Garrett's big sister, Angelina. The 4-year-old Garrett and his twin AJ have autism and are more interested in their snacks and Lego bricks than in joining a discussion with the shaggy Muppet and their sister. Later, their mom explains that Garrett is paying attention in his own way, even though he is nonverbal. Their family, the mom says, is just like other families: "We have our challenges, but we have a lot of fun as a family together."
This video, "Family Time with Grover," is one of nine that were released online last week as part of the latest Sesame Street initiative—Sesame Street and Autism: See Amazing in All Children. The web-based project includes an interactive storybook that introduces the program's first autistic Muppet, Julia, as part of an effort to teach kids about their friends with the condition. In addition, the website provides digital cue cards for parents to teach their autistic children basic skills, like brushing teeth and washing hands. At this time, the materials are only available on the Internet, not TV.
Leveraging the expertise of the Sesame Street Workshop, this initiative could amount to a novel and game-changing educational tool aimed at demystifying autism for preschool children. The videos, books, and other resources present children with the disorder as those who may have challenges but go to school, play, and love their families, just like other kids. The goal is to reduce the stigma associated with this disability by promoting greater understanding and empathy for autistic children and their families.
Over the course of three years, the Sesame Street Workshop—the nonprofit behind the TV series—developed this initiative with input from multiple universities, professional organizations, and advocacy groups, including the Yale Child Study Team, Autism Self Advocacy Network, Council for Exceptional Children, and Autism Speaks. Sesame Street worked closely with these groups to make sure that the viewpoints of autistic people are represented and that their work is based on solid academic research. And the final product represents a major shift in autism education.
Sesame Street has a long history of creating effective educational tools for young children. In April, The Atlantic's Alia Wong cited a report from the National Bureau of Economic Research that found that Sesame Street is "the largest and least-costly [early-childhood] intervention that's ever been implemented" in the United States. Its mission of teaching lessons of diversity has exposed generations of kids to others from different economic and racial backgrounds. The producers' belief that learning can be fun and even joyful is one reason why Grover and Elmo and Big Bird are cultural touchstones for so many people, from Baby Boomers to Millennials to today's toddlers.
With one in 68 U.S. children diagnosed with autism and the increased use of specialized programs that keep autistic children in public schools, kids today are perhaps more likely than ever to interact in the classroom or on the playground with an autistic peer. However, the behaviors and communication deficits of autistic children can be puzzling and even scary for other children, said Liz Feld, the president of Autism Speaks. "They don't know how to interact with them in the lunchroom," she said. But Jamie Bleiweiss, an assistant professor of early-childhood special education at Hunter College, said their reaction is natural: "All people are anxious when confronted with others who are different."
To reduce that fear and anxiety, the Muppets, siblings, and parents featured in the new online materials explain autistic behaviors in ways that make sense to other children. In "A Sibling Story," a girl named Jasmine explains that her little sister has trouble brushing her hair and teeth in the morning, because she doesn't like the way the brush feels. Whenever it's time to go to school, she's so happy she flaps her hands.
The communication challenges of autistic children can also be confusing to their non-autistic peers, so the videos show how kids with the disability might use special tools to communicate, including iPads and sentence strips. Verbal autistic children may struggle to make eye contact and communicate using pragmatic speech, which might make their friends think that they don't want to play with them. But the videos and other material in the initiative explain that autistic kids want to have fun, too.
In the online book, Elmo's friend Abby says she thinks Julia, the Muppet with autism, doesn't like her because she doesn't answer when she greets her on the playground. Elmo tells Abby that Julia just has difficulty swinging on a swing and talking at the same time. In a video, a dad explains that his sons "might not seem interested in the other kids playing, it doesn't mean that they aren't. They just don't know how to engage."
While explaining the challenges faced by kids with autism, the videos also show the commonalities of all children. The children are adored by their families. They have to say "thank you" to their parents, even if they have to do so in sign language. The kids participate in typical childhood activities, including visiting diners and museums, riding tricycles down the block, and playing with train sets.
By explaining the differences and presenting the commonalities, one goal of this project is to reduce the stigmas associated with autism that often lead to bullying. One survey found that 63 percent of autistic children have been bullied, and experts hope that Sesame Street's efforts to foster tolerance and acceptance with preschool children will eventually decrease bullying among older children. "If we can start early and educate kids about differences, they'll be more understanding as they get older," said Debra Ziegler, a director at the Council for Exceptional Children. The stigma of autism is also felt by parents when their autistic children exhibit unusual behaviors in public.
Sesame Street's approach to autism education is noteworthy in that it aims to normalize rather than exaggerate the disability. In the early days, Bleiweiss said, advocates concentrated on simply raising awareness about autism and money for research. Their efforts often used the "disease model," which described autism as a devastating disability. But according to Julia Bascom, the deputy executive director of the Autistic Self Advocacy Network, this language about autism actually increased stigma. Autism was seen as something that changed children and took them away from their families. "The rhetoric," Bascom said, "was couched in fear."
Experts describe the Sesame Street initiative as the next stage in education about autism. Bascom, whose group represents the interests of autistic people, said, "Overall, this is a significant step forward in how the public talks about autism. I've never seen that rhetoric about autism before. It really is monumental. This initiative celebrates our differences and shows that an autism diagnosis is not the end of the world. Here, we see autistic children doing normal things, like interacting with their family. We see children laughing, communicating, and interacting with kids in their own ways. They teach that we should value the children and their autistic ways."
She was also pleased that the initiative showed the full diversity of people on the autistic spectrum, including girls and non-white children. "Often the face of autism is a white, upper-class 4-year-old boy," she said. And the videos are unique in that they focus on the families of autistic children. "It is significant that we see videos where the family members are talking about how normal their lives are," she said. "They say that our lives are challenging, but life doesn't stop there."
The experts and advocacy-group leaders interviewed for this article were enthusiastic about the impact of the Sesame Street project and its potential for use in schools and the community. Feld cited research showing that children are very responsive to public-service messages and that they can bring about change; the successes of the recycling movement, for example, demonstrate how kids can internalize a message from school and then change their parent's behavior. In turn, younger children might end up teaching their parents about the value of acceptance and diversity from this initiative.
Sesame Street unveiled this package at the Council for Exceptional Children's conference for special-education professionals in Atlanta last month. Ziegler, an executive director for the group, noted that there were lines of people waiting to see the material and discuss how they might use them in their schools. Sesame Street will also be involved in the council's next conference in April which will have 6,000 attendees.
With education, empathy, and other tools available on this website, autistic children and their families can be more fully integrated in society. Bleiweiss is the co-founder of Autism Friendly Spaces, an organization that partners with theaters in New York City to provide autistic-friendly Broadway shows. Her group works with production teams to make slight adjustments in the usual performances, such as reducing the volume of microphones, dimming the lights, using glow sticks to warn kids about a sudden loud noise. Through these efforts, they've enabled thousands of autistic children and their families to see The Lion King and Spider-Man: Turn off the Dark.
When my son, who has autism, was 5, he was very afraid of the dentist. In fact, he tried to bite off the dentist's finger when she put her hand in his mouth to count his teeth. Instead of throwing us out of her office, she modified the office protocol.
To alleviate his sensitivity to taste, she told us to bring in his own toothbrush and toothpaste for the next visit. She scheduled his appointment for a time when there weren't other families in the office, so no one would care if he screamed. My son was worried that the x-ray machine was going to blow up his head, so she didn't force him to get an x-ray until he was older. She patiently explained to my son exactly what steps she planned on taking before she put that hooked instrument in his mouth. She suggested that we come more often to get him used to the office and staff.
And those modifications worked. Within a year, he was getting his teeth cleaned with a smile just like every other kid. I've learned that a little knowledge and sensitivity goes a long way. It's great to see Grover and Elmo preaching that message, too.