How a School Project Made City Planners Out of Teens
A Denver-based teacher tapped an increasingly popular method to get his high-schoolers invested in their AP Geography classwork.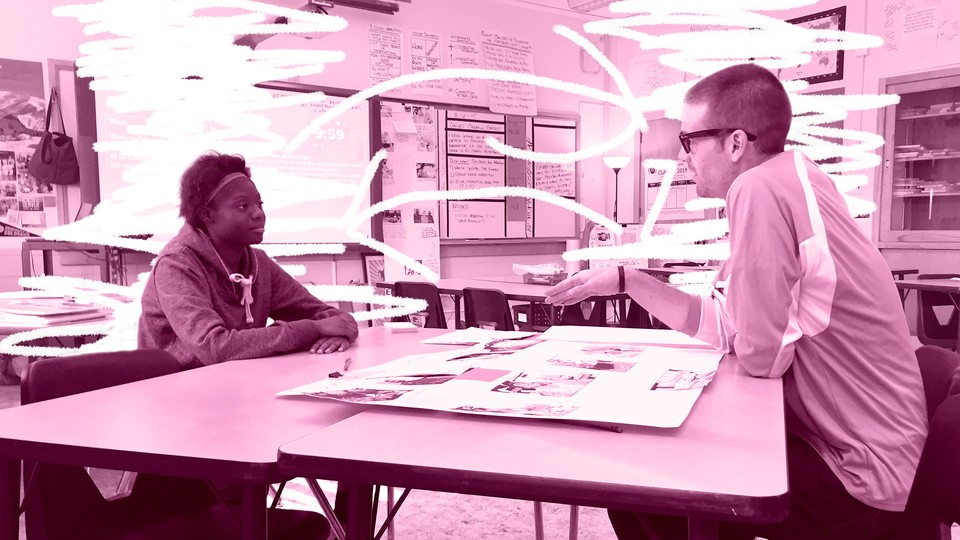 This story is part of a short series on innovative ways teachers are rethinking the traditional lesson plan. What's one that resonated with you or the student in your life? Tell us about it: hello@theatlantic.com.
Last spring, Chris DeRemer, a geography teacher at Manual High School in Denver's Whittier neighborhood, found out his district was considering opening a new middle school in the same building as Manual.
While Denver Public Schools' enrollment is growing quickly and the district is pressed for space, most of the first floor of Manual's three-story building is used by administrators, not students. The high school also has no middle school directly feeding into it, which has led enrollment to drop steadily in recent years.
But filling that space with preteens and a brand-new middle school would inevitably change Manual's academic and social environment. "For [the students] to not have a voice in that, that was not okay," DeRemer said.
DeRemer decided to use the district's plan as a teaching opportunity. He outlined a project for his Advanced Placement Human Geography class, aimed at fulfilling course goals such as reading and interpreting data and defining regions.
DeRemer's students would be seeking out solid data and research to answer some core questions: Based on current demographics, is there a need for a new middle school in the Whittier area? If so, where should it go and what should it look like?
DeRemer teaches the majority of his geography course content through questions like these, using what's known as "project-based learning." In project-based learning, projects become the primary route to knowledge and skills, rather than an accessory to learning. John Larmer, the editor-in-chief at the nonprofit Buck Institute for Education, which trains teachers and conducts education research on project-based learning, says that if the traditional, puff-painted poster boards are dessert, then well-designed project-based learning is the main course.
Pulling it off in the classroom can be a complicated endeavor, Larmer says. Consider the "essential elements" of project-based learning, as presented by the Buck Institute: a challenging problem or question that's compelling enough for students to want to solve it; sustained inquiry over more than a few class periods; authenticity; student voice and choice; reflection; critique and revision; and a public product.
Not every assignment will be as timely as DeRemer's school proposal, or tied to an issue that affects students quite so directly. But the "authenticity" element encourages teachers to make sure students' work focuses on a real problem, or at least resembles work that someone outside of the classroom might actually do. The end result should be a tangible answer, presentation, or product that can be discussed and shared. It's the science experiment approach applied to the rest of a student's class schedule.
Learning by doing isn't a new concept: Aristotle made a case for it in Nichomachean Ethics. It has more modern roots in progressive education theories from the early 1900s, and became popular again in the '60s and '70s. The current terminology, project-based learning, came into use in the late '80s. But it received less attention in the No Child Left Behind era, as schools devoted more energy to standardized testing.
Now, schools are moving away from the culture of over-testing, shifting focus toward teaching practical and social skills along with academic content, and complex classroom projects are coming back in vogue. Larmer said his organization, one of several in the project-based field, is training about 15,000 teachers each year and has expanded its staff from seven to 22 in the past five years.
It doesn't hurt that project-based learning's focus on authentic work, critical thinking, collaboration, and other skills fits with Common Core State Standards, which are now in use in most states and which encourage teachers to introduce students to nonfiction texts and primary sources. As students research the realistic circumstances of a project scenario, primary sources are often a logical place to turn.
DeRemer's geography students spent three weeks reviewing city and district documents and conducting interviews with the authors of the new school's proposals. They then presented their findings and opinions about Manual's future to a room full of school board members, district officials, teachers, parents, and neighbors.
Demographics suggested the neighborhood did need a new middle school, but in rapidly-gentrifying Whittier, some students worried that a new middle school's culture might clash with the existing high school's. Kurt Dennis, one of the authors of a proposal to put a middle school in Manual's building, said planners took the students' input seriously.
The district decided to temporarily house the neighborhood's new middle school in a different building, postponing co-location to give both schools more time to prepare. "They were so perceptive about the positives and negatives of what's happened in the neighborhood, and applying that to the idea of a new middle school being there," Dennis said of the high-schoolers.
Theodore Myerson-Berad, a 19-year-old senior, said DeRemer gave students like him a chance to get further invested in school. "It's a good way to have students get more in-depth knowledge and to have teachers get to know them better."
Manual, the alma mater of Denver's mayor and one of the city's oldest high schools, has been the subject of several efforts to address lackluster performance over the years. Fewer than a third of first-year students scored proficient or above on the state's standardized reading test in 2014, and just 8 percent scored proficient or above in math. That's well below the state average of 66 percent in reading and 40 percent in math. Just 57 percent of the school's students graduated on time in 2014.
DeRemer feels the pressure to create opportunities for students while employing the project-based approach. Eighteen students took DeRemer's AP Human Geography course last year. None of those who took the AP exam passed.
But the four seniors in that class are now enrolled in college, one on an academic scholarship. The rest are taking other honors-level and AP classes at Manual, and several have been inducted into the first school's first cohort of National Honor Society students.
This year, DeRemer is including more assignments focused on bolstering students' reading and writing skills. But he's still committed to getting students to engage with issues in their neighborhood: This year's AP Geography students are preparing podcasts about gentrification in their neighborhood that, if all goes according to plan, will air on a local radio station.
"Success on the exam is essential, and we'll get there," DeRemer said. "But having kids take and finish a course like this is not only exciting work—they're breaking down barriers that many of them have faced throughout their educational history. We're actually cultivating change agents."