The Great German School Turnaround
The European country managed to raise test scores while reducing educational inequality. But with the dramatic influx of migrants, will its success last?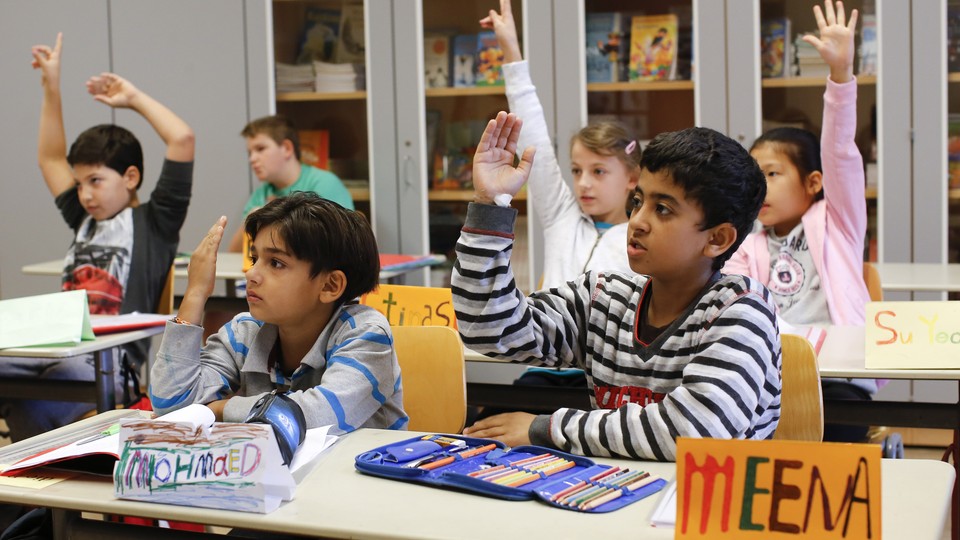 To make a good national school system, a country needs to help its most disadvantaged students. So says Andreas Schleicher, the man in charge of the most authoritative international test. "It's the capacity of those systems to invest in those students from disadvantaged backgrounds" says Schleicher, the education director for the Organization for Economic Co-Operation and Development (OECD), which administers the triennial Programme for International Student Assessment (PISA) among its roughly three dozen member countries. "What those education systems do is attract the best teachers and best principals to [the] most challenging classrooms and schools." Moreover, he notes, "reducing inequality is not just a social imperative but an economic imperative."
While U.S. students have scored in the bottom half of nations on the PISA and have made no significant gains over 10 years, Germany—Schleicher's home country—has managed to increase test scores while decreasing inequality in its school system. In fact, Germany was one of just three countries surveyed by the OECD that reduced inequality while raising math scores between 2003 and 2012, the other two being Mexico and Turkey.
And Germany has, notably, made these strides without closing or threatening to cut funding from its poorest-performing schools—a tactic used by the United States during the same time period. Germany now ranks 20th for math proficiency; the U.S., meanwhile, is 49th, just behind Turkey. (Some critics question the validity of PISA scores as a tool for gauging proficiency, but they offer the only reliable and consistent means of comparing achievement across countries.)
Germany's reform efforts included the creation of national standards and standards-based tests for students in grades three and eight, which sounds much like the U.S. approach. But unlike the U.S., Germany doesn't penalize schools for poor performance, nor does it publicize school-level test scores. Experts say its focus instead on providing school-based support, and monitoring and targeting the most disadvantaged students has allowed it to improve performance. It offers striking contrast to the U.S. "accountability" movement, whose focus on high-stakes testing recently prompted a somewhat ironic directive out of the White House that schools reduce the amount of testing taking place in schools. (And according to the recent results of the National Assessment of Educational Progress—another standardized test that itself has come under scrutiny—the emphasis on testing may not be boosting student learning.)
In Germany, the students who struggle most in school, and are less likely to graduate, are immigrants or children of immigrants. Their families speak another language and, in cities like Berlin, live in segregated neighborhoods. This is largely what makes the country's turnaround so remarkable. Yet the country absorbed a record number of immigrants last year, serves more asylum seekers than any other European nation, and is on track to receive up to 1 million refugees alone this year. And it's unclear if the extraordinary gains it made over the last decade can continue.
* * *
In 2000, Germans learned that they were not as smart as they may have assumed. This was the year that nations received their first PISA scores, which were devised by the OECD to measure how much 15-year-olds know in reading, math, and science. German schoolchildren scored below the average for tested nations—and below the United States—in all three tested subjects. The national press and eminent researchers in Germany, where students rarely took standardized tests, refer to this as "the PISA shock."
---
---
German schools were struggling in part because they were incredibly inequitable, offering little chance of social mobility, according to the OECD, which also measures the association between social class and test scores. In fact, Germany had the distinction in 2000 of being the OECD country with the most unequal education performance: The difference between the top 25 percent and bottom 25 percent, in socioeconomic status, was more than 100 points in reading—nearly five times that of Japan, the most equal country academically. Even worse, Germany's dual-track school system—where students around the age of 12 are identified by teachers as ready for either college-prep high school (Gymnasium) or vocational school (which includes Hauptschule, the lowest level, and Realschule, the mid-level academic-apprenticeship mix)—appeared to perpetuate inequality. Thirty percent of students with two German-born parents made it to Gymnasium, the only way to get to university. But among students with parents who were not German by birth, the figure was half that.
"It was a major embarrassment for public policy in Germany to see such large disparities," says Schleicher. "It was always equal in inputs—everyone got paid the same, same funding—everybody assumed it would be fine on the outcomes. PISA revealed there was huge inequality in outcomes."
Change was swift (for a large bureaucracy) and systematic. Within five years of receiving the dismal scores, Germany instituted its academic standards, required national tests, and emphasized newer, more hands-on, problem-based teaching methods. By 2012, German students had pulled above the OECD average, raised their actual mean scores compared to 2000, and trounced the U.S., which continued to see scores slip—even as states instituted more mandated tests under No Child Left Behind and, later, newer assessments aligned with the Common Core State Standards.
---
---
Almost more important, in terms of both national self-perception and insights for other ethnically diverse countries, the improvement was largely attributed to dramatic increases in the math performance for students with the lowest socioeconomic status. (The OECD measures socioeconomic status not by household income, as the U.S. does, but by a series of questions students answer, such as whether each parent holds a job and what kind.)
Germany was in part able to dramatically narrow its achievement gap because it had such a huge gap to close. In 2003, the United States and Germany had near-identical shares of immigrant students—around 15 percent. (In Germany and most of the EU, immigrants are tracked as "people with a migrant background" and can include first- and second-generation immigrants with and without citizenship, as well as foreigners living for long periods in the country.) And in both countries, immigrants performed more poorly on the math test than did native-born students. Yet in Germany the disparity in average scores was a colossal 81 points, while in the U.S. it was 28. By 2012, both countries had reduced the test-score gap between immigrant and native-speaking students—Germany by 27 points and the U.S. by 15. And both countries had, according to the test, become better at teaching math to immigrant students.
---
---
Yet Germany's PISA gains reflected a steady climb in scores over a decade. Researchers are still trying to come up with precise explanations for Germany's striking improvement—but they have some informed guesses. Both federal and state education ministries got behind programs that help disadvantaged students, according to Schleicher, including increasing the proportion of schools that are full day and adding government-funded early-childhood education programs. OECD data shows that the number of preschool and kindergarten seats has been growing since 2006—particularly in former East Germany, which has a strong prekindergarten tradition.
Germany's 16 states are traditionally responsible for schooling, similar in some ways to the U.S. education system. Yet in Germany, following the release of the first PISA scores, the states and federal government quickly agreed on a plan to establish a new set of common standards. So in 2004, a nonprofit tasked with developing the math, reading, writing, and foreign-language standards and accompanying tests—the Institute for Quality Development in Education (IQB)—opened, and by 2006 children were taking its assessments. Housed at Berlin's Humboldt University, the organization works closely with the state education agencies. "This was a widespread or large-scale intervention program where the ministries in all German states collaborated with researchers and teacher educators, and there was a shared understanding of good science and math teaching," says Eckhard Klieme, who oversees the German Institute for International Educational Research.
But the new tests aren't meant to serve as tools that monitor and penalize schools, says the IQB director Petra Stanat. Instead, they're meant to provide feedback to individual teachers and schools and drive instruction. Before the new tests, for example, middle-school teachers might have assumed that all their students had already become competent at reading in elementary school when that wasn't always the case. "The focus on the weaker students increased," says Stanat, in response to the new standards. The shift in priorities has had promising results, according to Kleime: "What we found was that the important gains that show up in the mean scores [were] due to an increase in the lower end of the distribution—the low SES students, mostly migrant students, they improved…  Something really important happened with the migrant population." (To monitor student progress at the national level, Germany has developed a separate set of tests that are administered every few years.)
The proportion of working-class and low-income students going to Gymnasium—college-prep high school—slowly increased. And in Germany today, nearly 29 percent of students receive the high-school degree that qualifies them for university, a steady increase over time. Proportionally, more immigrants of the younger generation are taking and passing exams (Abitur) that allow them to go university, though it is still much less than those who don't have immigrant backgrounds.
According to the OECD's Schleicher, Germany may be witnessing the positive effects of de-tracking—that is, getting rid of a school system in which students are segregated based on whether they're preparing for basic work, trade professions, or university. Germany had long separated children as young as 10 into vocational or university tracks; and while other countries' school systems do have programs that separate students by ability, few do so for such young children. But those traditions are starting to evolve. Many of Germany's 16 states, including Berlin and Saxony, recently decided to phase out the lowest-level secondary school (Hauptschule), in part because parents criticized the program as leading students directly to low-wage jobs. In those states, students now attend comprehensive schools that allow them to move between vocational and university-bound tracks. "The tracking system is a big part of the problem in Germany," says Schleicher, adding that international comparisons based on PISA data "absolutely" show that tracking holds back the most disadvantaged students. In "most of the countries with highly equitable results"—Korea and Norway, for example—you don't see tracking."
Yet other researchers say that Germany's original vo-tech system works—and that any overall test gains might have little to do with de-tracking. A recent statistical analysis by Hartmut Esser, a professor emeritus at Mannheim University, shows that the stricter inter-school tracking in Bavaria actually helped disadvantaged students. It's possible that de-tracking is a red herring: Stanat herself published an analysis attributing a large percentage of the gains to "changes in educational participation, with more students attending Gymnasium and fewer grade retentions" as well as "changes in background characteristics, such as the language used at home." She emphasizes, however, that her research didn't entail experimental or longitudinal studies and that some of the test-score improvement may still be due to de-tracking. Plus, thanks to parents' complaints, Hauptschule is disappearing regardless.
Ultimately, the "metric" that best measures whether a student received a quality education may be getting his or her job attainment and standard of living, according to Americans who've sought inspiration from Germany's vo-tech, among them President Obama and the University of Massachusetts Provost Katherine Newman. By this measure, Germany is doing relatively well. Unemployment overall is at historic lows, 4.5 percent, while youth unemployment is just under 7 percent, the lowest in the European Union and lower than in the U.S., where 13.4 percent of people under 25 can't find jobs. "It's not that I think tracking is so wonderful," says Newman, who is writing a book about the potential of apprenticeship education in the U.S and Germany. "But there is still something important we have to learn about preparing a capable high-tech workforce and adapting it to our workforce."
---
---
Yet now, after 15 years of German-style education reform, Germany is now just as unequal as countries like the U.S., meeting the OECD average for inequity in education. For immigrants, the joblessness rate is higher, nearly double that for those native-German-speaking workers, and unrelenting. With the trove of data gathered through the PISA, says the IQB's Stanat, "the myth that [Germany is] not an immigrant country fell apart."
Segregation is still a huge problem in Germany—particularly in the cities, where immigrants coalesce in affordable neighborhoods and neighborhood-based primary schools replicate patterns of housing segregation. Parents and school leaders in Berlin point to the invisible "wall" that has risen for schoolchildren between the gentrifying former east, where educated, relatively affluent, mostly white European professionals live, and the working-class and immigrant-saturated western precincts of Wedding, Kreuzberg, and Neukoln. In a way, "the Berlin Wall still exists," says the educator Herbert Weber, who until this year directed an after-school program in Berlin's Wedding neighborhood. Thirty percent of Berlin schoolchildren speak German as a second language—and in some neighborhoods and schools the figure rises to more than 70 percent.
Still, Germany is methodically collecting the data to prove that its future as a nation depends on how well it integrates outsiders—newcomers, second-language speakers, ethnic minorities—into its education system. Stanat and her staff at IQB began parsing data from the 2015 national assessment this summer. And with refugees streaming into Germany by the hundreds of thousands, there will be many newcomers this school year.