Forcing Colleges to Involve Police in Sexual-Assault Investigations?
Greek life is backtracking on a bill that would limit schools' ability to adjudicate cases.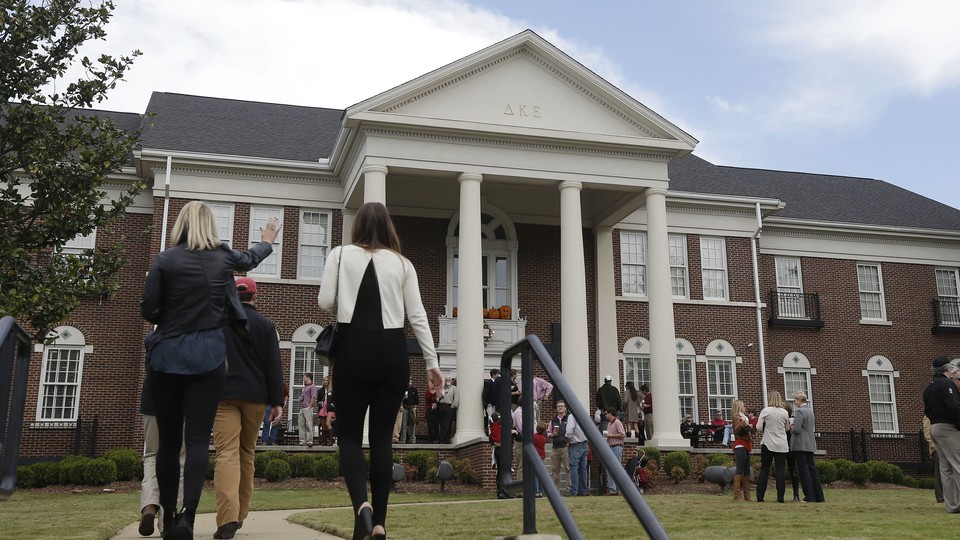 Prospects for a bill that would limit the ability of colleges to investigate claims of sexual violence dimmed this week as umbrella organizations for fraternities and sororities became the latest groups to cut ties with the legislation.
Despite months of effort and hundreds of thousands of dollars spent on lobbying over the last few months, the National Panhellenic Conference (NPC) and the North-American Interfraternity Conference (NIC) withdrew support from the Safe Campus Act. If passed, it would prevent colleges and universities from investigating such claims unless the victim also reports the incident to law enforcement. In separate statements, the groups recognized that the most important aspect of the battle against campus sexual assault is unity—and the Safe Campus Act sharply divided its supporters from nearly every major advocacy group.
"If there was a mandatory requirement to report to law enforcement, few survivors would report. And fewer would get the support they need on campus," Katie Hanna, a board member with the National Alliance to End Sexual Violence, told me when I originally reported on the legislation seeking to address the issue. The NPC and NIC, along with the Foundation for Individual Rights in Education (FIRE), were among the bill's most notable backers. FIRE maintains its support, claiming that without law-enforcement involvement, schools have too much power and often deprive students of due-process protections. But the Democratic Senators Claire McCaskill and Kirstin Gillibrand—who've introduced their own campus sexual-violence bill—hailed the NPC and NIC's decision to pull back from the Safe Campus Act as a major victory: "We want to commend these groups—who are critical voices in this national dialogue—for reexamining their approach to helping curb sexual assaults on our college campuses."
The congressional landscape on the issue of campus rape can get very confusing very fast. As a quick recap:
If the names of the bills on the table don't speak for themselves, it's clear that legislators share the ultimate goal of making campuses "safe" and "fair" for students. As it stands, however, the problem lies in getting advocates, university leaders, law enforcement, and Congress on the same page amid a complicated, ongoing debate that involves questions about rights of the accused, how to best support survivors, and holding colleges accountable. Ultimately, the reality is that national legislation—while effective in forcing schools to take steps towards recognizing and addressing issues—won't be a cure-all to a problem that originates between peers on campuses far removed from the halls of Capitol Hill.