Cheating in Online Classes Is Now Big Business
The growth in courses available on the web has led to a growth in paid services that will impersonate students and do their work for them.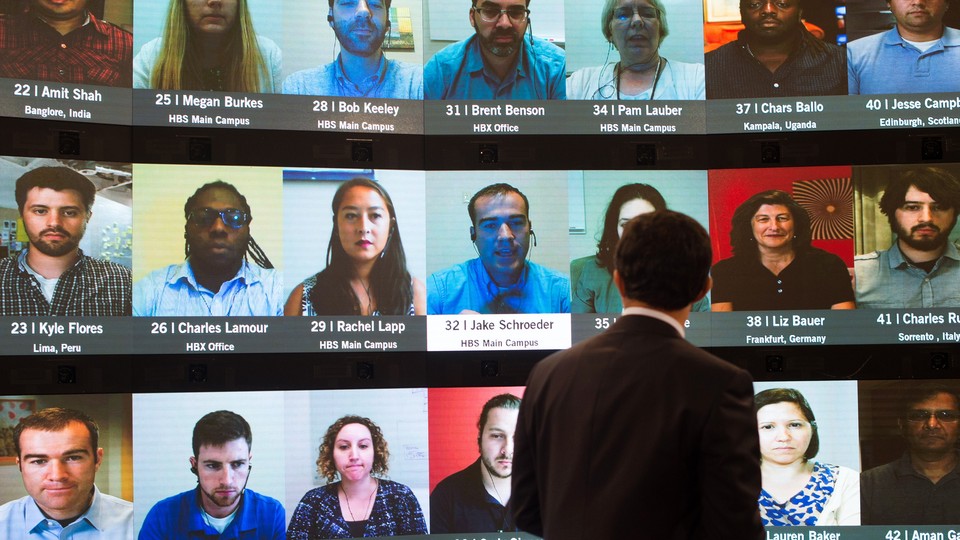 When I was in high school, I cheated pretty regularly. And I mean all the time. I remember writing chemistry formulas on small bits of paper that I then sealed to the bottom of my dress shoes with transparent tape. When I crossed my legs, the information I needed was literally in my lap.
That was before education went online. Cheating, it seems, has gone with it. Today, entrepreneurs and freelancers openly advertise services designed to help students cheat their online educations. These digital cheaters for hire will even assume students' identities and take entire online classes in their place.
I reached out to one of these companies—the aptly named No Need to Study —asking, for the sake of journalism, if it could take an online English Literature class at Columbia University for me. I got an email response from someone on its customer-relations staff who told me that, not only could the company get a ringer to take my online class, it could also guarantee I'd earn a B or better. I was told the fee for such an arrangement was $1,225.15.
That extra fifteen cents made it seem official.
When I asked for more information to be absolutely sure I understood the company's services, the reply was crystal clear: "We offer the services of a pool of experienced academic tutors to take classes and complete course work for our clients."
No Need to Study even has handy reference videos that ostensibly show satisfied clients sharing how easy it was to pay someone else to take their online classes. My favorite is a video from a client named Muhammad who explains that he hired the company to complete his math lab courses for him. He'd taken these classes before, he notes, but "the quizzes were just way too difficult" so he searched for a solution. "They got it done, and they did really, really well," he continues. "They absolutely killed my final math and app classes with a 90 percent, and I can definitely tell you I never got a 90 percent before on anything."
There's no way to directly link the growth of online-education options to an increase in online cheating. But more online classes means more online students, which means more potential customers for cheating providers. According to the 2014 Online Learning Survey, roughly a third of all higher-education enrollments in the U.S. are now online—with almost 7 million students taking at least one online class. Other statistics put the number a bit lower, at a fourth of the overall student populations. Either way, that's millions of potential customers for ambitious providers of cheating services.
Online education is already poised to be a $100 billion global industry. But it could be even bigger if online degrees earn more clout, especially with employers. If online degrees and certifications achieve the same stature as traditional, on-campus ones, an online education marketplace could transform higher education and change the very meaning of going to college. That's exactly what some some online education advocates want. Kevin Carey, a well-known online-education supporter, wrote about the quest for online education credibility in March in a New York Times op-ed titled, "Here's What Will Truly Change Higher Education: Online Degrees That Are Seen as Official."
If a goal of online education proponents is to convince the public and employers that an online education is as official and prestigious as a traditional one earned in brick-and-mortar and Ivy classrooms, it's hard to imagine anything more damaging than identity-fraud schemes in which students literally pay for grades but do no work whatsoever. At least with a traditional degree, the assumption is the recipient actually went to class personally.
Even so, the growth in online-degree credibility is already happening as more and more colleges move classes and degree programs online. Arizona State University offers a complete bachelor's degree in a variety of majors—entirely online. Others schools, such as SUNY Empire State, do too. At the University of Florida, students can take their underclass core classes—which account for about half their undergraduate degree requirements—virtually. And the University of Central Florida has been posting many of the lectures for its popular courses to the web so students can "attend" classes virtually, a reality that prompted one UCF student to tweet, "Thanks, UCF, for having lecture-capture courses so I don't have to go to class ever." These degrees are, in theory, credible, even if they were "earned" online.
I asked UCF if providing ways for students to never physically attend classes made academic fraud and impression more likely. Thomas Cavanagh, the associate vice president in distributed learning, told me in an email that "we work extensively with online faculty to design activities and assessments that mitigate cheating to the greatest extent possible which, combined with a large number of technological strategies, helps to significantly reduce the risk and opportunity to engage in unethical behavior."
Yet "mitigating" cheating with "technological strategies" may not be enough. Just four days before UCF's Cavanaugh responded to my question, a Craigslist ad in Orlando, where UCF is located, effectively offered to cheat for students online. The ad read, "Between your busy work schedule and personal life, you may not get time for your online classes. We will provide you an excellent support for all your online classes needs such as discussion boards, tests, quizzes, and assessments. We are a team of highly qualified professionals who are experienced in writing all types of assignments. We offer 100% plagiarism free papers that assure top grades."
With the availability of online-cheating services and more online degree options, it's conceivable that someone could pay an extra $1,000 a class—about $40,000 for an entire 120-credit bachelor's degree—to simply hire someone to earn the degree for them. Considering the already high cost of tuition and the boost in earning potential a degree affords, an extra $40,000 to never even go to class, even online, may be the deal of a lifetime for someone with means. An easy No Need to Study path through college for those who can literally pay extra should also fuel lingering questions of class and race bias in higher education. Elite education opportunities already skew to those most able to afford to them. But the ability to get a degree by opening a checkbook instead of a textbook does, at a minimum, complicate efforts to flatten the education-access pyramid.
This surrogate option for those with financial capacity isn't lost on the cheating providers either. The No Need To Study website is clear about it: "Society has allowed it to become an accepted fact that those who can pay will always have an edge over those who can't. And as such No Need To Study is merely fundamental market economics in action. Plus, we are pretty efficiently prices so almost anyone can afford our service [sic]."
Moreover, the costs of impersonation in online education aren't limited to reputation. According to 2013 Congressional testimony of the Education Department's inspector general, Kathleen S. Tighe, taxpayers lost $187 million between 2009 and 2012 to fraudsters impersonating others in order to scam financial aid from colleges offering online classes. "Management of distance education programs presents a challenge for the Department and school officials because of limited or no physical contact to verify the student's identity or attendance," Tighe told Congress. "Because all aspects of distance education take place through the Internet, students are not required to present themselves in person at any point."
So far, the schools have been slow to clamp down on online identity fraud—both academic and financial. A cynic could argue that a lack of enthusiasm to stop online identity fraud in education may be related to financial benefit. Online classes, degrees, and certifications are less costly to provide than traditional methods; a 2012 report by the Thomas B. Fordham institute estimated that colleges save more than 40 percent when they move classes online. Indeed, the cost savings are a key selling point of those encouraging a move from having students show up to simply asking them to log in.
"What online classes do is cut out the prohibitive expense of education," says a post on No Need to Study's blog. "It's expensive to build a school and find qualified teachers… It's far less expensive to develop an online course, and it can have the exact same effect."
But lower production costs are just half the economic equation. There are also far more potential customers/students online than on campus. And because taking classes online can be less expensive and more convenient than on campus options, student interest is high. While higher-education enrollment has hit a plateau or even dipped in the past five years, participation in online college education continues to increase, up by more than 570,000 last year.
Lower production costs and more customers, even at a reduced price points for tuition, can create massive profit. Take Walmart. This one-two punch of lower delivery costs and higher student interest could be a powerful motivation to keep online education growing, in spite of problems like the ease and costs of online cheating. In at least this way, it seems both the schools and the cheating providers have a similar economic incentive—they may both profit by having more online students.
But the financial benefits spurring its growth aren't the only impediments to stopping the online cheating. Experts say there's no way to stop the cheating providers directly. "You can sell anything online if you have a basic knowledge of search engine optimization," Adam Fridman, founder of the Chicago digital marketing firm Mabbly, told me. Mabbly specializes in helping people get their businesses listed high up in search results. "There's no one checking what you're selling, who you're selling to or who your customers are. That's an amazing competitive opportunity but it unfortunately leaves the door open for some less legitimate uses." In addition, few people want the responsibility of deciding which "tutoring" services are legitimate aids to learning and which are outright cheats.
But the fight isn't hopeless. There are steps colleges and online education companies can take to cut down on online impersonation. Infusing online courses with more direct engagement between teacher and student—using video technology, for example—can help. "One way to reduce identity spoofing in online education is to embrace tools like video chat which is both unspoofable and creates a documentary record," said Steve Gottlieb, founder of the online video engagement system, Shindig. "The more schools and their technology partners can integrate face-to-face engagements online, the more online cheating will become impossible."
When I asked NYU, a large, competitive university presumably vulnerable to student fraud, about the ability of students to cheat in online classes, the school cited video. "Many of our online courses—which are primarily at the graduate student level—use oversight services to confirm that examinations are taken by enrolled students. [They include] services that require students to take tests in front of a web camera—a procedure that visually confirms the student's identity," James Devitt, a university spokesman, told me.
True, tools like online video could essentially eliminate the identity fraud—but it seems like such a safeguard would only work for smaller classes like those graduate-level courses NYU offers. That's because video requires some live engagement on the institution's part; someone needs to ensure the camera is capturing the students or engaging them through live video instruction. The rub is that, while safer, those smaller classes and human engagements will drive up costs and undercut the primary benefits of existing online education systems—their canned, on-demand features that allow more reach and efficiency.
What would be even better than video at cutting down on identity cheats is deploying old-school tactics such as meeting students face to face to make sure they are who they say they are—a level of security that isn't lost on Devitt. "Of the many thousands of courses that NYU offers, only a small percentage are online, and many of these are 'blended' classes that combine online learning with in-person and face-to-face interaction with faculty and fellow classmates," Devitt said. "Someone hired to take such a course would surely be discovered as he or she would simply not look like the enrolled student."
It's ironic that "face-to-face interaction with faculty and fellow classmates," as Devitt put it, is the best way to curtail the academic and financial identity fraud that's happening in online education. But this "blended" approach—more offline and less online—may be exactly what online education needs in order to guard, or improve, its reputation. If online college programs are ever going to compete with traditional ones, the advocates and providers should at least acknowledge the threat of online cheating and take steps to stop it—even if that means increasing costs and slowing the growth of online options.