What's the Recipe for an Effective Anti-Bullying Policy?
Lots of states have passed legislation targeting this problem, but it can be hard to get kids to take the efforts seriously.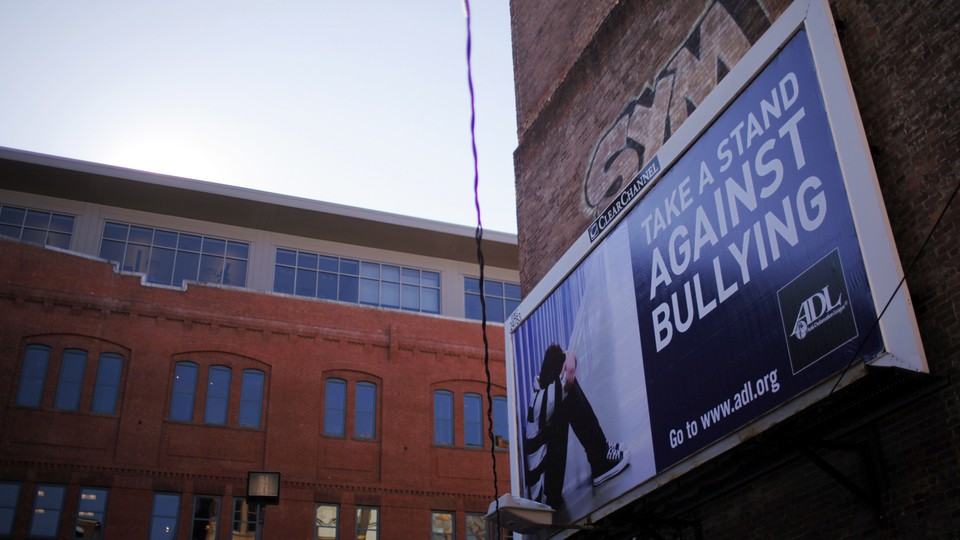 At her Moraga, California, junior high school, Rachel Jackson was a safe-school ambassador (SSA), part of a program that trains student volunteers to intervene in bullying situations among their peers.
SSA runs throughout the school year and requires students and teachers to work together, two elements of effective anti-bullying programs, experts say. But in practice, Jackson remembers, student apathy eroded some of the potential.
"About half of the SSAs took the program seriously," says Jackson, now 16. "However, the majority of students … didn't exactly see it as an opportunity to really make a change."
Getting students—particularly junior high schoolers—to take bullying seriously is a daunting task for teachers, administrators, and school counselors. But a study published this month in JAMA Pediatrics suggests that anti-bullying efforts, including laws many states have passed in the past five years, appear to be helping the 20 percent of kids in the U.S. who say they've been bullied in the past 12 months.
Researchers at Columbia University analyzed responses from more than 62,000 high-school students in 25 states who participated in a survey conducted by the U.S. Department of Education. (States with anti-bullying laws passed before 2010 were excluded.) Those who attended schools in states with anti-bullying legislation that included at least one of the DOE-recommended key components were 24 percent less likely to report that they'd been bullied in the last year, and 20 percent less likely to say they'd been cyberbullied.
Three components stood out as particularly effective: Laws should include a statement of scope; have a clear description of prohibited behaviors; and require school districts to develop and implement policies at the local level, says lead author Mark Hatzenbuehler, an associate professor of sociomedical sciences at Columbia University's Mailman School of Public Health.
"Anti-bullying programs vary a lot, so we can't say yet what is the gold standard," Hatzenbuehler notes.
On a basic level, state anti-bullying laws outline procedures for receiving, recording, and responding to complaints of bullying by students. But they vary tremendously. New Jersey has what are considered the toughest anti-bullying laws in the country, whereas Montana, the 50th state to enact a law, provides a definition of bullying and that's about it. (Montana also had one of the highest rates of reported bullying in Hatzenbuehler's study.)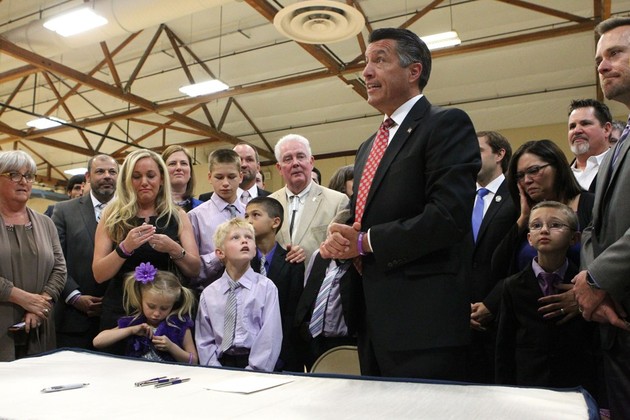 Many laws were hastily enacted as a response to bullying-related tragedies, so they weren't drafted as collaboratively as they could've been, Hatzenbuehler says.
James Hanks, an attorney in Des Moines, Iowa, and the author of School Bullying: How Long Is the Arm of the Law?, agrees. "People are trying to deal with a problem, so there's a rush to get a lot of these statutes adopted," he says. "I don't think there was a lot of concern about how sufficiently specific we needed to be to know what conduct and communication won't be tolerated."
Although the new research shows an encouraging correlation between well-defined policies and reduced rates of bullying, understanding which programs work and why is more complex.
"There are signs all over the school to stop bullying," says Sebastian Hudak, a 12-year-old who attends a public middle school in Webster, New York. "The problem is, most bullying happens on the bus or at lunch where there are no teachers. [And] there isn't really a system for reporting bullies, as that's 'tattling,' according to most teachers."
Policies about how students can report bullying, and to whom, are often not well communicated. Experts are also beginning to suspect that zero-tolerance policies and brief awareness campaigns are not very effective.
San Francisco public schools use a progressive approach called restorative practices to resolve conflicts and bullying situations. A type of mediation in which the bullied child, an adult, and the bully discuss the incident together, restorative practices is an alternative to the report-investigate-punish model used in some schools. Rather than determining what rule has been broken, mediators ask kids, "What happened?" and "What do we need to do to move forward?"
"If someone hurts someone, he or she has to make amends to the victim, usually an apology at the elementary-school level," explains Laura, an elementary-school teacher in the city. (Laura asked that her full name not be published out of concern for her job.)
It can work if the victim is willing to face the bully and the person who did the mean thing is willing to listen, but the program has drawbacks. In addition to requiring the bullied kid to engage in a face-to-face discussion with his or her bully, Laura says that she often mediates the same conversation with the same kids over and over with little lasting change.
To focus on the number of reports of bullying in a school is too simplistic, says Hanks. "We need to know whether the incidents of bullying led to any difference in the school environment," he says. "Has the bully learned anything, other than, 'I got caught?'"
Today, cyberbullying presents a rich opportunity for interpersonal torment—and potential legal issues.
There are two problems in trying to limit cyberbullying, according to Hanks: getting proof of bullying behavior without violating privacy, and the fact that it mostly takes place off campus, where schools don't have the right to regulate student behavior.
A lot of bullying is now done via cell phone, and cell phones have different implications for privacy than backpacks. Citing a 2014 Supreme Court rulingthat police can't search the contents of a cell phone without a warrant, Hanks says, "That decision shows the mindset of the Supreme Court in regard to cell phones, so we shouldn't expect a much different result if police want to search a student's phone in a bullying case."
Despite the imperfections of many anti-bullying laws and programs, most agree that we need them.
"Prevention and intervention aren't a single person or group's responsibility. Bullying programs need to include students and parents," says Robin Kowalski, a bullying expert and professor of psychology at Clemson University. "And they should be incorporated into [the] school curriculum and revisited on a regular basis if they're going to be successful."
Jackson agrees that students need to be involved and says newer, innovative methods are needed.
"If people were to find a new way to approach bullying, rather than the same lessons that kids have learned to tune out, then maybe kids would be interested enough to learn more," she says.
---
This post appears courtesy of CityLab.