'Alienating the White People Who Actually Believe in Equality'
Editor's Note:
This article previously appeared in a different format as part of The Atlantic's Notes section, retired in 2021.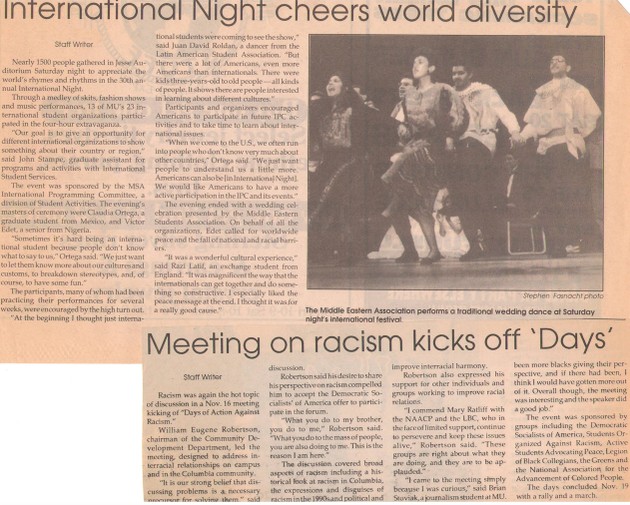 Earlier this week we heard briefly from a staff member of The Maneater, the student newspaper at the University of Missouri. Now a former staffer writes in:
I was a journalism undergrad at Mizzou 20 years ago ('93) and immediately began working for The Maneater. I spent the next two years covering black student government (and white), as well as the black and white fraternity systems, all of which were 100 percent segregated—not by policy, but because people chose not to intermingle and sit amongst each other.

I tried endlessly to make black friends. I covered their communities for two years. I still had no friends. As an outsider—someone from Colorado on a campus that largely draws students from in-state—I couldn't understand the anger and hostility I encountered, nor fathom why none of the black students would even give me a chance to talk to me, to find out who I am. I became frustrated and eventually gave up when so many black students couldn't care to even recognize that I was their ally; I was someone eager and willing to help. But they were so standoffish and frankly "blind" to any difference between different white people.

This year, black students protested the annual Homecoming parade. They were doing that 20 years ago too; it was my first cover story I wrote for The Maneater.
The current front page

For my news story, I couldn't get any of the protestors to articulate what EXACTLY the changes they wanted. Apparently these protests have been going on every year since! The response of the white people I interviewed in the audience at the protest 20 years ago was bewilderment:

"Why are they shouting and making black power fists in the middle of warm, fall day? We're just here to celebrate our community and bring out children, and then all these people show up screaming and angry. Why would they do that?"

Shouting things like "justice now" and waving black power fists and marching with angry scowled faces in the middle of a happy fall parade filled with small children—what can that do short of alienating and hardening the hearts of the people who are watching it? Hurling profanity at random groups of people—all it does is alienate the white people who actually believe in equality and want to partner with you.

If Mizzou black students want to make genuine systemic change, it will happen not through screaming, not using profanity and hysteria. It will happen by calmly and logically listing out concrete, specific changes they would like to see. And they need to measure "success" not by whether all 100 of their requests are met. Success is if SOME of the requests are met, and the ones that aren't, it is calmly and respectfully debated what the reasons are.

My hunch is this whole issue is really about the larger broader social issues related to the arrests and shootings of black men around the country, and less about some sort of vile, threatening environment at Mizzou itself.
It's worth noting the Concerned Students of 1950, the activist group that forced the resignations of Mizzou's president and chancellor, did issue a list of fairly concrete, specific demands to the university last month:
I. We demand that the University of Missouri System President, Tim Wolfe, writes a handwritten apology to the Concerned Student 1-­9-­5-0 demonstrators and holds a press conference in the Mizzou Student Center reading the letter. In the letter and at the press conference, Tim Wolfe must acknowledge his white male privilege, recognize that systems of oppression exist, and provide a verbal commitment to fulfilling Concerned Student 1-9-5-­0 demands. We want Tim Wolfe to admit to his gross negligence, allowing his driver to hit one of the demonstrators, consenting to the physical violence of bystanders, and lastly refusing to intervene when Columbia Police Department used excessive force with demonstrators.

II. We demand the immediate removal of Tim Wolfe as UM system president. After his removal a new amendment to UM system policies must be established to have all future UM system president and Chancellor positions be selected by a collective of students, staff, and faculty of diverse backgrounds.

III. We demand that the University of Missouri meets the Legion of Black Collegians' demands that were presented in 1969 for the betterment of the black community.

IV. We demand that the University of Missouri creates and enforces comprehensive racial awareness and inclusion curriculum throughout all campus departments and units, mandatory for all students, faculty, staff, and administration. This curriculum must be vetted, maintained, and overseen by a board comprised of students, staff, and faculty of color.

V. We demand that by the academic year 2017-2018, the University of Missouri increases the percentage of black faculty and staff campus-wide to 10%.

VI. We demand that the University of Missouri composes a strategic 10 year plan by May 1, 2016 that will increase retention rates for marginalized students, sustain diversity curriculum and training, and promote a more safe and inclusive campus.

VII. We demand that the University of Missouri increases funding and resources for the University of Missouri Counseling Center for the purpose of hiring additional mental health professionals -- particularly those of color, boosting mental health outreach and programming across campus, increasing campus-­wide awareness and visibility of the counseling center, and reducing lengthy wait times for prospective clients.

VIII. We demand that the University of Missouri increases funding, resources, and personnel for the social justices centers on campus for the purpose of hiring additional professionals, particularly those of color, boosting outreach and programming across campus, and increasing campus-­wide awareness and visibility.
After the president and chancellor lost their jobs on Monday, the group issued new demands:
"Moving forward, Concerned Student 1950 demands an immediate meeting with the UM System Faculty Council, Board of Curators and the governor of the state of Missouri to discuss shared governance and create a system of holistic inclusion for all constituents," said Marshall Allen, an original member of Concerned Student 1950, announced at the conference. Allen added that the group's demands must be met "in totality."
Here's a breakdown of the "partially met" demands so far.