The New (and Improved) FAFSA
The federal government's changes to the document give students, especially low-income ones, something they desperately need: time.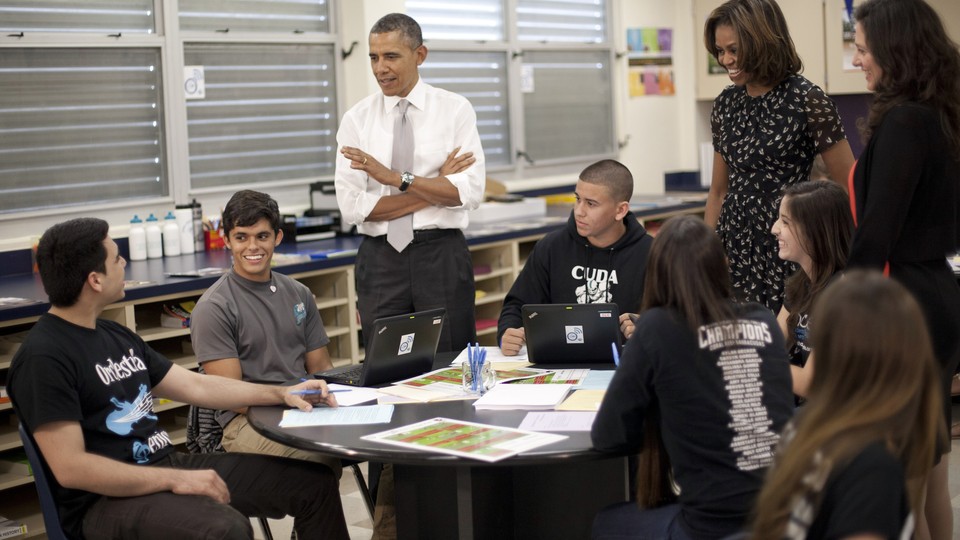 Since its launch in 1992, the Free Application for Federal Student Aid, better known as the FAFSA, has suffered from two key flaws. The document, which currently includes 108 questions total (more than three times that of a standard federal income-tax form), takes some students over 10 hours to complete, even though the government estimates that it only requires 55 minutes to submit the initial application. Additionally, its deadlines are ill-timed considering the purpose it serves: It requires that students apply for college before they apply for aid, effectively forcing them to choose schools without knowing how much financial support they could be getting from the government.
In September, President Obama announced the release of an updated FAFSA that aims to make the document-completion process simpler, while significantly shifting the deadline timetable to better align with that of college applications.
Under the current system, students have to wait until January 1 to do the FAFSA, and can often only get an aid figure well after they've committed to a college. The new system enables students to access and complete the document beginning October 1, and goes into effect during the 2016-17 college-application year, providing a much larger window of time for individuals to submit it.
Experts currently recommend filling out the FAFSA as soon as it becomes available, in order to both qualify for federal Pell grants and additional aid from states and colleges that's allotted on a first-come, first-serve basis. The reasoning for the FAFSA's odd timing lies in its dependence on reliable tax information, which captures family income. The algorithm for federal aid determines a student's need based on the income data of the previous year. According to Mark Kantrowitz, the founder of Edvisors, a company dedicated to helping students understand funding for college, there was skepticism from legislators about the trustworthiness of using family income information that was more than one year old—but research has, over time, disproved these concerns. With the new FAFSA, students will be able to use what's known as "prior-prior-year" data, which is essentially two-year-old income information.
This extra time isn't only more logistically sensible, it also has the potential to benefit the students who most need aid and aren't currently being considered for it. Today, 2 million students who could qualify for aid don't submit the FAFSA, 1.3 million of whom could claim the maximum award, which is $5,775 for the 2015-16 school year. According to the 2011-2012 National Postsecondary Student Aid Study, there are several reasons these students didn't complete their applications. Nearly half—47 percent—believed they were not eligible for aid, while roughly a third said they did not want to take on debt (even though Pell grants do not need to be repaid). Many low-income students lack the resources and guidance needed to understand and complete the onerous form, notes Kantrowitz. For some, the confusing and overwhelming nature of the document is enough to deter them from applying. And when they do send in the documents, they often submit it later. "The high-income students always do it January 1," he says. "But, the low-income students, they take longer to file the FAFSA."
Given the existing FAFSA setup, getting the form in quickly is critical, especially when several states and many institutions have January and February deadlines for additional grant money. Students who lack the support or information needed to finish it, let alone finish it promptly, are immediately at a disadvantage, if not completely barred from accessing the funds. Kantrowitz and Lauren Asher, the president of The Institute for College Access and Success (TICAS), see the timing change as a radical improvement that will give all students, including those from low-income backgrounds, greater opportunity to obtain the content they need for the form and time to parse through its complexities.
"Even if they're filing it on a delayed basis, they may be delayed relative to the start of the process, but they'll still be in time for the college and state deadlines," says Kantrowitz in reference to the new FAFSA. Previously, those same students may have missed those deadlines altogether.
Students will also gain the advantage of knowing how much aid they have to work with prior to sending in their formal school selections. "The college process is already so challenging," says Asher, "It's great that this one piece is going to be a lot easier and enable students and families to have enough time to factor into their decision of whether and where to go to college and how to pay for it." Access to additional funding has been shown to have a large positive impact on low-income students' ability to attend college, and ultimately, successfully graduate.
Asher also notes that the extra time will give high schools a broader period to engage in outreach to students and assist them in the completion of the form. In conjunction with the logistical improvements to the experience, there's a push from Duncan and Obama to offer more resources that can help students, families, and schools navigate the document and get it done in time. Asher thinks that physical letters reminding families who could qualify for aid about the program could also help raise awareness about its requirements and serve as a nudge to look out for the paperwork. Organizations including Edvisors, TICAS, the National College Access Network, and local efforts like Austin's College Access Campaign are actively working to provide one-on-one guidance and advice for students on this topic. FAFSA training for high-school seniors has been found to increase the proportion of students finishing two years of college by 8 percentage points from 28 percent to 36 percent.
Another key change in the new FAFSA is the ability for students to fill out a portion of the form electronically using the IRS Data Retrieval Tool, which will automatically input the necessary information for part of the application, culled directly from tax documents. This step makes it easier for both students and colleges that use the FAFSA to build financial-aid plans. Higher-education institutions currently have to verify a large portion of the information they get, and won't have to anymore, because it will be coming directly from the IRS database. In instances when students have previously been flagged for verification, the burdens of filling out even more documents have also created extra barriers.
Duncan estimates that program will cost the federal government an additional $400 million, which only amounts to 1 percent of the current Pell grant budget.
While these updates are viewed as fundamental improvements to the FAFSA, there is still concern that the actual length and density of the document, regardless of the changes, are major stumbling blocks for students. A new proposal from Obama endeavors to cut the number of questions on the form from 108 to 70, but many believe that's not enough. The senator and education-committee chairman, Lamar Alexander, has advocated for making the FAFSA the size of a postcard that would include only two questions: one about family size and one about family income. Relative to any other form that's used to apply for government aid—including SNAP, TANF, and WIC—the FAFSA is by far the longest and most intimidating, not to mention invasive.
Regarding some of the document's most challenging queries, such as this one, "If you have filed or will file a 1040, were you eligible to file a 1040A or 1040EZ?" Asher says, "I urge you to figure that out without asking a tax specialist."
Kantrowitz says that the intention of the form has shifted from one of helping students to that of preventing ineligible students from getting federal aid they don't deserve. He's heard cautionary tales of seemingly low-income students who in reality have financial advantages like trust funds, qualifying for federal aid. In response to these cases, the government has made the document increasingly more rigorous, and in doing so, prevented students who actually need the support from getting it as well.
"Right now, the form puts the people with the fewest resources through the biggest hoops," says Asher. "That runs counter to the purpose of federal student aid."