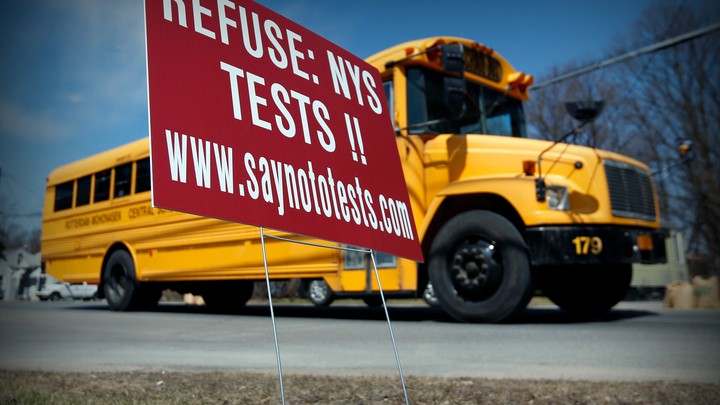 On Saturday, President Obama posted a high-profile video message to Facebook in which he called on schools to reduce the amount of standardized testing taking place in classrooms. Critics of overtesting generally support the proposal, which reinforces what seems to have been the U.S. education system's gradual, uneven, and often tacit withdrawal from aggressive, assessment-based accountability. In many ways, the plan amounts to the White House's long-anticipated, albeit anti-climactic, response to what's become a particularly fraught era in public education. The past few years have been characterized by mass opt-outs, a patchwork of state legislation to rein in rampant testing on their home turfs, and all kinds of assessment-related technological glitches and logistical snafus (one of which is currently playing out across Florida).
But Obama's announcement of the so-called "Testing Action Plan"  wasn't the only piece of news to hit the anti-testing world this past weekend. It coincided, not uncoincidentally, with the release of a compelling report by Council of the Great City Schools—an influential Washington-based group that has generally supported testing—which offers the latest piece of evidence that government-driven school reform has taken things too far. The report identifies significant redundancy in the exams being administered in 66 urban U.S. school districts, finding that, between prekindergarten (yes, pre-k) and 12th grade, U.S. public-school students each take roughly eight mandatory standardized tests annually, many of them stipulated by No Child Left Behind.
Adding to that news twofer, a number of recent reports help confirm critics' doubts about the integrity of test scores as a tool for measuring student achievement. American Institutes for Research published a study on Monday highlighting inconsistencies between the Common Core standards, which are adopted at the state level, and the separate National Assessment of Educational Progress (NAEP), a set of federally sponsored exams that's administered consistently across all 50 states. The Urban Institute's Matt Chingos has just authored a somewhat similar report outlining the "promises and pitfalls" of the NAEP scores, too. "NAEP scores," he wrote, "have been misused as long as the test has been given."
As it happens, the newest NAEP report was published Wednesday, and it shows a decrease in fourth- and eighth-graders' math scores—the first decline since 1990. (Eighth-graders' reading scores also took a dip, while those for fourth-graders remained stagnant.) In response to the results, Randi Weingarten, president of the American Federation of Teachers, said: "Not only is there plenty of anecdotal evidence that our kids have suffered, these latest NAEP scores again show that the strategy of testing and sanctioning, coupled with austerity, does not work."
Obama's plan, which offers guidelines but doesn't have the force of law, aims to reduce the kind of redundancy highlighted in the Council of the Great City Schools' report and generally revitalize the classroom experience. "We're going to work with states, school districts, teachers, and parents to make sure that we're not obsessing about testing—that the principles I just outlined are reflected in classrooms across the country … that our kids are enjoying learning, that our teachers are able to operate with creativity," Obama said in the video. We're going "to make sure that we are preparing our kids for a lifetime of success."
The proposal reiterates many of the messages that have come out of the White House in recent months—some of which, as Education Week's Alyson Klein pointed out back in February, are all but contradictory given how integral standardized tests have been to "nearly every major Obama K-12 initiative." What is rather newsworthy about Saturday's announcement is that it marks what may be the administration's first explicit, public acknowledgment of its role in the overtesting. It also comes with a straightforward request that schools cap testing at 2 percent of the total time kids spend in the classroom—a recommendation that Obama, to be sure, insinuated in July in his recommendations for the reauthorization of the No Child Left Behind law.
Testing's pros and cons aside, perhaps the move may be little more than a symbolic gesture—a political confession—that affirms the validity of anti-testing efforts. Maybe it'll give some momentum to existing state- and district-level legislation to keep accountability mandates in check. And maybe, just maybe, it'll appease some of the unrest resulting from the opt-out movement. But what meaningful change will ensue in schools other than more turmoil and confusion?
For one, aside from the 2 percent cap, the proposal doesn't provide much concrete guidance to schools. Obama described the proposal using very imprecise terminology, the kind of rhetoric his administration, including outgoing Education Secretary Arne Duncan, has been using for months: Students should "only take tests that are worth taking," Obama said, while tests should only be administered insomuch as they "enhance teaching and learning" and should account for just one among many sources of information about student achievement.
What's more, capping testing at 2 percent wouldn't, in reality, change much at the average school. The Council of the Great City Schools report found that, this past school year, the average amount of time devoted to mandated tests among eighth-graders—the students who typically spend the most time taking such assessments—was a little over four days, or 2.3 percent of total classroom time. And in some ways, announcing a cap—rather than specific guidelines related to the merits and type of the assessments—just exacerbates the problem highlighted in the Council's report in which schools give more attention to the quantity than the quality. It also gives the wrong impression that the federal government, not states and districts, is the main actor to blame for all the overtesting, according to Tamara Hiler, the education-policy advisor at Third Way. "[Obama's] announcement," Hiler said, "confuses that perception about testing in a really unhelpful way."
Ultimately, this announcement could further muddle an already-muddled landscape in which opinions and data and policies are constantly in flux or at odds; any conversation about testing is likely to lead into a rabbit hole of contradictions, misinformation, or "twisty rhetoric." Experts are constantly debating the reliability of testing data, policymakers are flip-flopping on their approach to assessments, and public-opinion surveys continue to produce contradictory findings about Americans' views on it all. And it's not limited to the prek-12 sector: A growing number of college-admissions offices are going "test-optional"—a tendency that's been celebrated by many as prudent and progressive and lambasted by many others as self-interested and insincere.
Then there's the NAEP, of course, which happens to produce the testing data used by the Council on the Great City Schools to conclude that increased testing time doesn't correlate with improved achievement. Misuse and abuse of NAEP data—extrapolating from it to make cause-effect claims about certain policies, cherrypicking the numbers, focusing on the negative findings, and so on—are so widespread that some pundits have even come up with a name for the practice: misNAEPery.
Lots of pundits are skeptical of Obama's announcement. FairTest's Bob Schaeffer argued that "documenting testing overkill is … just the first step toward assessment reform" and highlighted the need for concrete efforts to reverse current policies—"not just more hollow rhetoric and creation of yet another study commission." Diane Ravitch, the prominent education historian and current president of the Network for Public Education, said: "The Obama administration's stance on testing is too little too late … It is time for fundamental changes in federal policy, not pointless tinkering."
Still, lots of other observers appear optimistic about the announcement's implications. Describing the proposal as "common sense," Weingarten attributed it to the success of grassroots activism among parents, students, and educators. Even Hillary Clinton applauded the plan, taking advantage of the news to highlight her position on standardized testing, which essentially echoes that of Obama: "We should be ruthless in looking at tests and eliminating them if they do not actually help us move our kids forward."
We want to hear what you think about this article. Submit a letter to the editor or write to letters@theatlantic.com.
Alia Wong
is a former staff writer at
The Atlantic,
where she covers education and families.