The City Where Everyone Goes Into Engineering
Historically, there's been one career path for students in Hyderabad. One startup is pushing them to explore other options.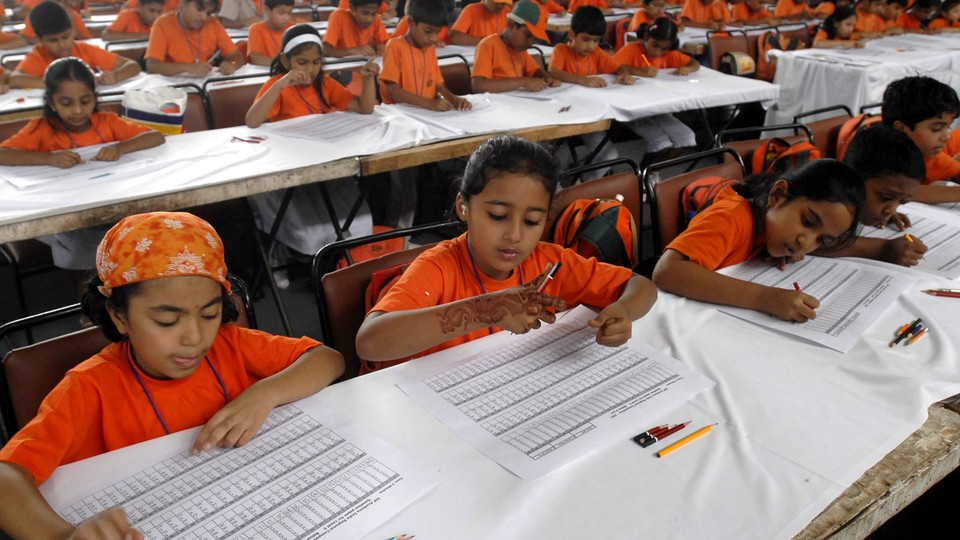 A few months before public exams in India, as most tenth graders spent extra hours bent over their books, students at St. Michael's School in Hyderabad sat listening to Arun Kumar, a medal-winning archer, in fascination. Out on the field with him, the ninth and tenth graders took turns shooting arrows at a board, and learned that a career in sports isn't an impossible goal.
"I think the best way for a student to understand a profession is through a professional himself. It's very important that the youth is aware of different opportunities, and is able to make an informed career choice," says Luvieen Alva, the director of LearnEd, an educational startup based in Hyderabad, one of India's largest cities.
St. Michael's is one of three private schools in the city that have included LearnEd's flagship program, Inspiration Infinity, in their curricula.
The program is actually pretty simple—a series of interactive sessions between professionals and students in the ninth and tenth grades, that can inspire them with real-life stories and inform them about different career paths. But in a city that has been steering its youth population toward engineering careers for the last two decades, it comes across as bracingly different.
Alva says career counseling in Hyderabad has become almost obsolete, as it "simply directs students towards a stream of engineering, based on job opportunities, or to a technical university in the United States." This is especially true for young men. "Seldom are tenth graders encouraged to study arts or commerce," adds Alva, who is an engineering graduate himself.
The idea for the program came during one of the company's initial brainstorming sessions, after team members broke into a discussion about their own lives.
"As kids, we were fascinated by the littlest of things and had no limits to our dreams, but growing up, we only heard about engineering," says Arjun Nair, the head of partnerships at LearnEd. "The education system bound us to just books and exams, so much so that we eventually let our parents decide our career paths for us."
Nair himself started college by studying metallurgical and material engineering at the suggestion of his parents. A year and a half later, frustrated and uninterested in pursuing a career in the field, he dropped out to study business administration instead.
Alva and Nair approached more than 100 schools about a partnership last year. Most of them dismissed the program as an extracurricular activity or an unnecessary expenditure that wouldn't lead to an increase in admissions.
Five schools, however, agreed to pilot sessions, held from last November through March. Of the five, three schools signed up as active partners for the academic session that began in June.
For a metropolitan area of 8 million, this is a small start. But Manju Gupta, an education consultant at St. Michael's, believes it is significant.
"Most students take up engineering owing to parental pressure," she says. "While seeking admission in the school, parents ask us if we provide coaching for engineering entrance exams. During meetings, they insist we give more importance to science and maths over other subjects.
"Their mindsets are rigid, and most school managements have failed to bring about a change. So every student, parent, or school that thinks otherwise matters," Gupta says.
The engineering boom in Hyderabad began after India opened up its economy in 1991. From the late 1990s, under the policies of the state chief minister, N. Chandrababu Naidu, the local IT sector flourished as multinational companies like Microsoft and Oracle set up operations in the city and created jobs.
"A large number of middle- and high-income families in Hyderabad come from the agricultural belt and are first-generation earners," Gupta explains. "They witnessed the success of the city's engineers in India and abroad, especially the U.S., and so they continue to push their children towards it." Young people are steered toward both "core" engineering (civil, mechanical, and electrical) and computer engineering.
As of October 2013, there were 6,214 engineering and technical institutes in India, with 2.9 million students enrolled. The region around Hyderabad has the highest concentration of these institutes, thanks in part to Naidu, who pushed to make Hyderabad a rival to Bangalore, India's Silicon Valley. The quality of teaching at the institutes is uneven, and graduates who don't speak good English or have the right skills are at a major hiring disadvantage.
A nationwide study points to worrisome results. While 97 percent of engineering graduates seek jobs in the field, only 3 percent of them are estimated to be employable in software roles, with another 7 percent in core engineering roles.

What's more, the IT industry isn't growing at the breakneck pace it once was. "The society hasn't adapted to the changing economy yet," Gupta says.
Through Inspiration Infinity, students have interacted with a chef, a theater actor, a venture capitalist, a fashion designer, and this writer, among others. After the sessions, some of Gupta's students convinced their parents to let them pursue careers in journalism and sports. "The program has helped them shed their fears," she says. "For the first time, they're being given directions to follow their passion, and told what each profession really entails."
While Alva realizes there's much more to do in Hyderabad, he's also starting to work with 64 government schools in a tribal area in a nearby region. In association with UNICEF, LearnEd has customized its program to educate elementary school students there about the various vocational courses and job opportunities available to them after school. The aim is to reduce the extremely high dropout rate, about 62 percent among tribal students.
"We have to empower the youth," Alva says. "As long as they study and pursue a career with complete information and inspiration—be it engineering itself—nothing, I believe, will keep them from excelling."
---
This post appears courtesy of CityLab.