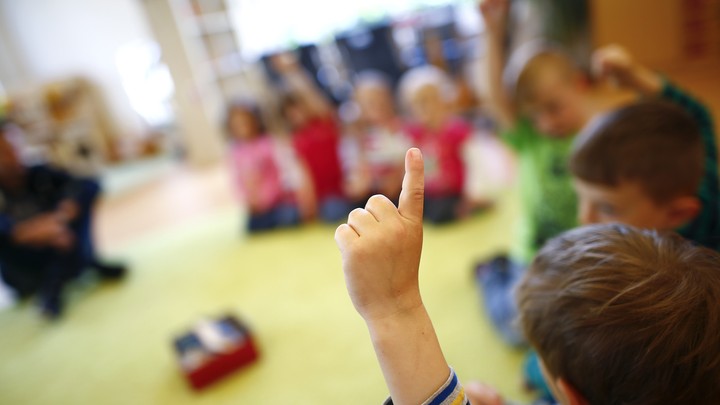 One of the more staggering education statistics to transpire in recent years is that, in most states, daycare actually costs more than tuition and fees at a public four-year college. The finding, which is based on a 2013 report by Child Care Aware America, specifically refers to the care of an infant—but the high costs of caring for and educating children continue until they enter kindergarten. That's largely because, compared to the K-12 and higher-ed sectors, there are relatively few public prekindergarten options in the United States to choose from.
The staggering price of preschool means it's largely open only to wealthier families—even though a new poll suggests that an overwhelming majority of America's adults agree that the country should ensure more children have access to quality learning in their first five years of life. In the same poll, a plurality of them even went so far as to say that Americans should invest more in early education than in college.
The survey was commissioned by the First Five Years Fund, a group that advocates for more federal spending on early-childhood education, and conducted in early September among 800 voters by a bipartisan team of polling companies. And it shows that, unlike so many other education issues, the push for greater investment in early-childhood learning has broad support from people in both parties. When asked whether they supported allocating federal dollars to states and local communities to provide better early childhood education, 94 percent of Democrats said yes, but so did 59 percent of Republicans. Similar percentages said the country should be doing more to ensure kids start kindergarten with the necessary skills, while roughly nine in 10 respondents said it's important to make "early education and child care more affordable for working families to give children a strong start."
The bipartisan popularity of early-childhood-education funding is well-documented. Advocates from across the political spectrum credit early-childhood education with equalizing outcomes, strengthening the economy, and reducing the need for spending on welfare and other social programs. So it isn't surprising that proposals to expand access to pre-k have figured prominently on the agendas of Democratic and Republican politicians alike—including recently elected governors in states such as Pennsylvania, Michigan, and Texas and, famously New York City Mayor Bill de Blasio.
What is rather newsworthy about the poll, however, is that it indicates Americans think the federal government has its "education priorities reversed." Granted, a third of the respondents said that federal investments in early-childhood education and college should be made equally—and as one pundit emphasized in an interview with The Hechinger Report, the poll didn't ask respondents explicitly about the kinds of expenditures they'd cut in order to dedicate more funding to early ed. But of the remaining 500-plus respondents, people were twice as likely to identify early education as the better investment over college.
This would suggest that the presidential contenders would be well-advised to give the issue more play in their platform commitments—perhaps even more so than higher education, an issue that seems to have gotten more attention from candidates so far. As Politico's Kimberly Hefling reported in August, "Presidential candidates from both parties are tapping into Americans' growing angst over paying for college, placing an unprecedented bright glare on higher education this election." Hillary Clinton and Bernie Sanders have sparred over their plans to expand access to higher education, with the former committing to a debt-free-college "compact" and the latter proposing free, universal college for all; Republicans, have criticized various facets of the current system, from accreditation to student loans, as inefficient and antiquated.
But early-childhood education has remained largely unnoticed in the various campaigns. Perhaps that's in part because there's not much to differentiate the candidates on that front, at least at this stage. Both Clinton and Sanders support universal pre-k, and both advocated for the issue in some capacity before launching their campaigns. Meanwhile, Hechinger's Lillian Mongeau noted that a number of the former or current governors running for the Republican bid come from states with robust public preschool programs, some of which developed under their purview.
Roughly half of the country's 3- and 4-year-olds are enrolled in some kind of early-childhood program, whether public or private center-based prekindergarten programs, Head Start, or childcare. A relatively similar percentage of Americans aged 18 through 24 are currently enrolled in some sort of postsecondary education. Federal funding for the two sectors, however, is far less proportional. The federal government spent $76 billion on higher education in 2013, largely in the form of Pell grants. (And given the decline in state support for colleges, that number is only likely to grow.) Early education got just a fraction of the amount. Although the variation in funding mechanisms and program types makes it especially difficult to calculate exactly how much the federal government spends on early-childhood education, Head Start got just $6.5 billion in federal money last fiscal year, while the Child Care and Development Fund—which is in part divvied up among the states—got only $5 billion.
This was the first year the First Five Years Fund asked respondents to compare preschool- and college-funding priorities. "There's no question that candidates are heavily focussed on issues related to education, and lately higher education has received a lot of attention," said Kris Perry, the executive director of the First Five Years Fund, in an emailed statement. "Our goal wasn't to pit early childhood against higher education. But we did want to show the incredible support the American public has for early childhood education, given the overwhelming research showing how critical quality learning experiences are for children in the first five years of life."
This story is part of our Next America: Early Childhood project, which is supported by grants from the Annie E. Casey Foundation and the Heising-Simons Foundation.
We want to hear what you think about this article. Submit a letter to the editor or write to letters@theatlantic.com.
Alia Wong
is a former staff writer at
The Atlantic,
where she covers education and families.