The New Common App?
The Ivy League colleges support the soon-to-be-launched application system—but will it change the odds for prospective students?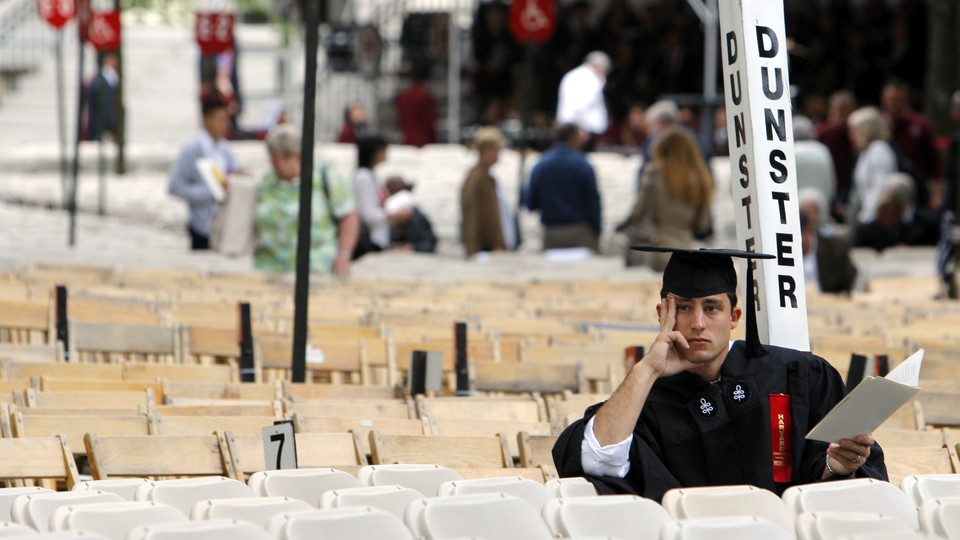 A coalition of 80 colleges recently announced the creation of a free, online college application system that's designed to improve access for disadvantaged students and encourage all kids to think more deeply about higher education early on. Members of the Coalition for Access, Affordability, and Success include big names like Harvard, Brown, Columbia, Wellesley College, the University of Virginia, and the University of Notre Dame.
Research shows that low-income and first-generation students face significant obstacles when applying to elite schools. The
majority of disadvantaged high schoolers
with top test scores
don't apply
to selective colleges with the ability to offer generous scholarships, largely because those students lack information about applying. Instead, those students tend to resort to less selective schools, which seldom offer as much financial support. According to widely cited research by
Caroline Hoxby and Christopher Avery, the average out-of-pocket cost to attend one of the most competitive colleges for a student in the 20th percentile of family income in the 2009-10 academic year was $6,754; that same student paid $23,813 at a "very competitive" yet lower-ranked school. Hoxby and Avery speculate this "undermatching" may be due to the limited guidance they receive from high-school counselors and family members.
According to the coalition's website, the new application system, which doesn't have a name yet and launches next summer, is equipped with online tools designed to empower those students, in part by helping them find well-endowed colleges and encouraging them to hone their qualifications and admissions savvy throughout high school. This will set it apart from the Common Application, its most widely used counterpart, and protect students in case that system malfunctions—as it did in 2013. Some experts, however, are concerned that this platform will increase stress on students, make an already complicated process more opaque, and create another hurdle that can even perpetuate inequality.
The coalition started exploring the need for a new online application about two years ago, according to Jim Nondorf, who oversees admissions at the University of Chicago and is helping spearhead the initiative. That was the year the Common App was plagued with a number of technological glitches, including difficulties copying and pasting from Word documents and issues with the "Submit" button. "It was very challenging for us," Nondorf said. "It created extra angst for students. We didn't want to put students through that again."
The admissions deans at several colleges, according to Nondorf, envisioned a system that would both benefit low-income students and foster innovation in the application process. The idea was to connect disadvantaged kids with affordable schools that serve successful students who graduate at high rates. "If you're a first-generation student, this is a very daunting process," Nondorf said. The new platform is designed to let these kinds of kids know: "Here's a bunch of schools that want people like me." Eventually, the coalition schools hope to leverage the new application system to give advice directly to students, particularly those who can't otherwise turn to guidance counselors or parents.
The website was created by CollegeNet, a software company based in Portland, Oregon, that hasn't yet charged schools for building the platform but will likely do so in the future via a per-applicant fee. Colleges in the coalition that currently use the Common App will accept both types of applications, and while students will still have to pay the standard fees for applying to schools—a little less than $40 on average—all the tools on the platform's three components are free to use.
The first component is a digital portfolio, or "locker," where students can upload examples of their work from high school, like English essays, and record information about club membership and sports participation. Students can input this information at any time during high school, so they'll have easy access to it once they start applying to colleges; it isn't automatically sent to those institutions. The process of curating these details may push students to reflect on their interests and goals, too. Many high schoolers already use a similar website, Naviance, which provides information about the requirements for the various colleges and allows parents and students to take note of their extracurricular activities and achievements throughout high school. However, because Naviance requires that high schools pay for its services, only 40 percent of students have access to the platform. The new website, according to the coalition, won't have that kind of paywall.
The second component is a "collaboration platform," which allows students to share the information in the "locker" with teachers, high-school counselors, and other mentors who can offer advice on their work and future plans. (Although college administrators won't be able to provide help through the platform, students can continue to directly write those schools for help.)
The third, of course, enables students to submit their applications—ones that, unlike the Common App, will be institutionally specific and "clearly branded," providing tools for colleges to design their own essay questions and prompts. Students will also be able to submit a variety of media, such as artwork or video essays.
While students typically have the option of using a given college's unique application, 860,000 of them—about a third of them first-generation students—last year used the online Common App to submit 3.5 million applications. The application, which is used by hundreds of colleges and asks students for their GPAs, standardized-test scores, extracurriculars, and a 650-word personal statement, may be responsible for the surge in applications at colleges around the country.
According to Nandorf, the coalition isn't attempting to challenge the existence of the Common App: "We also love the Common App and will continue to use it," he said. "The most important thing from my standpoint is there is no interruption in the ability of students to apply to college. Two applications guarantees that there will always be a backup system in case of a technology problem." Nandorf also suggested that the new technology and the competition between differing application systems could lead to innovation and other benefits."Everything we are trying to do is to create another robust alternative for college applications," he said. "There is no downside."
Still, it's not entirely clear how the new application system will reduce "undermatching" and increase access to highly selective colleges among low-income students. For one, disadvantaged students are less likely than their more affluent peers to have access to high-speed Internet at home and, therefore, could face difficulties utilizing the online tools in the locker. For another, given that low-income students tend to have fewer mentors capable of providing college advice, they may not be able to take full advantage of the platform's collaboration feature. And a new application system with its own set of writing prompts could only make things more intimidating for low-income students.
High-school guidance counselors spoke out against the new platform earlier this month at the annual meeting of the National Association for College Admission Counseling. As Inside Higher Ed's Scott Jaschik reported, the counselors worried that those English essays and other portfolio items would eventually become mandatory, that the features could be prone to manipulation by private advisers hired by wealthy parents. They also worried about encouraging students to focus on college too early and consequently miss out on the high-school experience.
I'm beginning to help my son, a junior, navigate the college application process, and together we are wading through a sea of information about tests and deadlines. Last month, we attended a meeting at his high school with a test-prep-company representative who presented a Powerpoint about the differences between all the different assessments—between the new and old SAT, and between the SAT and the ACT, and so on. Later, my son didn't know the meanings of early decision, early action, and rolling admission, so I explained them to him after doing some research on the Internet. The point is: Applying to colleges is confusing and stressful—even for students with lots of resources.
College Confidential, a popular counseling website, provides a glimpse into the application process. On its forums, students—and often their parents—discuss methods for creating a polished application and finding a spot at a top school, as well as answers to popular questions: What is the optimal number of AP classes? How many times should a student take the SATs? How important is the interview at a liberal-arts college? There are also hundreds of books and newspaper articles that offer college-admissions advice to high schoolers. On a Slate podcast last week, a private consultant discussed how many extracurriculars students should have. (The answer: Students should think deeply about the narrative that they want to tell and choose extracurriculars that will best support that narrative.) The sheer volume of information is so overwhelming that even well-educated parents, according to The New York Times, sometimes find it necessary to hire an admissions adviser to explain requirements and find a college that is a right fit for their child.
And in the end, the admissions process at many Ivy League schools may end up being all but random. At least that's the argument of Ben Orlin, a math teacher and Atlantic contributor who recently announced on his blog, "Math With Bad Drawings," that he had quit his job as an interviewer for Yale: "As much as I loved my college education, it drives me crazy to be the face of a process that's unpredictable, opaque, and (at least 94% of the time) disappointing." In the last decade or two, he explained, "Yale's applicant pool has gone from 'hypercompetitive' to 'a Darwinian dystopia so cutthroat you'd feel guilty even simulating it on a computer, just in case the simulations had emotions.'"
And with a new college application in the mix, it's easy to envision more Powerpoint presentations, podcasts, and online forums that offer students strategies on identifying the best way to pursue the college of their dreams. Ultimately, these processes are riddled with deep inequities. Even if affluent students find the college-application system stressful, they are typically supported by parents, qualified guidance counselors, expensive resources, and even private advisers. Those mentors are able to prepare students to compete for the handful of seats at the most competitive schools; lower-income kids rarely have these advantages. And unfortunately—absent solutions to lacking technology and mentorship—the coalition's new system may only add yet another topic on College Confidential that will be over-scrutinized by savvy students, affluent parents, and for-profit college consultants.