Bilingualism: When Education and Assimilation Clash
Nearly one in four U.S. public-school children speak a language other than English at home. What's the best way to accommodate ELL students in the classroom?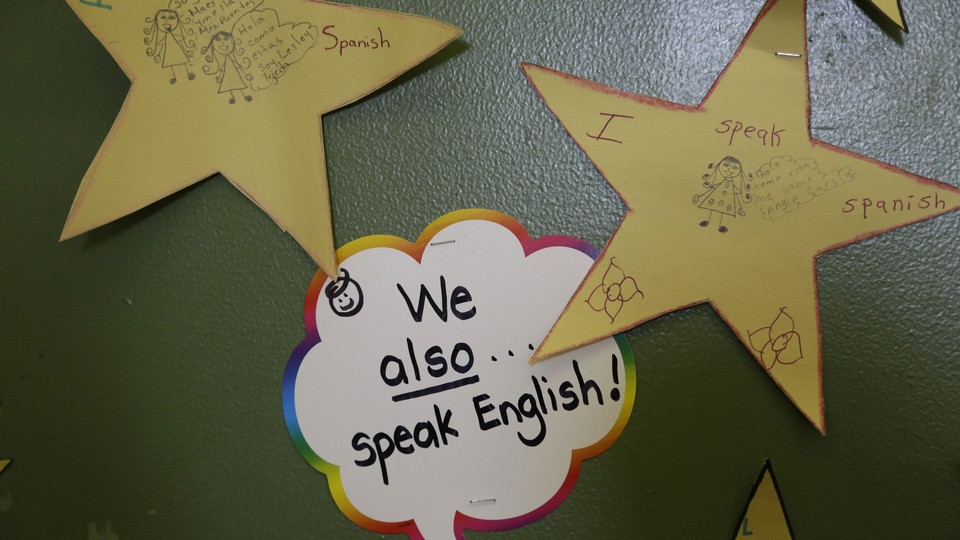 With more than 20 languages spoken in one eighth-grade classroom, Harlem Village Academy West in New York City rivals the vibrant cultural and ethnic mix of the United Nations headquarters, a short trip down the FDR Drive. Spanish, Mandingo, Fulani, French, Arabic, and other languages come together to form a tapestry of nationalities. Yet unlike the U.N., the premier institution representing the peoples of the world, public schools have not always encouraged children to embrace their heritages. Indeed, as non-native English speakers, some of the Harlem Village's middle-schoolers relate feelings of isolation as younger children solely based on their attainment of the English language.

Chelsea, a 13-year-old Spanish-speaker who learned English in the third grade, recalls her earliest years in school as especially difficult amid her struggles to communicate with peers. "I used to get mad and aggravated because I couldn't speak English," she says. "People were looking at me as if I were another type of human being." Her classmates share similar frustrations. "I felt dumb and left out when we did advanced math because my teacher wouldn't let me do it even though I knew I could," says Yaye, a bright 14-year-old who speaks Wolof, the most widely spoken language in Senegal, at home. Yaye says he languished in his K-2 English-as-a-second-language classes, "not progressing or learning." Melyanet, also 14, remembers feeling alienated and lonely when she was in prekindergarten—an age when children often sharpen their social skills through play. "I would try my best to learn English but it was hard," the teen recalls. "No one spoke [Spanish] so I wouldn't make friends. I would sit in the back."
The adolescents at Harlem Village are part of a rapidly growing population of students in America's public schools with diverse linguistic backgrounds. Of the 50 million students currently enrolled in public K-12 schools, almost one in four (12 million) schoolchildren ages 5 to 17 speak a language other than English at home, according to an analysis of census figures. Their numbers have inched up over the last decade, along with the percentage of students participating in English-language-learners programs. Department of Education data shows this segment of the public-school population is steadily climbing. Some 4.4 million students—ranging from those who don't speak English to those transitioning into full proficiency—were classified as English language learners in the 2012-13 school year, an increase of more than 250,000 students over the previous decade.
Even as states struggle to reach a common definition of what it means to be an English language learner, the proportion of these students continues to rise—and with it, the temperature of debate surrounding the purpose and goals of bilingual education. It remains an unsettled issue that continues to challenge America's self-image as welcoming and inclusive: The value of linguistic assimilation is pitted against the values of a culturally diverse nation of immigrants, leaving education systems and its students caught in political crosshairs. The divide is exacerbated by financially strapped schools with skyrocketing numbers of English learners—meeting all of the mandates for their education can be expensive—and the national discourse on immigration, which saw the 2016 presidential contender Donald Trump advise his competitor Jeb Bush to "really set the example by speaking English while in the United States."

Many trace today's fraught bilingual-education politics back to the Bilingual Education Act, which was adopted in 1968 to aid local school districts in educating children with limited English. At the bill signing, President Lyndon B. Johnson voiced his enthusiasm for a law that would bring an unprecedented federal role and funds to the education of children whose first language wasn't English:
Thousands of children of Latin descent, young [Native Americans], and others will get a better start—a better chance—in school … What this law means is that we are now giving every child in America a better chance to touch his outermost limits—to reach the farthest edge of his talents and his dreams. We have begun a campaign to unlock the full potential of every boy and girl—regardless of his race or his region or his father's income.
Yet bilingual education's cultural, social, and historical dimensions date back well over a century before Johnson signed his landmark education law. In recounting the history of bilingual education, Rethinking Schools chronicles the earliest efforts to teach immigrant students. The first bilingual-education law, enacted in Ohio in 1839, created a German-English language program and was followed by similar laws in Louisiana and the New Mexico area geared around French-English and Spanish-English instruction, respectively. As the trend accelerated, more states and localities began dual instruction in an array of languages, including Polish, Italian, Norwegian, and Cherokee. The onset of World War I—and its accompanying era of xenophobia, discrimination against language minorities, and English-only laws—quickly brought this trajectory to an end. This pattern continued through the 1920s as the tension between forced assimilation and educationally sound practices continued—and as the academic performance of students with limited English skills began to suffer. The passage of the Bilingual Education Act, part of a wave of civil-rights legislation pushed through Congress by the Johnson administration, ushered in a major shift once again and a return to bilingual instruction in many of the nation's schools. But as the Act was reauthorized in the 1980s and '90s and then subsumed under No Child Left Behind in 2002, national policy seesawed between prioritizing multilingual skills and an English-only focus.
Today, schools are still twisting in the wind of politics, with 31 states passing laws naming English the official language over the last two centuries and voters in California, Arizona, and Massachusetts approving ballot measures in recent decades that replace bilingual education with English-only policies. Meanwhile, a growing contingent of educators are promoting the cultivation of bilingualism to support the social and emotional needs of English language learners.

Olga Kagan, a languages and cultures professor at UCLA and director of the university's National Heritage Language Resource Center, has studied the implications of denying students the ability to communicate in their parents' native language. "Many of these students have no literacy in the language they speak," she wrote in a December 2014 Los Angeles Times op-ed. "And that is a problem."

Rather than ignoring English in the classroom, Kagan calls for capitalizing on the language skills students already have and taking their background knowledge into account. "I think the main roadblock is societal attitude to bilingualism ... We lose much of the nation's capacity in languages by letting go of this resource," she told me recently. And the various benefits for students are evident. Kagan's survey of California college students found many "heritage speakers" wished to study their home language at school to connect with their culture, build their literacy, and strengthen their bonds with relatives.
Driving much of the decision-making in English-language instruction are myths that need debunking, says Rusul Alrubail, an education consultant whose work focuses on English-language learners and pedagogical practices in the classroom. "Banning [a child's] first language often creates a negative impact ... a sense of divide for students between their first language, often used at home, and English. We see students who refuse to be associated with their first language, or refuse to speak it or acknowledge that they know it, due to them feeling ashamed ... This impacts their cultural identity."

Among the consequences, says Alrubail, are when students internalize the notion that their first language is inferior—with English becoming the language of assimilation—and when some immigrant families specifically ask their kids not to speak in their first language at home in an effort to ensure their children conform to Western culture. Interestingly, research finds mixing languages has no impact on children's vocabulary development. But the pressure from teachers and schools, enshrined in policy and practices, can be immense.

"Many teachers believe that in order to learn English one must assimilate to American culture and abandon one's own cultural practices," Alrubail said. "This is always a result of fear and anxiety; when students do not meet their expectation of what it means to be 'American,' it becomes imperative to speak English."

The upshot of this mindset is seen in Amadou, a 13-year-old at Harlem Village who speaks Fulani, a Niger-Congo language spoken by 13 million people in many parts of in West, Central, and North Africa. "Nobody spoke my language except in my home [so] I would only try to speak English so they wouldn't look at me differently. I wanted to fit in with everyone else and be the same," he says. Will his native language, rich in tradition and heritage, soon slip away as the middle-schooler slowly simmers in America's melting pot?