Taking Sanctuary at a Military School
Sometimes, rigor, structure, and healthy habits are what it takes to get a struggling teen back on track. But will the impact disappear once graduates reenter the outside world?
SAN LUIS OBISPO, Calif.—For the first-time spectator, the commencement ceremony for Grizzly Youth Academy probably looks strange. The students are wearing gray uniforms instead of graduation gowns, and they're following their flag-bearing platoon leader across a parking lot, marching in cadence, instead of following a teacher across a lawn in perfect silence. Grizzly is a public charter boarding school that, along with another three dozen or so institutions participating in the National Guard's Youth ChalleNGe Program, uses a "quasi-military" style of discipline to help students with a history of failure at traditional schools. After 22 weeks of classes, the "cadets" commemorate their accomplishments by parading in formation, doing synchronized push-ups, and shouting out to their family members.
A closer examination of the ceremony reveals a group of kids acting exactly as one would normally expect and hope for on graduation day. They're happy, thankful, and proud—a sentiment that's evident in their precise attention to detail, including in the way they stand, walk, and dress. Their Jody calls during the parade—ones they choose themselves—often declare repentance for past behavior and express gratitude for their parents and school. And when they're not marching or standing at attention, the students can be found hugging each other and beaming outwardly.
Indeed, these cadets as normal kids who love learning in an ordered environment. Weeks later, I separately interviewed two students selected at random, and each of them immediately credited Grizzly's "structure" for their improved grades. Among other factors, the students said they said they get much more quiet time at Grizzly than their former schools, which they both described as "noisy."
This "quasi-military" environment—which includes an emphasis on healthy habits, etiquette, a strict anti-cellphone policy, and an explicit chain of command—isn't (or at least shouldn't be) such a radical reformation in the way schools educate teens. Rather than focus on students' supposed academic deficiencies—including their intelligence, personal character, grasp of the Common Core, or ability to concentrate—school districts might be better served to reflect on the structural and social deficiencies they face outside the classroom. But is military-inspired education the best way to improve the outcomes for students who struggled elsewhere?
​* * *
Evidence of student success at Grizzly goes much deeper than superficial happiness and temporary pride. The announcer at the ceremony proclaimed that the graduating cadets had earned an average 3.4 GPA during their time at Grizzly—surely a vast improvement for these students, almost half of whom said that they had earned "mostly Ds and Fs" at their former schools, and three-fifths of whom are low-income. According to an MDRC study of former ChalleNGe students three years after they had participated in the program, close to three-fourths of them had attained a high-school diploma or GED certificate, compared to just a little over half of the control group; 35 percent of the former had earned college credit, versus 19 percent of the latter. (Admission to the school is based on a lottery; the study's control group consisted of students who had applied but weren't admitted.) These are considerable distinctions considering that more than 100,000 students have completed the program.
When I watched the cadets graduate this past July, their baggy, sloppy-looking uniforms served as a reminder of the program's focus on physical activity: Many of the students lose incredible amounts of weight after running, marching, and engaging in strength and core exercises on a daily basis, as well as forgoing junk food—some of them for the first time in their lives.
The word "foreign" popped in my head more than a few times, both because the event was so unlike typical graduation ceremonies, and because the conformist nature of the marching reminded me of other countries. The irony of this, of course, is that they were wearing U.S. military-issued clothes, and emphatically honoring the flags of the United States and their direct sponsor, the National Guard. In some ways, it was the most patriotic graduation I'd ever attended.
Yet some news outlets have recognized, especially recently, that the U.S. military is becoming more and more foreign to its own civilians. In May, the Los Angeles Times published a report describing a pronounced "estrangement between the military and civilian worlds" and asserting that "the U.S. military today is gradually becoming a separate warrior class … increasingly distinct from the public it is charged with protecting." Earlier this year, The Atlantic's James Fallows wrote about the "implications of a widening chasm between civilian and military sectors of society," citing a university dean who said that military students are "a better version of foreign students." Ultimately, Fallows concluded with a recommendation Gary Hart had made to President Obama: "Americans in general and the soldiers, sailors, and airmen and women who protect them must be more closely linked."
This may raise questions about the merits of a school like Grizzly Youth Academy. For one, military-based educational institutions are often suspected of recruiting students of low socioeconomic backgrounds. In an essay posted by the nonprofit Rethinking Schools last fall, one teacher described the establishment of her high school's JROTC—a program sponsored by the U.S. Army—as a "military invasion" of her campus, promoting gun culture and militarism at the expense of critical thinking. Similarly, Lawrence Wittner, a professor of history emeritus at SUNY Albany, wrote in an op-ed last month that JROTC programs were examples of "militarism run amok" and compared American students who "wear military uniforms and conduct military parades" with small Russian children learning to hold grenade launchers. And a few years ago, USA Today ran a feature on a plan to establish a Marine Corps high school in DeKalb County, Georgia, that was met with "protests by parents and threats of lawsuits almost as soon as the school board announced (its plans)." The school, according to USA Today, was designed to "give at-risk teens a place where they can flourish."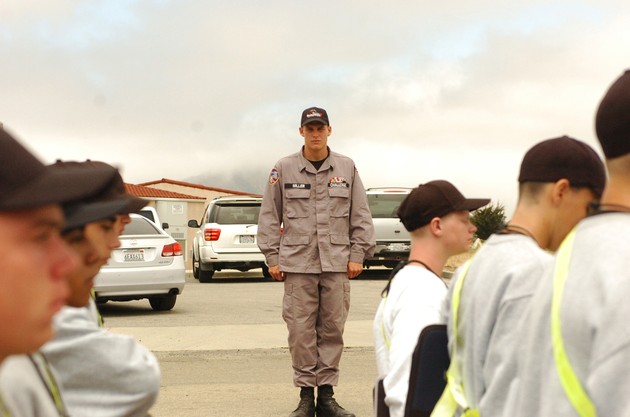 The Youth ChalleNGe Program attempts to strike a balance between seemingly conflicting philosophies with its "quasi-military" structure, one that draws inspiration from the armed forces to provide support for civilian students and teachers. The same three-year study by MDRC, a nonpartisan education and social policy think tank, shows that the program's alumni aren't significantly more likely to join the military than the control group. And the teachers at Grizzly are credentialed civilians.
The graduation ceremony was also only "quasi-military" in that the second half was all about the individual—sans all the Jody calls and marching. Taking place in Cal Poly's Performing Arts Center, this part was designed to showcase students' talents, including through the presentation of awards and scholarships for academic excellence, fitness, improvement, and inspiration. One of the female cadets, Rayana Wedge, sang "I Am Not Alone," which thrilled her platoon. Wearing her cap and gown over her uniform (with her boots sticking out), she beamed as she sang through a few tears. The next act was a duet that blended acoustic guitar with a rap. Still, each recipient stood tall and walked in straight lines and right angles; before accepting his or her award, the cadet would plant a heel, execute a sharp quarter-turn, and give a crisp salute.
Near the end, the valedictorian gave his testimony. If he hadn't come to Grizzly and worked with all of his fellow cadets, he said, his life would be drastically different. "Instead of pursuing a law degree," he said with a smile, "law enforcement would be pursuing me."
The final awards went to the top male and the top female, based on their academic standing, leadership traits, and physical accomplishments. The female recipient, Alexandra Felix, closed the ceremony with an emotional story that epitomized her experience at Grizzly. Recounting the confusion she felt after her parent's separation and the pain she later caused her family, she ultimately reminded her female platoon mates of their first day meeting each other, how they had to hike a mountain in the rain, blindfolded and relying only on each other. "We had to trust each other, even though we didn't even trust our own parents," she said, "And we were told: Who carried you for 9 months? Who fed you? Who sheltered you? And we all cried."
For all the talk of their generation's sense of undeserved entitlement, here was a graduating class whose members were "underserved" and "socioeconomically disadvantaged"—teens who had effectively volunteered to change their lives. Ultimately, however, they have to leave the grand stage and return home. Ideally, they've learned enough self-responsibility and good habits that they're ready to effect actual change in their former lives, but it's difficult to know with certainty. And, while MDRC's study was generally positive, some findings were rather  disappointing. For all the aforementioned success of ChalleNGe alumni, after three years, there are few significant differences between them and their peers in the control group on measures of crime, delinquency, health, or lifestyle outcomes.
At this point, it's easy to conclude that the alternative charter school offers a significant respite from turbulent lives, but when it comes to "real life," it's up to the individual child whether they're successful, and to what extent. In-depth interviews conducted by the MDRC showed that even among the teens who sought to get on the right path still struggled to pay for college, balance their studies and work, find reliable transportation, and help their own parents and siblings. But when there's evidence that a radically different educational culture can dramatically and visibly improve a student's opportunity for success, maybe it's time to reconsider the source of failure in "real life." Because it's clear that when these kids are simply protected, unplugged, fed well, held to certain standards of decorum, and given space to concentrate, they naturally create music, speeches, friendships, and muscle tone.
Almost everyone in the PAC was wiping their eyes after the sergeant looked across the graduating class one last time and said, "dismissed." With the caps flying in the air, the kids hugged each other and then excitedly looked for their families. I thought back to the first half of the commencement ceremony, when one platoon was doing synchronized push-ups while calling out: "Back home, back home, back home where I belong. We're all going home now, good luck in the hometown." After 22 weeks, the Grizzly graduates are certainly ready to go back home. It's not as certain their hometown is ready for them.