How Food Trucks Are Making School Lunch Cool
The same fruits and veggies, coming from a food truck, just seem to be a little more appealing.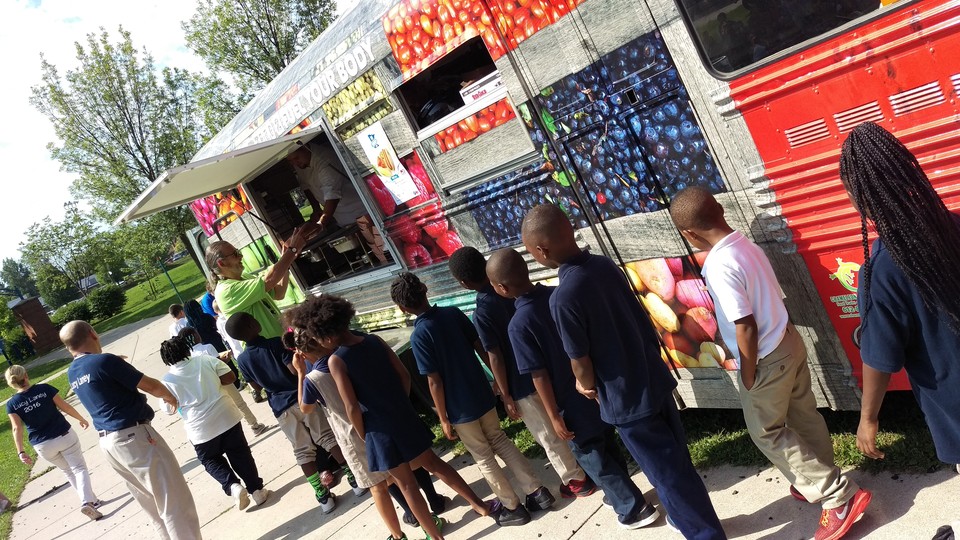 Getting high-school students to embrace healthy eating is an age-old battle. And when it comes to lunch, many eschew their school cafeteria in favor of eating off-campus, where healthy choices don't always abound.
Now school districts are starting to lure their students into eating better—by getting their own food trucks up and running on campus.
"Food trucks are a great addition to school food service—both from a way to engage the older kids and a way to engage the community," says Ann Cooper, the director of food services at Colorado's Boulder Valley School District. "It's part of a great overall marketing strategy."
Last year, Boulder Valley became one of the first districts in the U.S. to start serving school lunches at a food truck during the academic year. The vehicle, which has been attractively styled as a cross between a rustic farmhouse and a milk truck, was funded by a $75,000 grant from Whole Foods Market.
Cooper says that though the truck mostly serves the same food as the cafeteria and the prices are identical, the students find the truck food more appealing.
"It's meeting the kids where they are to provide a cool environment," Cooper says. "There's a different vibe to it, with music playing."
In addition to rotating among local high schools during the week, the truck also comes to the district's elementary schools for special events.
"Cafeteria participation has been up and so is the number of kids eating at the food truck," she says. "So we're getting a demographic that never [ate at] the cafeteria before … Kids who walked off campus are now eating at the food truck."
This spring, the Minneapolis School District will start serving daily school lunch from its food trucks, which have successfully been feeding students at field trips and special events for three years. Like Boulder Valley, the truck will rotate among its high-school campuses.
"Principals have been begging us to get the truck out there," says Bertrand Weber, the director of food services. "The main challenge is that we can't keep up with the demand."
Weber worked with chefs at local restaurants to develop recipes for the truck's brown rice-based carnitas bowl, orange chicken bowl, and curry chicken bowl. They're part of the district's partnership with chefs to develop healthy recipes (such as beet hummus) made with local food.
"In just the first three weeks of this school year alone, we served 28,000 pounds of local produce," Weber says. He also has found ways to work with producers to develop new markets for their products.
"I worked with a small local turkey farmer and developed a turkey burger and hot dog—and found a processor to do this," he says. "We're working next on a breakfast sausage. We're another outlet for dark meat [since] not as many buy the leg and thighs."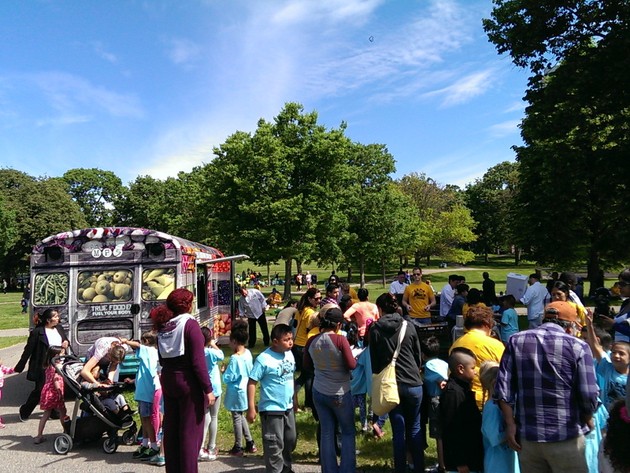 The Minneapolis School District set up its first food truck three years ago, after Hunger Free Minnesota asked it to write a grant for a vehicle to feed underserved students during the summertime.
The district acted quickly. By June 2012—just four months later—its truck was out at parks and libraries dishing out lunches in four neighborhoods.
"It took about one and a half months to find a bus and two months to convert it," Weber says. "We worked with our transportation program and they found us a minibus that had been used for disabled students."
With only a food warmer, refrigerator, and sink on board, the truck isn't well-equipped to prepare food. But when parked on campus, Weber says that it can serve up to 700 students in 90 minutes, thanks to the ability to bring in more food stored in school refrigerators.
The truck—which has been decorated with the district's "True Food" campaign theme using bright photographs of fresh produce—has served students at special events such as parties, graduations, and school-year kickoffs. It's also tagged along on school field trips to serve up to 350 students hot lunches or dinners.
The strategy of using mobile units to feed hungry children isn't entirely new. In 2013, the U.S. Department of Agriculture (USDA) began sponsoring summertime buses and food trucks across the country in areas in which it was difficult for children to access the agency's established food service sites.
"Mobile feeding is a successful strategy that community and state partners have found to improve their capacity to reach food-insecure children when school is not in session," said Audrey Rowe, the USDA's Food and Nutrition Service administrator, in an email.
Minneapolis and Boulder Valley have also found that the trucks can help raise money for the district's food-service programs.
To break even, Minneapolis's truck needs 200 students to buy meals during one lunch service—but has the capacity to serve 500 more during that time period.
"Anything above that helps our entire [food service] program," Weber says.
And Boulder Valley's truck moonlights for the district's catering operation, where it has appeared at TEDx Boulder and a local harvest festival. (The district obtained a city and county license to serve food.)
For Cooper, using the food truck for catering provides more than just extra money.
"It's a driving billboard," she says. "That increases our visibility overall and the quality of what we do."
---
This article appears courtesy of Civil Eats.