When the Boss Foots the Bill for College
A growing number of companies are picking up the tab.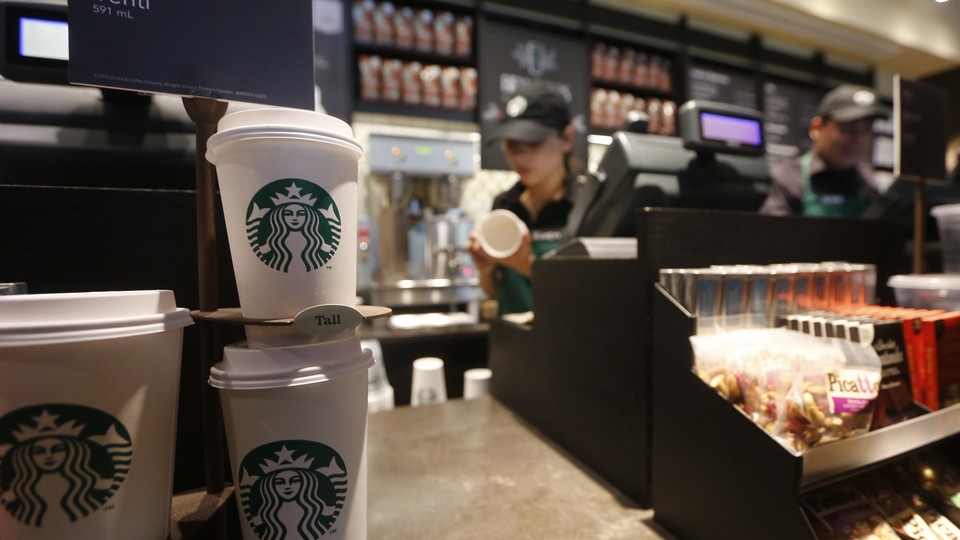 With a tepid economic recovery and wage growth that fails to meet expectations, some workers may be wondering whether there's an antidote to the fiscal malaise.
Increasingly, many large companies are offering their employees the chance to pursue a college education at little or no cost, giving them an opportunity to bulk up their resumes even when their paychecks can't keep up with the growing costs of a degree.
Large companies like the oil giant BP, accounting firm Deloitte, tech behemoth Google, and even food-maker Smuckers either provide discounts to select courses at eligible colleges or cover the full cost of tuition. An employer survey from 2013 found that 61 percent of companies make available some type of tuition-assistance program. Parcel firm UPS offers its employees a $15,000 tuition credit and cut deals with regional colleges in Illinois and Kentucky to provide its workers free courses.
That's in addition to the marquee partnership between Starbucks and Arizona State University, which grants workers of the coffee colossus who work at least 20 hours a week reimbursement for a four-year online bachelor's degree at the university. The Atlantic reported on this initiative in the cover story of its May 2015 issue.
The growing prominence of employer-backed college attendance speaks to a larger trend that sees more adults in the United States attending college later in their lives, said Nicole Smith, an economist with the Georgetown Center on Education and the Workforce. Rather than viewing education as a "pipeline," Smith said the current education landscape is "more of an ecosystem, … perhaps a revolving door, because we have so many people who at their various points in their lives are required to go back to school."
Already roughly one in five jobs requires a certificate on top of a bachelor's degree, forcing current and aspiring workers to pursue additional educational training. But the financial strain workers might feel from keeping up with employer demands can be daunting, even when factoring the wage premium college educations can bring.
Smith said that whereas in the 1980s the ratio for financing a college education was 60 percent federal, 33 percent state, and 7 percent from families, today it's much different. Families are now on the hook for half of all education expenses, while state spending has dropped to just 16 percent and federal to a third.
This jump in expenses incurred by families comes just as far greater numbers of Americans are heading to college and many of those students will need more than loans to fund their way to a degree. A forthcoming Center on Education and the Workforce report finds that one-third of all undergraduate students younger than 30 are working full-time; the same is true for 75 percent of undergraduate students older than 30.
"It's no longer, 'Okay, I graduated, I throw my mortarboard in the air and it's done; I'm never going back," Smith said.
Companies may have an incentive to help as well. Numerous employer surveys show bosses are unsatisfied with the skills their employees bring with them; partnering with colleges can be a way for companies to plug the holes in their workers' professional skills.
Already companies spend more than $164 billion on employee training and education according to a recent employer survey—only about $15 billion less than what states and the federal government combined spend on higher education.
"Why is it that companies have to replicate dollar for dollar the entire U.S. spending on all postsecondary education," began Karl McDonnell, the CEO of the for-profit Strayer University. "Seems like a huge opportunity cost to me."
Strayer recently inked a deal with the United States division of Fiat Chrysler Automobiles to provide 118,000 employees of the car manufacturer's 2,400 dealerships a full ride to attend Strayer's degree programs. All employees who have been on the job for more than 30 days and are seeking an associate's, bachelor's, or master's degree are eligible and receive the money for tuition, books, and fees upfront—unlike the Starbucks plan that reimburses workers, meaning virtually all its workers take out loans.
The arrangement between Strayer and Chrysler followed two years of conversations between the two companies. The university overhauled its courses to address the specific needs of the automotive firm, tossing out case studies on other industries and replacing them with a curriculum directly tied to car dealerships, like supply-chain logistics and sales.
"We see it as a really transformative benefit," McDonnell said. "If you just think logically: If I'm selling cars and I work for Honda and I don't have a degree but I want one, and Chrysler is offering me the opportunity to get a college education with zero debt, zero out of pocket expenses, I'm probably going to leave Honda."
Adding and maintaining workers is one of the chief reasons Chrysler risked the huge costs to finance its partnership with Strayer, which in addition to its online courses has nearly 80 campuses across the country. An executive for the car company told Fortune magazine in May that 45 to 60 percent of its dealership employees quit their jobs each year. The "largest issue is how to attract the right talent to take customer service to the next level," the executive told Fortune.
McDonnell is confident Strayer can eventually cut that turnover in half, ultimately generating more revenue for Chrysler in employee retention than it spends on its relationship with Strayer. He may be right: A 2008 report by the Society for Human Resource Management calculates that total costs associated with turnover range from 90 percent to 200 percent of annual salary.
McDonnell carries the same confidence when talking about Strayer's other large business partnerships, like those with Verizon and Home Depot.
But the for-profit provider and Arizona State may be outliers. "For most colleges, they need to think about whether they think they can bring in more money than the additional students cost," said Robert Kelchen, a professor at Seton Hall University who studies the relationship between employers and colleges. "So if capacity is a concern, particularly for an in-person program, colleges might be less likely to do it."
Smaller companies may be unwilling to float the expenses of providing workers funds to attend college. With few exceptions, the federal tax code limits tuition reimbursement incentives to slightly more than $5,200 a year before workers pay taxes on their benefits. That's a sum that may be enough for tuition at a community-college education, but not typically a four-year institution.
And then there are the optics. A reporter with Inside Higher Ed asked Strayer's McDonnell if companies are touting their tuition-assistance programs just to win media points.
"Yes," he said.
---
This post appears courtesy of the Education Writers Association.