Farewell to America's Small Colleges
The Sweet Briar phenomenon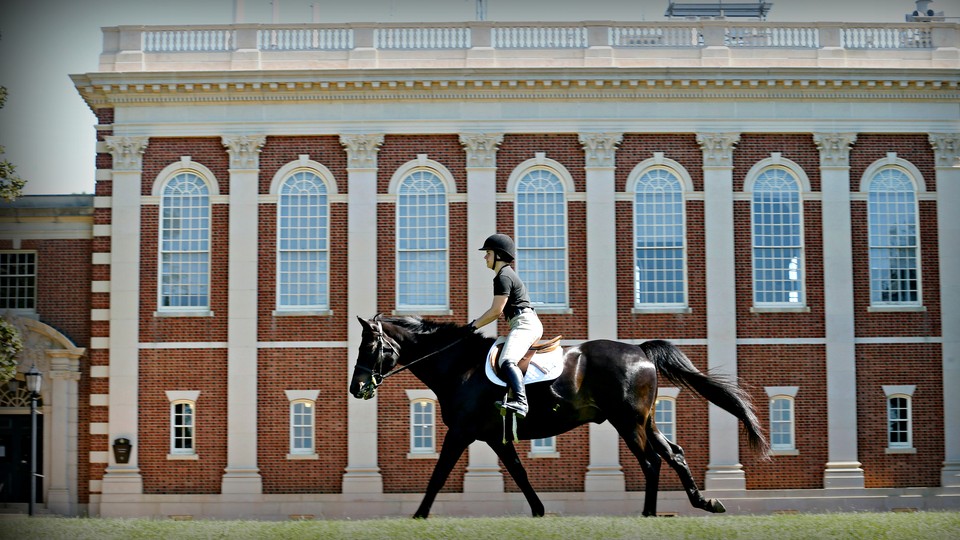 "Schools will do anything to survive," said Kent Chabotar, a former president of Guilford College, in a recent interview with Inside Higher Ed. "The last thing a school wants to do is shut down."
Take Sweet Briar College. The small women's school—a quaint liberal-arts college in rural Virginia—was famously slated to close up shop this year. Although the March announcement came rather abruptly, Sweet Briar in many ways had long been fated for collapse. It was, as Laura McKenna reported for The Atlantic in March, both tethered to its single-sex enrollment policy and removed from many of America's modern-day realities. The $47,000 ticket price didn't help, either.
But then, at the very last minute, Sweet Briar was miraculously resuscitated, largely thanks to a generous influx of alumni donations. Determined to keep the school alive for at least another year, administrators managed to enroll roughly 250 women this semester—about half of last year's enrollment. "At Sweet Briar, the impossible is just another problem to solve," read a sign in front of the admissions office on the first day of school, according to the Washington Post. The college's students are now a little over a month into their fall classes.
Unfortunately, Sweet Briar's future—along with that of similar higher-education institutions across the country—doesn't look too sweet. According to a recent report by Moody's Investor Service, the United States could see as many as 15 colleges shuttered annually by 2017 (while many less-unlucky colleges are expected to merge.) That's triple the closure rate typical over the last decade, which saw an average of five colleges close annually. "Sweet Briar probably will not be the last to flirt with closure," reported Fortune magazine last month, noting that Moody's had ranked three dozen colleges' bonds as either junk, on the cusp of junk status, or "low investment grade."
Overall, these trends help illustrate how U.S. higher education is evolving. They're also a testament to young Americans' ever-changing postsecondary preferences and priorities.
According to the Inside Higher Ed article in which Chabotar was quoted, the key challenge faced by small colleges is declining enrollment. Drops in enrollment, in turn, mean less tuition revenue—circumstances that put private liberal-arts schools, which tend to be especially dependent on those student dollars, on very shaky ground. A vicious cycle ensues. Less revenue equals budget restrictions, which equal fewer resources for prospective students. At a school like Sweet Briar (which boasts the country's largest indoor college equestrian arena and stables that house dozens of horses), losing funding for resources can prove particularly detrimental to recruitment efforts. Chabotar told Inside Higher Ed that he describes this predicament as the "iron triangle of doom."
One reason these schools are seeing their enrollments slip is that today's students just aren't as keen as their predecessors were on attending small, relatively obscure liberal-arts colleges in rural settings. Large universities are increasingly appealing to today's college-goers, Inside Higher Ed reports, as are prominent institutions with names future employers will recognize. And according to Mark Becker, the president of Georgia State University in Atlanta, so is urban location.
As a 1984 paper in The Journal of Higher Education attests, this trend traces back decades: "Many colleges are troubled by inflation and shrinking applicant pools," wrote Martine Hammond, then an assistant professor of higher education at the University of Kansas, "but small private colleges are the group most crucially threatened by these conditions." Still, while that threat has only become more ominous, a recent essay by William Bowen and Lawrence Bacow, former presidents of Princeton and Tufts universities, respectively, argues that those in charge may find it easier to simply ignore the realities:
Rather than confront truly difficult decisions, and risk personal insult and damage, it may often seem easier for both presidents and trustees just to hope that the sun will shine tomorrow—whatever the official weather forecast—and to assume that if it rains eventually, as it almost surely will, it will rain on someone else's parade.